Still think your phone is just as good as sat nav? Here are five brand new features on TomTom's superb new Go Premium that show it's still well worth investing in a dedicated sat nav rather than relying on a smartphone and Google Maps.
Find My Car
We've all been there – 100% focused on hitting the shops or rushing to an appointment, only to forget that your car is parked in car park 1, section C, row 19. Save yourself the hassle of having to remember where you parked with Find My Car, which comes as standard with your TomTom Go Premium. Simply install the TomTom app on your smartphone, enable the Find My Car features, and every time you park up, the location will be saved to the app. So when you inevitably forgot where you left your car, a quick glance at your phone will guide you straight to it!
IFTTT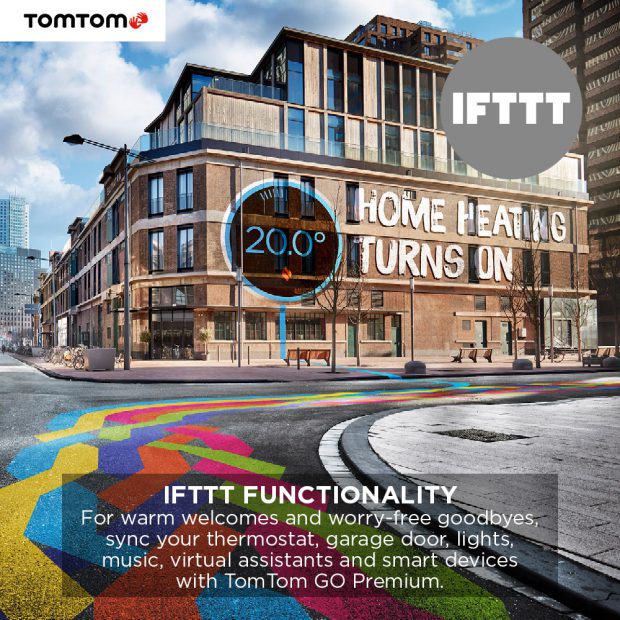 If you haven't already checked out IFTTT yet, then what sort of tech nerd are you? If you're the kind of person who loves switching the heating on from their mobile phone, then you're going to love IFTTT.
IFTTT stands for 'If This, Then That' and is essentially coding for the real world. By setting up certain parameters, e.g. 'If I'm 15 minutes from home, switch on my smart lights', you can create a set of rules that are designed to make life easier. And the great news is that your TomTom Go Premium can be part of your ITFFF portfolio.
Just connect your TomTom Go Premium to the IFTTT smartphone app and start playing around with your smart technology at home, or even just your other apps. Our favourite is the ability to send the address of any new contacts entered into your smartphone to your TomTom Go, meaning you can simply look up the contact and start navigating without having to type anything in twice.
TomTom MYDRIVE and Road Trips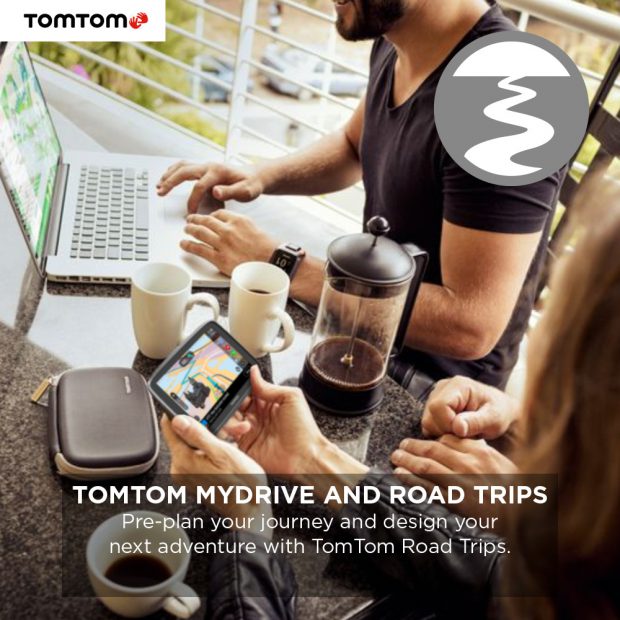 Ever been sat in traffic wishing that you had known that there was a snarl up ahead so you could take the back route? Well, with a TomTom Go Premium with MYDRIVE, this happens automatically.
Using real-time updates, your TomTom Go will tell you exactly why you're being re-routed away from the normal commute, or even update you before you've got in the car with any changes to the road ahead. You'll even get told what's causing the build-up, from bad weather to bad drivers, so you can avoid the chaos and cruise straight through.
If your journey is more leisurely, or if you'd like to see more of wherever you're driving, then similarly Road Trips is an excellent feature. Rather than picking the destination and beginning to drive, you can tailor your trip to include nearby stop offs and activities, or simply chose the scenic route for a much more exciting drive than ploughing along on the motorway.
Remember that when you buy your new TomTom Premium Go, we'll happily install it for you for a small fee. As well as hiding all wires, you'll also have your 12v power supply free to charge a phone or power other gadgets in your car.

Last Mile Navigation
It's all well and good managing to make your way through a busy city centre and to your chosen multi-storey car park, but what about the walk from the car to your appointment, through windy streets and over a bridge or two?
With Last Mile Navigation, your TomTom sat nav doesn't just become an expensive paperweight that stops working once the engine is switched off, but instead transfers its functionality to your smartphone via the TomTom MyDrive app.
By connecting your smartphone and TomTom Go Premium, you can get walking directions on your smartphone screen, perfect for navigating what is often the most challenging part of the journey, especially if you're visiting somewhere new.
Smartphone integration
Driving should be a time where all attention is focused on the road ahead, and not on your smartphone screen. As well as being illegal, it's extremely dangerous to read text messages or try and make calls without a hands free system. This is where a TomTom Go Premium will go one better.
As well as being able to make smartphone calls using your TomTom Go Premium's built-in voice recognition, the smart technology inside your sat nav even makes if possible for text messages to be read aloud, so you don't need to miss out on anything important as you drive, and more importantly, keep both and hands and both eyes on the road.
Sold on these incredible new TomTom Premium features? Check out the TomTom Go Premium at Halfords.com, or ask for a full demo at your local Halfords store. We also stock the excellent TomTom Go Essential and TomTom Go Basic if you're looking for a more affordable sat nav, without having to lose out on too many features.
Further Reading