The blue sky and bright sun of summer gives usloads of opportunities to jump on our bikes and enjoy the great outdoors. But it's important to make sure you're prepared for riding in the sun and the heat, which is where our list of hot weather cycling essentials comes in.
1. Water bottle
Staying hydrated is always important, but it's particularly important in hot weather and when you're exercising because you'll be sweating more. Drinking water will help to replenish the fluids you lose by sweating.
A good water bottle is one of the easiest ways to carry water along with you on your ride. The Elite Corsa Bio Bottle is our top pick here, thanks to its easy-to-grip design and a push-pull valve that can be easily opened and closed during riding.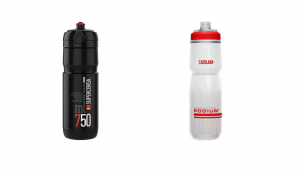 Or if you want your water to stay cooler for longer, then we'd recommend the Camelbak Podium Chill Insulated Bottle. The bottle's available in a variety of colours and its double-wall construction will help to keep your water chilled.
2. Bottle holder or cage
Whichever bottle you choose, team it with a bottle holder like the Elite Custom Race Water Bottle Cage so that always have your water to hand.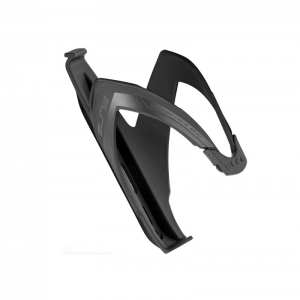 The tough construction of the cage is durable and light, while the added rubber tensioner will grip your bottle tightly. Best of all, it can be placed in the most opportune position for hydration when riding, which is ideal for hot weather cycling.
3. Hydration pack
If you're planning a longer ride or heading off for a day of mountain biking on the trails, then you might consider a hydration pack like the Camelbak M.U.L.E.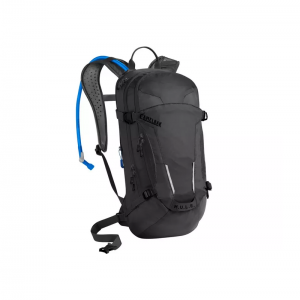 This lightweight backpack contains a reservoir that can hold three litres of water, while also giving you plenty of space for snacks and cycling gear. Other features include air channels to help keep your back cool, universal helmet hooks, small compartments to hold valuables and a magnetic tube trap so that you can hydrate without having to take your eyes off the trail.
It's a great all-in-one hydration solution for cyclists who want to spend a long time in the saddle.
4. Hydration tablets
Our final hydration-related product is hydration tablets like the High5 ZERO Caffeine Hit Berry tablets.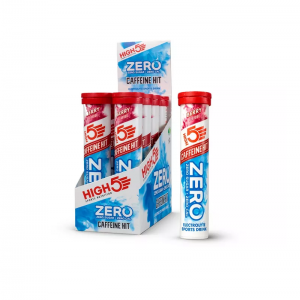 Simply pop one of these tablets into some water, let it fizz for a couple of minutes and then drink it down. It'll give you a boost of the electrolytes that your body needs to stay hydrated, without any of the calories you're likely to find in sports drinks.
The High5 ZERO Caffeine Hit also contains Vitamin C, to help support a healthy immune system, a sugar-free caffeine hit to help reduce tiredness and fatigue, and a refreshing berry taste.
5. Sunglasses
A good pair of sunglasses is a must on a hot, sunny day. Not only will they help to protect your eyes from the sun's UV rays, but they'll also reduce road glare and – if they've got polarised lenses – help you to see road surfaces more clearly, particularly in bright or mixed-level sunlight.
Our pick of the bunch is the Halfords Full Wrap Around Sunglasses – Teal and Black. They offer 100% UV protection against the sun's rays, the handy polarised lenses we mentioned above and even anti-fog to prevent the lenses from misting up on the inside.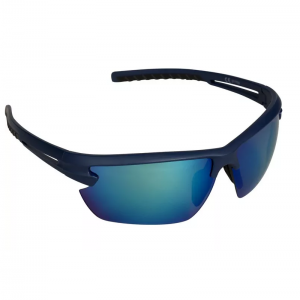 The large lenses will help to protect the skin around your eyes and stop wind from drying your eyes out or making them water. Add in rubber grips on the arms to prevent them from slipping down your face while you're busy riding and you've got a truly great pair of sunglasses.
Don't forget to protect your skin too! Check out our recent article on how to stay safe in the sun this summer for more info.
6. Helmet
Helmets don't just protect our heads in the event of an accident – some also offer features that come in really handy on a hot day.
The Lazer Coyote Helmet, for example, includes a super large visor that will shade your eyes from the sun while guarding against low-hanging branches and mud. The Lazer Tonic Helmet has a whopping 28 vents to make sure you're always cool and comfortable while riding.
Choose a helmet with these kinds of features and you'll be cycling in style and comfort this summer.
7. Cap
Why not complement your helmet with a cycling cap? Our pick here would the Boardman Cycle Cap, which combines a cool black and grey design with some even cooler (literally) features.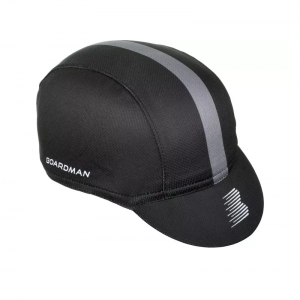 The Qwick-dri material will help to keep your head cool and comfortable during cycling sessions, while the peak provides shade from the sun. It even works during cooler months by providing some additional protection against the cold and wind, so it's a great all-year-round choice.
---
Good luck on your cycling trips this summer! If you need any further cycling supplies or staycation essentials, then you want Halfords.