Auto Finesse here. We thought we'd help Halfords tackle some of the detailing-specific questions and comments you've recently posted on their Instagram and Facebook social media channels.
So here goes!

"Best tips for getting in tight interior spaces"
The best tip we can give is; if something moves, move it! Slide seats all the way forward and all the way backward to gain access to the entire underneaths. Spread seat panels and bolsters as best you can to hoover the gaps for dust and crumbs. Pull out the steering wheel to gain access to any areas that would house dust. For small gaps in interior plastic design, interior brushes, as opposed to just cloths and cotton buds are great for tackling these areas.
"How to clean an engine bay"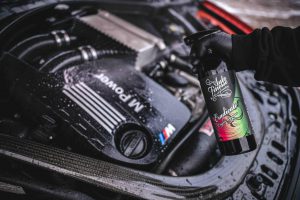 Firstly, cover any open air filters or exposed electrical components and spray on a good quality engine bay cleaner – our Eradicate product is perfect for this job – across the entire bay and underside of the bonnet. Agitate the product with a brush in heavy grime build-up areas. You can then jet wash the entire bay, beginning with the underside of the bonnet working from top to bottom. Dry off using compressed air or a drying towel and dress using a quality plastic and vinyl dressing.
"How to remove tar from paintwork"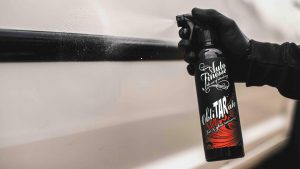 In order to remove tar from paintwork without damaging the paint, we'd recommend applying a good quality tar remover such as our renowned ObliTARate formula first across lower panels of paintwork and follow with a thorough clay bar treatment. When using a clay bar, ensure the paintwork is consistently well lubricated. Lubricating the panel will help prevent the clay bar gripping the paint, as opposed to the contamination only, reducing the chance of marring paint. We have a dedicated Clay lubricant called Glide which is a great partner for the clay bar. Always polish paintwork after claying it and add wax on top to protect your efforts.
"Best wet/dry vacuum for car interior"
The Karcher WD3 wet and dry vacuum is really good. This can be picked up for around £99.
"How to remove swirl marks from paint or alloy wheels"
No product will remove swirl marks alone – some will fill or hide in some way but to remove them completely you'll need to machine polish the area.
"The ultimate tip for getting that showroom finish"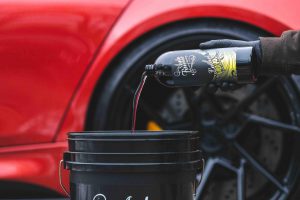 Always, always, always carry out a safe wash. We can't stress enough that most swirl marks occur at the wash stage. Use a gloss enhancing shampoo and perform a final wipe down with a good quick-detailer to remove any final water spots. And don't forget to dress the tyres and clean the glass!
"The safest way to remove bird poo (without scratching paint)"
The very first step would be to pour warm water over the area to soften and dissolve before performing a full safe wash two-bucket procedure.
"Washing your car in the rain – yay or nay?"
We would have to say nay. Naturally, if it's the only opportunity you have and you can't wait for a dry day then fair enough but we'd suggest waiting for a dry day (our of direct sunlight to prevent products baking on) in order to maximise the water repellency levels of good quality products. We offer a range of products offering very high levels of water repellency – this capability retains your wash finish for longer. Meaning that your car will look better for longer and you won't have to wash it as often.
"Have you heard of applying duck oil after washing and drying?"
We wouldn't advise using anything that's not specifically formulated for cars.
"Best way to buff-out scuff marks on plastic bumpers (not scratches)"
Depending on the level of scuff (how deep it's gone), we'd suggest using a machine polisher together with a fine cut polish to remove unsightly scuffs.
"My daughter likes to put her muddy trainers on the door sill as she gets in the car – what's the best way to clean these muddy areas?"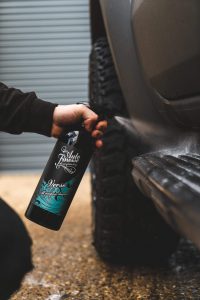 Using a multi-purpose cleaner and a soft brush, soak and agitate the area and wipe clean with a fresh microfibre cloth.
"Best products for returning faded-to-grey bumpers and trim"
In order to permanently restore them, use a heat gun and gently warm the plastics up to draw natural oils from the plastic to the surface to re-darken the plastic, then dress them with a rubber dressing to add protection.
"Is there a tyre dressing out there that offers good durability"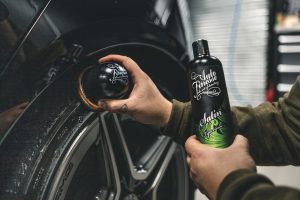 Our Satin Tyre Dressing is the first progressive-finish tyre dressing, allowing you to decide what level of shine you want. The gel consistency builds up layer on layer to add more gloss (the more layers, the more gloss). Satin's water-based formula is also packed with UV-Inhibitors, helping to condition sidewalls and prevent them from cracking over time.
"How to avoid scratches with waterless wash products?"
Make sure you have a lot of new microfibre cloths ready when using any waterless wash product. Fold each microfibre into half and then half again (this offers 8 sides to one microfibre) and saturate one panel at a time with waterless wash. Working from the top of the vehicle down, use the microfibre in a wrist-rolling effect to collect as much surface dirt as possible. We wouldn't advise using any waterless wash products on moderate to very dirty cars, though – this is just asking for trouble! You can get away with a waterless wash in situations such as at a car show – you've already fully detailed the car at home and driven a few miles to the show, for example.
"How do you remove rust marks from a convertible fabric roof"
Make sure to use a specific fabric roof cleaner, such as our Rag Top range, together with a scrubbing brush and low pressure hose. Agitate the cleaner in a circular motion over the entire hood and rinse off using low pressure.
---
Well, that's that. We hope these tips and tricks help somewhat. Be sure to check out our social media channels for more help and advice.