Google is the most used platform in the world for searching and navigating through the web. Every single second Google receives over 63,000 searches; averaging 3.8 million searches per minute. It is, therefore, an extremely powerful tool for tracking market movements and understanding customer interests.
At Halfords, we wanted to harness this power to find out which bikes are the most sought-after across the UK and Europe. From Italy to the Netherlands, we looked at different bike categories and how often they were Googled each month- in search of insight into how bike markets are growing and evolving each year.
Are electric bikes taking over? Are road bikes a thing of the past? If you want to find out which bike categories are showing the most growth across Europe, read on as we guide you through the data on which bike types are seeing the most growth and how the UK bike market stacks up against other countries across Europe.
Which are the fastest growing bike categories in Europe?
In Q1 of FY21, Halfords has seen a 114% YoY sales increase in its E-Bikes & E-Scooters category in the UK. It is safe to say that in Europe in general, E-bikes are winning the race. That's what we can tell from looking at an average of the 2018-2020 data from UK, France, the Netherlands, Germany, Italy, Spain and Belgium.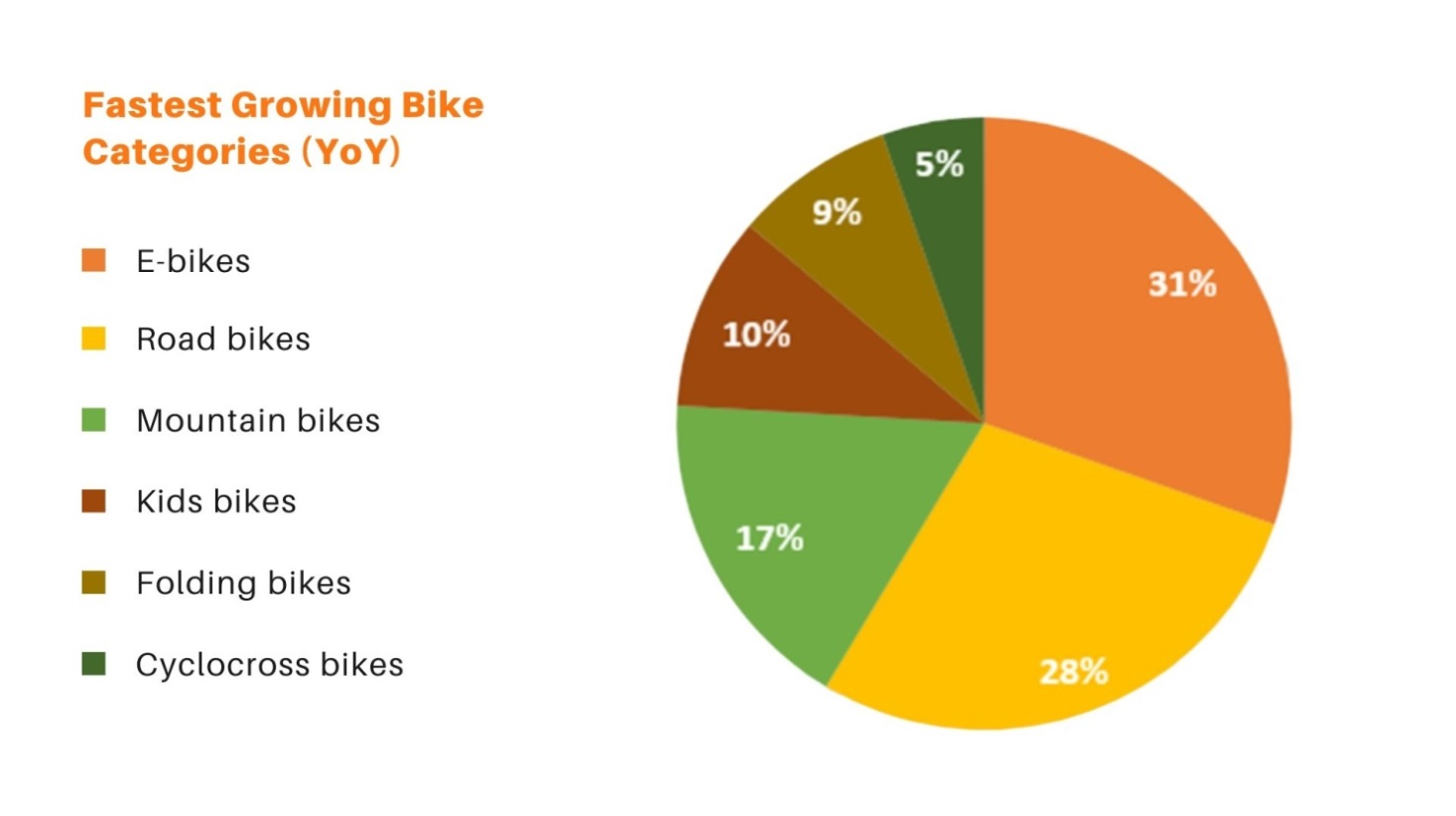 Searches for 'e-bikes' or 'electric bikes' into Google have increased, on average, by 24% in 2020 compared to 2019 across our selected European countries. This is evidence of an electric market that's growing in popularity, and it's closely followed by 'road bike' related search terms; showing that traditional bikes are still in the race.
The future is looking bright for the European bike market. Across our seven chosen countries, there were a combined 500,400 extra searches in 2020 for our cycling category terms. This is a huge 22% increase from 2019 – so interest in cycling, in general, seems to be growing.
Are e-bikes the most popular bike type?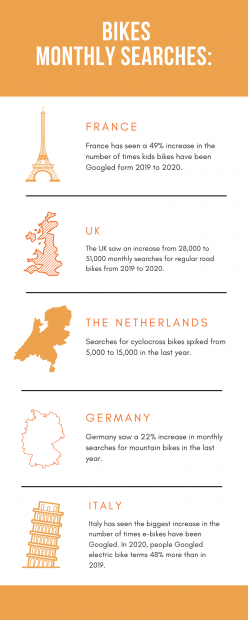 E-bikes are clearly becoming increasingly popular and, as predicted in our recent e-bike forecast, this trend is set to continue well into the future. Comparing the UK's e-bike search data to other European countries, including France, Spain, Germany, the Netherlands, Italy and Belgium, we identified exactly which countries have seen the largest spikes in e-bike popularity.
For reference, you can see in the graphic to your right how the bike market has grown across major EU countries- but let's dive into the data on electric searches.
In Italy, throughout 2020, people Googled electric bike terms 48% more than in 2019, seeing the biggest increase in e-bike searches. In close second is the UK, with an increase of 47% from 2019 to 2020, and in third place is Belgium which has seen an increase of 26%.
This is a huge increase for all three countries and reveals that Italians, British and Belgian consumers have the largest appetite for e-bikes.
I guess we now know who are greenest commuters and cyclists around Europe.
Other countries like Germany, France and Spain didn't have an increase of searches from the previous year, which tells us that even though there is no upward trend on ebikes, people still maintain a steady interest year on year.
Cycling through the Champs-Élysées, anyone?
How did each country's trends differ?
UK:
The number of searches on Google for terms like e-bike, electric bike and electric bicycle has grown 47% from 2019 to 2020. Searches saw an upward trend throughout the years, but the biggest boost was indeed in the last year, which testifies to Brits desire to move to alternative, greener forms of transportation.
Overall growth for electric bike and e-bike related terms has jumped significantly from 2016 to 2020, with a massive 172% increase. This could be due to electric bikes becoming more affordable and accessible and people becoming more environmentally conscious.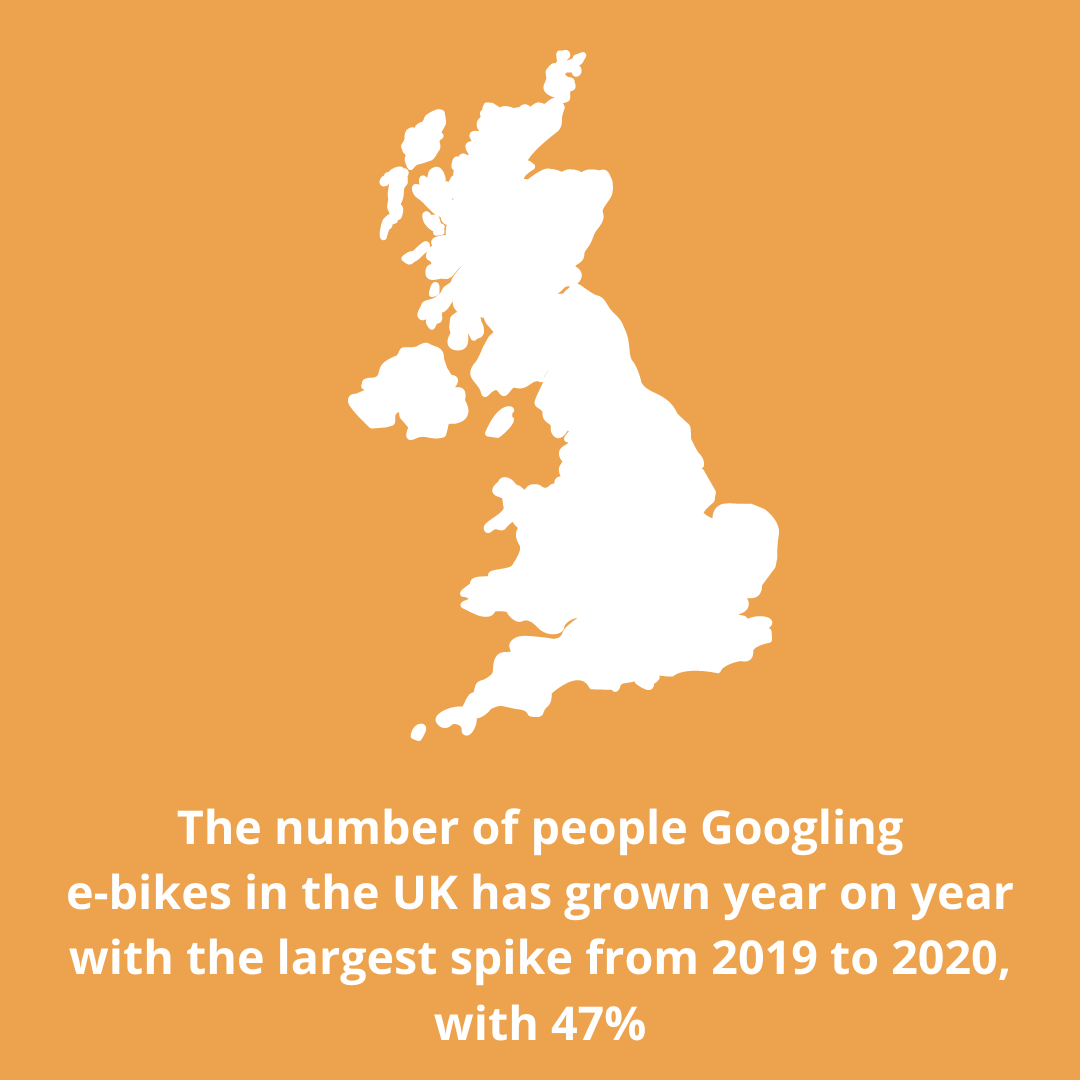 In the UK, e-scooters have seen another steep spike in the last year, with the number of searches from 2019 to 2020 increasing by a solid 48%. Monthly searches in 2020 for e-scooter is at a whopping 273,100, which is not surprising given the recent government decision to trial e-scooters for rental in big cities across the UK.
However, it seems that the future of mobility is not only electric. In fact, traditional road bikes have seen an increase in popularity over the past year as well. Road bikes have been googled 51,100 times a month in 2020, but only 28,400 in 2019. Might be due to the country lockdown and people desire to exercise by bike when allowed. Mountain bikes also saw a big increase in searches (50%), which again could be due to the fact that people could get out of the house in 2020 to get some exercise and there is nothing better than a mountain trail on a sunny Sunday morning.
It is safe to say Brits love cycling and spend at least some of their googling time each month researching the best bikes out there for their cycling adventures!
France: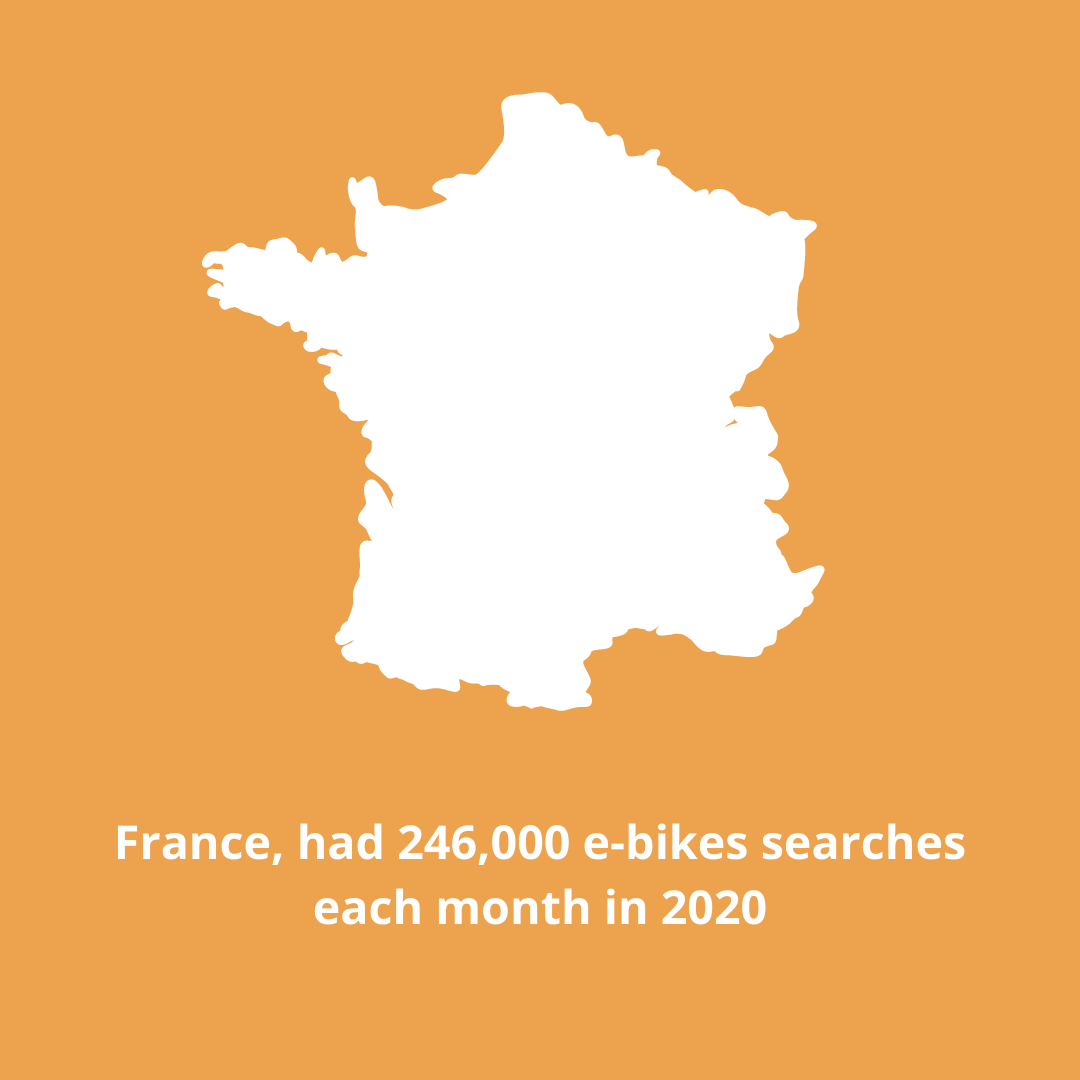 Over in France, things are stalling. There had been huge growth in the past years on all bike categories, especially e-bikes with an increase of 120% between 2016 and 2019, but in 2020 trends stayed the same. We are not sure if everyone who wanted a new bike bought it or if the interest simply stayed the same, but it sure is interesting to see. Don't be fooled though! The search volume for bike categories is huge, with 246k searches only for Ebikes. One bike French people don't seem to keen on? Mountain bikes, with only around 3000 per month. I guess they prefer easy green commute to adrenaline pumped mountain bike rides.
Netherlands: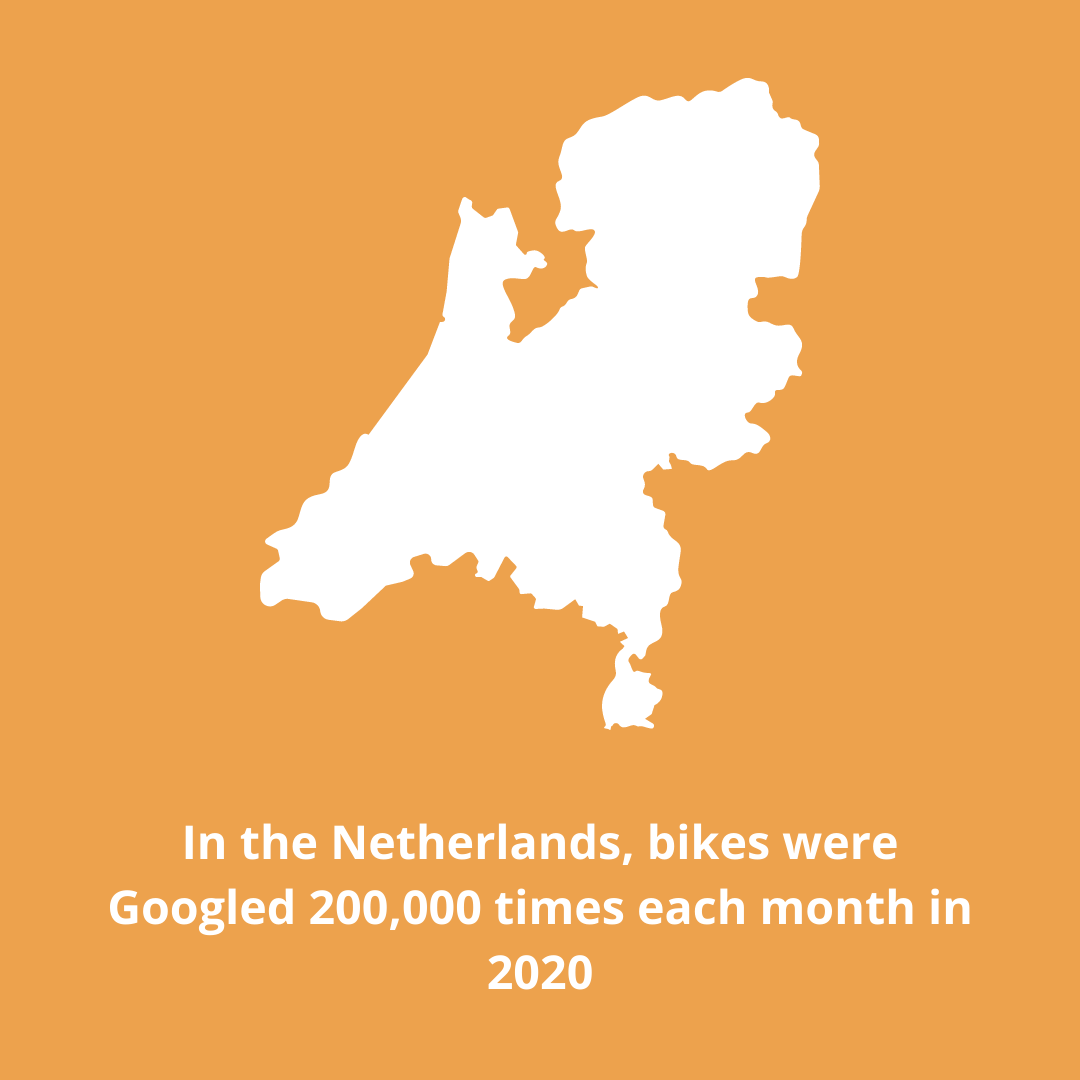 In the Netherlands, electric bike searches stayed the same from 2019 to 2020, but more adventurous bikes such as mountain bikes and cyclo cross saw a massive increase of respectively 50% and 174%  from last year.
Our take on this? Dutch people are famous for cycling around in their daily lives, but maybe in the past year they opened up even more to the possibility of making cycling a whole rounded fun activity and are now ready to take on a whole new level of cycling trails.
Italy:
We looked into the following types of bikes and then translated them into Italian to find out the most popular Googled bikes in terms of growth. It was close, but the winner was road  bikes which translates to Bici de Strada which has seen a 50% increase from 2019  to 2020.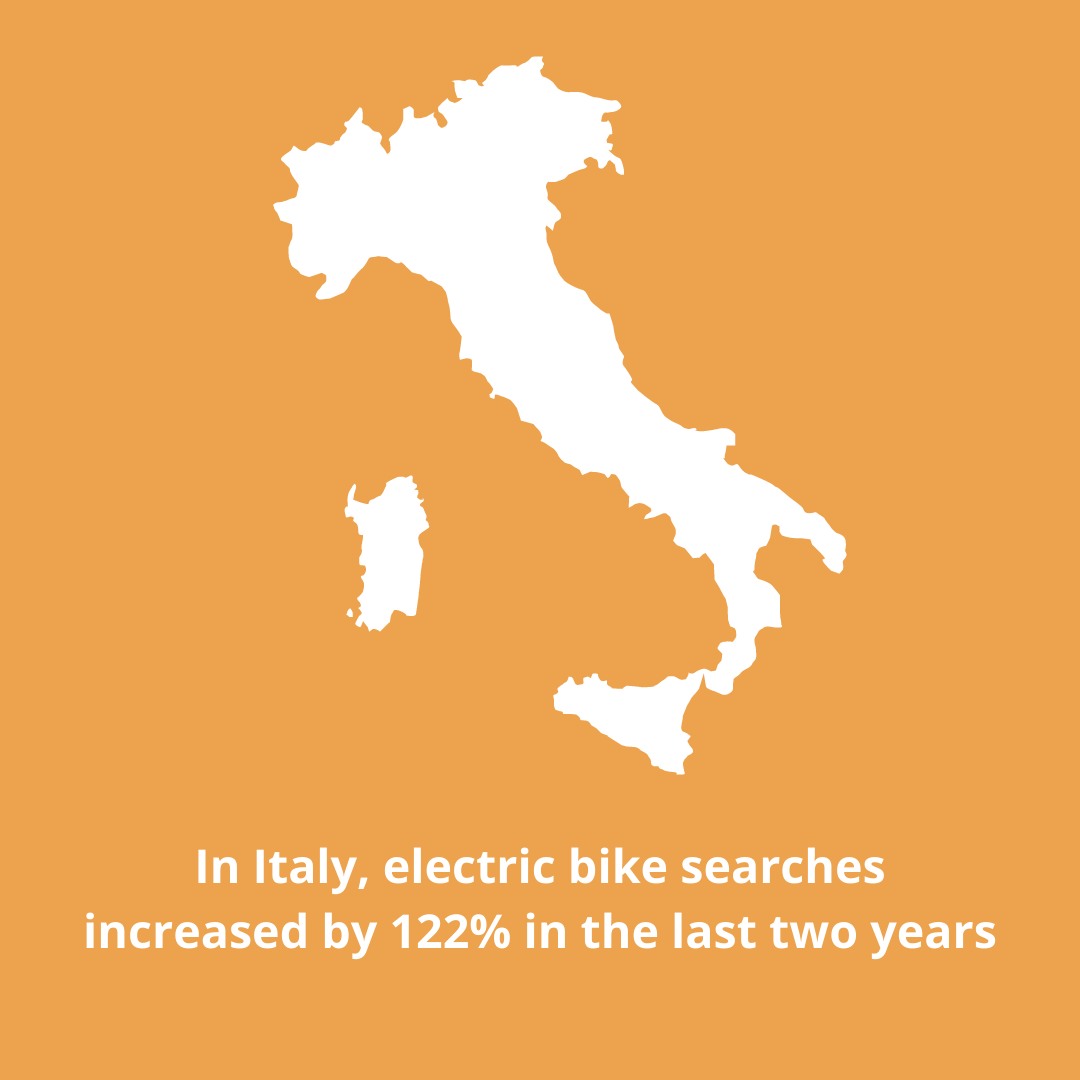 The second-largest increase was for electric bike terms (bicicletta a pedalata assistita and bicicletta electrica), which saw a 48% increase from 2019 to 2020. E-bike terms had also seen a year on year increase from 2016 onwards, proving that Italians are interested in green mobility just as much as other European countries, if not more.
Kids bikes (Bici per Bambini) and folding bikes (bicicletta pieghevole) have also seen a small increase in the number of people googling these terms in Italy, with a growth of 50% and 22% from 2019  to 2020.
It would appear Italians started being curious about cyclo cross bikes too. There weren't many searches (880), but the % increase was 50, which tells us the interest is rising.
Germany:
E-bike searches stayed the same from 2019 to 2020, with a whopping 392,200 every single month since 2018.
While ebikes and road bikes have generally seen the same amount of searches in the last year, mountain bikes saw a 22% increase in 2020. May it be that Germans are ready to upgrade their cycling skills and go for some more adrenaline filled adventures?
Spain: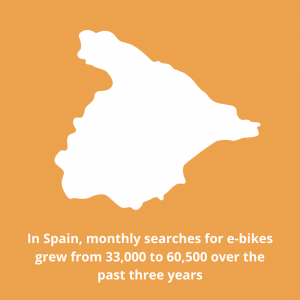 Bicicleta electrica or electric bike monthly searches have increased significantly from 2016 until 2020 with searches each month growing from 27,100 to 60,500. The largest growth in monthly searches for electric bikes was from 2017-2018 with a 50% increase, year on year.
Searches for bicis de montaña (bicicletas montaña, bicicleta de montaña) or mountain bikes – increased by 50% from 2019 to 2020.
Alongside bici/bicicleta plegable or folding bikes which also increased from 16,500 to 20,200 not matching the popularity of electric bike terms, which win the race for eco-friendly mobility.
Belgium:
Over in Belgium, elektrische fiets or vélo électrique monthly searches were highest throughout 2020, growing from 60,000 in 2019 to 75,200 the following year. Electric bike monthly searches increased significantly each year, which indicates a preference of Belgians for electric mobility.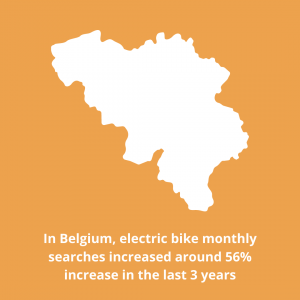 Mountain bike don't seem to be so popular, with only a 22% increase from last year.
Kids' bikes (kinderfiets, loopfiets, vélo pour enfants, vélo enfants) saw steady growth too – with each monthly search growing year on year, especially in 2020 with 12020 total searches for kids' bike-related terms.
Electric mobility is leading the race
Clearly, electric bikes are on the rise as predicted in our e-bike forecast – monthly searches are increasing year-on-year as e-bikes become more popular than any other bike. Italy may see a potential e-bike revolution after seeing the largest increase in the number of times e-bikes and related terms are Googled.
In Europe in general, electric bikes saw more and more searches with each month, as well as an upward trend on mountain bikes as well.
The data tells us that Europeans not only are keen to get cycling and spend time outdoors but also pay attention to making their cycling time eco-friendly and green, using electric bikes as much as possible.
Data source:
Google AdWords Jan-Oct 2016, Jan-Oct 2017, Jan-Oct 2018, Jan-Oct 2019, Oct 2019 – July 2020