It's never been more important for NHS staff and other key workers to be able to get to and from work safely. For us at Halfords, it's been a privilege to remain open during this turbulent time and help to keep these heroes – and the nation as a whole – moving.
We'd like to thank all of our talented and hard-working colleagues from across the UK for the essential support they're providing to those on the front lines of the fight against Coronavirus.
Here are just a few of their inspiring stories from the last couple of weeks.
Bolton
"In these testing times, I was so pleased to see that Halfords stands together with all the staff in the NHS. I was in a complete mess when, after a 16-hour shift of 6 days, I came out to find that my tyre was completely flat and I didn't have a spare. After calling many garages, I came across Halfords on Manchester Road in Bolton. I was so relieved when Chris answered the phone and told me not to worry and he would do whatever it takes to get me home safe. I couldn't believe how nice and thoughtful he was; within 30 minutes he had sent a mechanic out who checked my tyre and pumped it up. I was finally able to get home to bed and see my children.
His generosity didn't end there. Chris called me and said that the same mechanic would pick my car up in the morning, do a complete check and get me a tyre if needed. True to his word, the young mechanic was at my door first thing in the morning and collected my car. An hour later I got a call from Chris to say that I, in fact, needed two tyres. He said that unfortunately the tyre size was not one he stocked, and it might take a day or so to get them, but to leave it with him and he would do his best. To my complete amazement a few hours later he called me to say he had managed to get two tyres and had fitted them.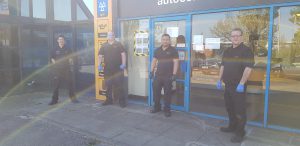 I can't stress how grateful  I am that I can remain mobile and can go back to the front line. Thank you so so much and if we all stick together like your staff have, this country will be fine. Keep up the hard work Halfords Bolton Manchester Road!"
"Today I am in Dartford and a nurse arrived with a flat tyre. We got the vehicle straight in, fixed the tyre, changed three light bulbs and did all the fluid top ups. Our local nurse is now back on the road and ready to continue saving lives."

Haddington
Harrowgate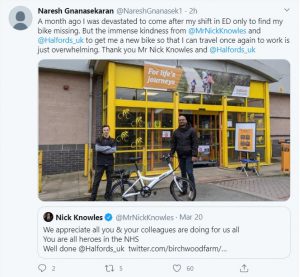 Hartlepool
"I'm a community nurse and had a problem with my car. Went to Hartlepool Halfords, the manager was extremely helpful, fitted the car part personally, helping me on my way. Extremely grateful, would really appreciate him getting the credit he deserved after the very kind deed today."
Liverpool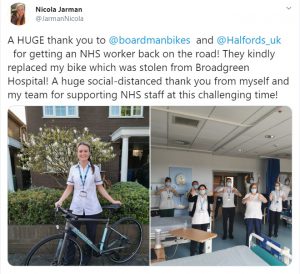 London (Wandsworth)
"So sorry I have not written you earlier, but I have been on nights shifts and only wanting to sleep when at home! I went in Monday to pick the bike. It is amazing and super nice! I really like it, and my partner loved it as well. You know, now he is afraid of it being stolen again and wants to keep it inside our home 🤦🏻‍♂‍. Anyway, thanks so so much for your help and your kindness! It has helped us a lot in these times."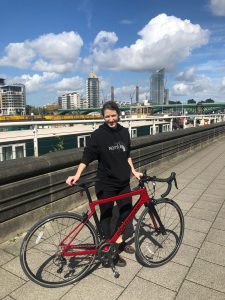 London (Whitehall)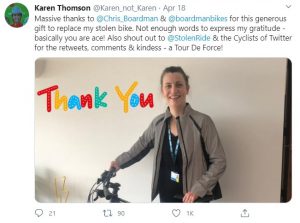 Newbury
Newport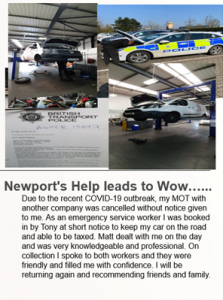 Nottingham

Plymouth

Tamworth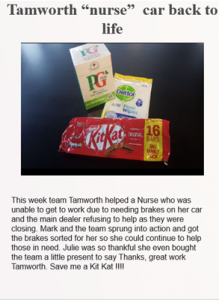 For information about how we're ensuring colleagues and customers are staying safe, click here.