Autobrite Direct have been industry experts in car care and detailing for nearly twenty years, and here at Halfords, we're proud to be adding their products to our range. We know you love to keep your car looking at its best, so we thought we'd take you through Autobrite's history and some of the products you should be looking out for to achieve a professional car wash yourself.
The company
Autobrite was founded in the UK in 2005 by Mark Moss, and has been leading the way in car care product and service innovation ever since. Having moved location three times to accommodate their growth, Autobrite now ships internationally and offers car valeting and detailing from its purpose-built hub in Stoke-on-Trent.
Autobrite is famous for its easy-to-follow 6-step detailing plan, ensuring that you can clean your car at home to the highest standard possible. So, whether you're washing, finishing, or any step in between, Autobrite's wide range of products means that you'll have everything you need to ensure the best results at every step.
The Ultimate Trio
Depending on how much time you've got to spare – and how dirty your car is – your car cleaning routine could be anything from a quick scrub to a full-scale valet. Either way, a solid base of a few key dependable products can really revolutionize your car cleaning. Here are our picks for the three Autobrite products you'll want in your arsenal:
Magifoam Ultimate Prewash Snow foam
Magifoam has been a firm favourite since its debut in 2005, and its thick, foamy formula is still one of Autobrite's best sellers. Snow foam pre-washing is a crucial step in the cleaning process, removing most of the surface dirt before the contact wash stage to reduce the chance of swirl marks and marring. Magifoam's snow foam formula – comprised of active cleaners, biodegradable surfactants, and foaming agents – creates a stable and long-dwelling foam to break down and loosen surface dirt before contact washing, so all the hard work's done for you.
It's also super simple to use; just add 1" to 2" into the Foam Lance, top up with cold water, shake, and you're good to go – just be sure to pre-rinse your car to remove any loose dirt and debris. Having a formula that mixes with water is also economical, since you're using less base product for each application. That way, you know you'll have plenty of Magifoam left for future cleans.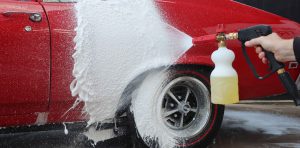 If you fancy a fun twist on your standard snow foam cleaning routine, why not give the Parma Violet Superfoam a go? The great Superfoam formula you love but with a vibrant purple foam and delicious Parma Violet fragrance, your car will be looking brand-new and smelling like a sweet shop!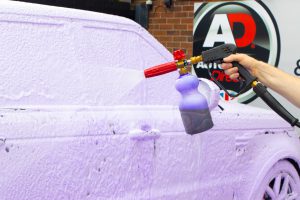 Autobrite HD Foam Lance
The award-winning Foam Lance is perfectly designed to evenly distribute snow foam, fitting to your pressure washer to deliver a fantastic clean every time. There are a variety of connector fitments available for most branded pressure washers, so you know you've got everything you need to give your car the streak-free clean it deserves.
When combined with Magifoam, the result is a thick, soapy formula that lasts, reducing the risk of swirls and marks for stunning results every time. The Snow Foam Lance also comes with 500ml of Magifoam included, so you'll be fully kitted out and ready to clean.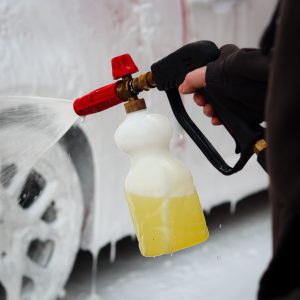 Magiseal
Magiseal is a water-based ceramic-infused coating, designed to add a durable layer of hydrophobic protection to your vehicle's paintwork. It couldn't be simpler to apply, just spray, rinse, and dry! A single coat should last around 2 to 3 months, leaving your car's surface glossy and protected.
Magiseal's innovative formula means it can be applied using either a Foam Lance or a low-pressure trigger spray, so you can still achieve the same great finish with whatever tools you have at your disposal. It can also be applied as a stand-alone product, on top of an existing wax or sealant, or as part of a full Ceramic Shield regime.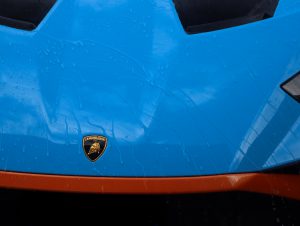 Magiseal doesn't need any dwell time, so once you've applied the product, you'll want to rinse it immediately. Then, stand back and admire the hydrophobic effect and gorgeous glossy finish.
Autobrite Firm Favourites
If you're looking to expand your car clean-routine and really give your vehicle a thorough going-over, then Autobrite have got you covered. They've got specialist products for every step of the car cleaning process, and we've selected a few of our favourites to talk you through in a bit more detail.
Aerosol Air Fresheners
Autobrite's Aerosol Air Fresheners are more than just a nice smell; not only are they effective as an air sanitiser and odour eliminator, but the dry spray formula also means that they work great as a fabric refresher too. A light spray over your seats and carpets should have your whole interior smelling brand new in no time.
They come in a wide range of fragrances, so whether you're after the sweet sourness of Morello Cherry, the crisp coolness of Arctic Fresh, or the signature scent of Savage Love, there's something for everyone.

Cherry Glaze Polish
Cherry Glaze Polish is an all-in-one paintwork protectant and polish that leaves your car gleaming. Made with a mix of light abrasives, premium Carnauba wax, and a sweet glazed-cherry aroma, this polish rejuvenates and refreshes the surfaces of your vehicle and leaves them fully protected against the elements.
Cherry Glaze is made with the highest quality T1 Carnauba wax for a glossy finish that doesn't compromise on protection, while its fine abrasives remove surface oxidation, reduce light scratches, and mask imperfections. It can be applied to almost any surface of your car, such as paintwork, glass, metal, carbon fibre, and even plastic trims – without leaving that dreaded chalky residue.
The glaze can be applied either by hand or by machine, and is perfect for a quick and easy touch-up to get you car back to looking its best. Try buffing it in with the Autobrite Elegant Towel, which has two distinct sides for the best results with both spray and wax products.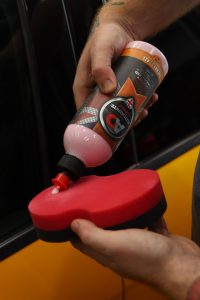 Citrus Pearl Shampoo
The Citrus Pearl Shampoo is a no-nonsense cleaning agent with no added gloss enhancers or protection, making it perfect for use on all paint types, including matt finishes and vinyl wraps. Formulated to clear away even the toughest grime and dirt with a fresh citrusy burst, this shampoo is a great first step if you're planning to add a wax or sealant to your paintwork and don't want any additional finishes from your shampoo.
The Citrus Pearl Shampoo works brilliantly in the Foam Lance for a full and thorough clean, and with a concentration level of up to 400-1, you can be sure that you'll have plenty of product left for all your washing needs.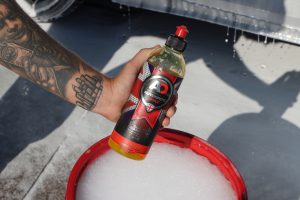 Purple Velvet Shampoo
If you're after a shampoo that not only cuts through dirt and grime, but leaves behind a high gloss finish, then you want Purple Velvet. Infused with a delicious "juicy fruit" fragrance, this shampoo creates thick, rich suds to clear away dirt and leaves a slick, velvety finish to your paintwork. It's also highly concentrated – with a dilution ratio of 1500-1, you can achieve that gorgeous glossy finish again and again without breaking the bank!
Purple Velvet is pH neutral so you can be safe in the knowledge that it won't damage any pre-existing wax or LSP layers, making it the perfect choice for regular cleaning.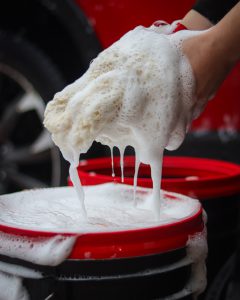 FAB Upholstery Cleaner
There's nothing worse than stubborn interior stains that just won't lift. Thankfully, FAB Upholstery Cleaner is the perfect solution. FAB is a powerful high-foaming cleaner that tackles dirt and grime on both the fabrics and hard surfaces of your interior.
FAB is perfect for removing stains on the fabrics inside your car, whether it's watermarks, nicotine stains, or ingrained dirt and grime. The high-foaming formula dissolves dirt on impact, ready for you to wipe away. You can also use it for any tricky scuffs and marks on interior plastics, just spray it on and wipe away the grime. FAB also dilutes up to 10-1, so not only are you getting a thorough clean, but you're getting an economical one too.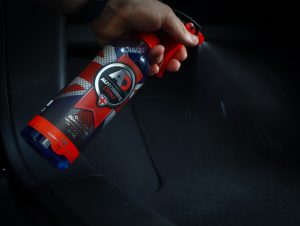 ---
If you're looking to switch up your car cleaning regime, you can't go wrong with Autobrite's extensive knowledge and innovative products. To find out more about Autobrite and their products, head on over to Halfords.com to browse the full range.