Meet Bott, the company that's been helping people get more out of their garages, workshops and vans for over 40 years.
The company specialises in innovative and premium storage solutions there are high-quality, offer great value for money and really provide the perfect answer for those who are looking to organise their space. From commercial workspaces and residential spaces to home garages and trade vehicles, Bott offers storage options to meet every need.
These storage options come in two main forms – garage storage solutions and van storage systems – and we're going to explore both in more detail below.
Garage storage solutions
Bott's ready-made workshop kits are modular in design and consist of drawer cabinets, cupboards and worktops. They're available in a variety of configurations, with different kits to suit different needs and spaces, and can even be combined with one another to create even more expansive storage solutions.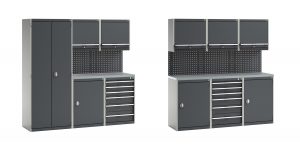 The kits are made in the UK and provide ample space for organising and storing your tools safely. The units have a smart, professional look and each kit is made from robust steel. The drawer cabinets and cupboards are finished in a durable power-coat paint, which is perfecting for protecting them from scratches and moisture.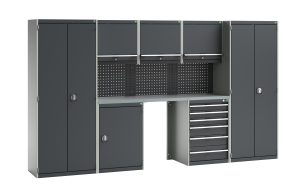 If you're wondering what the process is for installing one of these kits, well the fully manufactured units arrive on a pallet. Then all you need to do is position them where you want them and bolt them together. They also come with a 10-year warranty, so your investment is fully protected.
Van storage solutions
Bott's van storage range is known as Smartvan and it consists of a variety of racking storage systems for all of the most popular van makes, such as Ford Transit, Ford Connect, Peugeot Partner and Vauxhall Vivaro.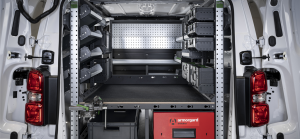 These innovative racking systems are flexible, customisable and includes features such as trough shelves, bins for small parts, frame end panels for perfo-mounted accessories, sliding Euro containers for bulkier items, power tool case holders and more.
When it comes to installation, it couldn't be easier to fit a Smartvan storage kit in your van. The no-drill design uses the existing manufacturer fixing points, which makes the kits a breeze to fit and helps to protect your van at the same time.
Smartvan storage kits aren't just designed for trade vehicles, but for anyone who wants to bring some order to the back of their van. Whatever size and configuration you choose, it'll mean an end to lost tools and damage parts, and the start of always knowing where to find exactly what you need – all of which will save you time and money in the long-run.
---
Head on over to Halfords.com to explore the full range of Bott garage and van storage solutions.