We've all got more downtime at home at the moment, so why not put it to good use? Show the inside of your car some love and get that 'new car' feeling back when you next take it for a spin.
It might seem a bit of a daunting task – particularly if you haven't done it for a while – but follow the advice below and put the products to good use. You'll be cleaning like a pro in no time!
1. Start with general cleaning
You'll want to start by giving your car a really good vacuum in order to pick up all those little stones, bits of dirt and dry leaves that have crept in over the months. Lugging your home vacuum cleaner out onto the drive is a pain, so make things easier for yourself with a Karcher WD 3 Car Vac.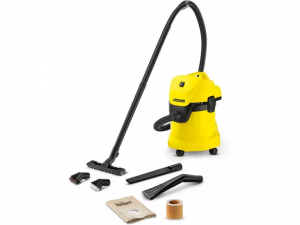 Not only is the Karcher car vac compact and versatile, but it comes with a variety of special brushes and nozzles that have been designed to make cleaning your car's interior a breeze. It also has a low power consumption and is suitable for use on both hardwearing surfaces and more sensitive ones.
If you come across any stains on your carpets, fabrics and vinyl, then you'll want some Turtle Wax Interior 1 Multipurpose Cleaner.
This cleaner has awesome spot cleaning power and its dry foam won't sink into your seats, leaving them dry to the touch once you're done. It comes with an integral brush applicator and an odour neutraliser to cancel out any unpleasant lingering smells.
2. Focus on the upholstery
Our car seats do a lot of work for us while we're driving, so it's only fair that we return the favour by taking care of them. It your seats are leather then we suggest a combination of the Autoglym Car Leather Cleaner and Meguiar's Ultimate Leather Balm.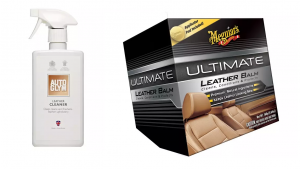 The former helps to preserve the life of your leather seats by keeping it clean and preventing it from cracking. The latter conditions and protects, leaving behind a soft look and feel. A perfect reward for your hard-working seats!
One of the best options for non-leather seats and other upholstery is the Halfords Upholstery Cleaner. It's ideal for spot removal, has a quick drying formula and a deep cleaning foaming action.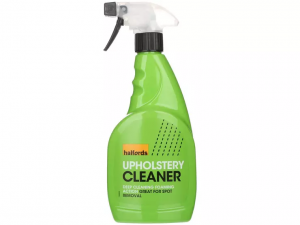 If sprays aren't your thing, then we'd recommend the Armor All Carpet & Seat Wipes. They offer effective cleaning in a convenient disposable wipe, easily removing ground-in dirt, dust and grime, and leaving a natural matt finish.

3. Move on to the other key areas
Dashboards can be a real dust-magnet, while windows are vulnerable to smudges and smears. That's where the Turtle Wax Dash & Glass Interior Cleaner comes in. The only 2-in-1 cleaner for both plastics and glass, the Turtle Wax spray leaves dashboards dust-free and windows sparkling.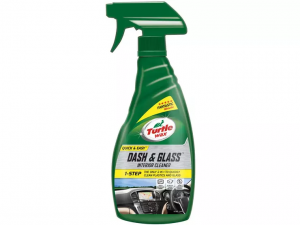 One area of your car that you might not think about cleaning is the air conditioning system, but it's surprising how dirty and dusty those systems can get – and how much a bad smell can linger inside a car!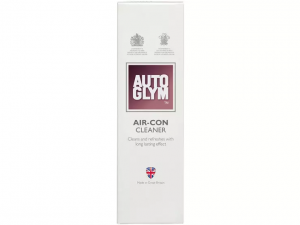 With the Autoglym Air-Con Cleaner, you simply pop the cleaner into your passenger side footwell and leave the application to do its work. It'll clean the whole air conditioning system in under 20 minutes, which is pretty impressive for such a small product.
4. Keep it clean and fresh!
You've put in all that hard work to make your car's interior squeaky clean, but how can you make it last? Well, there are a few different options that it's worth considering.
An air freshener is a great way of maintaining that 'just cleaned' feeling. Two of our favourites are the Jelly Belly 3D Very Cherry Air Freshener, which can double as an in-office freshener too, and the Lynx Mini Vent Car Freshener – Africa, which attaches neatly to an air vent in your car. Both offer attractive scents that are designed to keep your car smelling fresh as the days go by.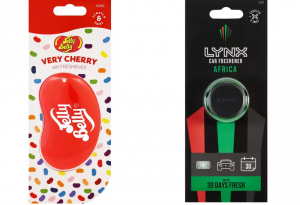 Seat covers and mats can also help to protect your hard work – and are arguably easier to clean going forward as they can be removed from the car. The Walser Allessandro Car Seat Cover set includes two front car seat covers, one back seat cover and five head rest covers. With a soft laminated surface that's easy to clean, these seat covers are an ideal combination of comfortable and practical.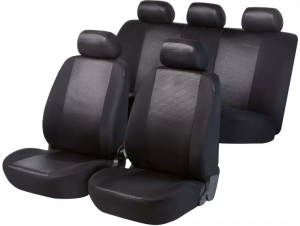 Our Halfords Carpet Car Mats come with a variety of trim colours and are suitable for most cars. The premium velour wear-tested carpet provides protection under foot, while the anti-slip backing minimises mat movement.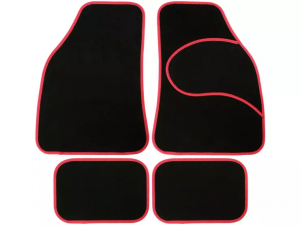 And finally, keep yourself – and by extension, your car – clean and safe with the Autoglym Hand Sanitiser.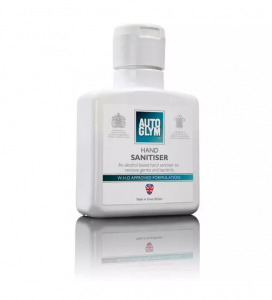 This sanitiser is approved by the World Health Organization and kills viruses, germs and bacteria from your hands. It's perfect for when you're out and about in your car, particularly in these uncertain times when having clean hands is so important.
Good luck on your cleaning journey! For more great advice about cleaning both the inside and outside of your car, check out our best car cleaning tips.
Also, if you're proud of your work, share your images with us using #ReadyFor on Instagram and Twitter @Halfords_UK.