With the final restrictions on social contact and social distancing easing in England, we can once again look forward to spending time together in larger groups (while still respecting any mask-wearing rules that individual organisations choose to maintain).
To help you make the most of this new-found freedom and prepare for an exciting summer of staycations with extended family, camping trips with friends, cycle races and cross-country drives, here are some of our top tips and products.
If you're planning to travel to other countries in the UK, then be sure to check covid restrictions first as different rules apply in Northern Ireland, Scotland and Wales.
Driving essentials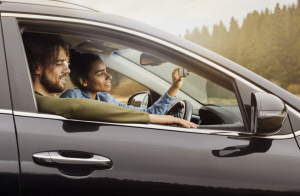 Wherever you're planning to escape to and however long it'll take you to get there, we'd always recommend making sure your car is up to the challenge before you leave. Our Free 5-Point Car Check is a great starting point. Quick, completely free and covering five key areas of your car, this check will be great for your peace of mind.
You can also upgrade to our 10-Point Car Check to have things like tyre depth and oil level checks included.
Another area of your car that we reckon it's worth getting checked out is your air conditioning system. After all, no one wants to press the AC button on a hot day, expecting some lovely cool relief, only to be hit in the face by a blast of warm air! Our Free Air Con Check can help you to avoid this. It's available at all Halfords stores and it's easy to book an appointment slot online.
Finally, have a think about your in-car entertainment. Longer drives with more passengers mean that you'll really feel the benefits of having a sat nav for clear directions, a dash cam for safety and a car stereo for entertainment.
And if the people in your back seat are little, then an in-car DVD player could be just the way to stop the endless 'are we there yets?' from driving you mad during the journey!
Camping essentials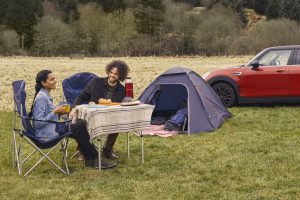 If you're preparing to make a beeline for the nearest campsite with a bunch of mates, then tents will be top of your agenda.
With sizes ranging from 2-person to 8-person, shapes ranging from domes and tunnels to vis-à-vis to octagons, and styles ranging from pop-up to inflatable to poled, there's a lot to think about. Thankfully, our handy tent finder will help you to narrow down the options and find the perfect fit for you and your fellow campers.
A larger group will require a larger tent. And probably a larger coolbox too, because there's nothing worse than tucking into a lunch of sweaty sandwiches and lukewarm drinks (we've all been there). The Halfords 40 Litre Mains and 12V & 24V Electric Coolbox gives you acres of capacity, a handle and wheels for portability and the ability to charge the coolbox via the mains or the 12V/24V socket in your car. All boxes officially ticked!
Staycation essentials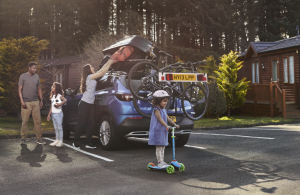 More people joining you on your staycation = more luggage and more bikes. More luggage and more bikes = a space-related conundrum. Time to break out the roof boxes and bike racks!
Roof boxes give you a huge amount of extra packing space tucked neatly away on top of your car. They come in various sizes, and many have features such as an aerodynamic design to reduce wind resistance and noise, dual-side opening and locks.
Our roof box finder will help you to pinpoint the best option for your requirements and our WeFit service will get the box safely installed for you (we'll also demo the process so you can fit the box yourself at a later date). To find out how to pack smartly and get the best out of your roofbox, check out our recent article.
When it comes to bike racks, you've got three main options: rear-mounted, roof-mounted or towbar-mounted. Not all are going to be suitable for your particular make and model of car, so make sure to use our online registration checker to find compatible results. Then have a think about things like how many bikes you want to carry, what access you require and how easy the loading process needs to be to narrow it down to the best choice.
Once again, we'll be happy to give you a hand with the installation – just select the fitting option during the checkout process and choose a day and time that suits you.
Caravan and motorhome essentials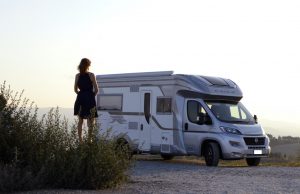 Getting away in your caravan or motorhome is a great way to spend time with a large group of friends or family this summer.
If you're a newcomer to the world of caravanning, or you've changed your car since last summer, then you might find yourself in need of a new towbar to attach your caravan to. We've recently launched a mobile towbar fitting service where we'll come to you at home or at work and fit high-quality Brink towbars (including full wiring and programming to your vehicle's on-board computer, if required).
To book a fitting, all you need to do is enter your postcode* and vehicle registration number online, choose your product, and select a date that suits you. It's as simple as that!
Power is another factor to bear in mind, because you'll need something to keep the TV playing, the microwave cooking and the fridge chilling when you're not hooked up to an energy supply. The Yuasa Active Leisure L26-AGM Battery is a smart choice here, particularly if you've got a motor mover to power or you're going to spend a lot of time off the grid.
Our recent blog article is well worth a read if you want to learn more about leisure battery recommendations and other motorhome and caravan essentials.
---
Enjoy your group adventures this summer! And remember, if you want camping, driving, staycation and caravanning essentials, you want Halfords.
*Our mobile towbar fitting service is currently only available in certain areas of the UK.