We're all becoming more aware of the importance of recycling, for both our own communities and the world as a whole. Recycling not only helps to reduce greenhouse gas emissions, water pollutants and the amount of waste sent to landfill, but it can save us energy, save us money and inspire the development of new green technologies and products.
Here at Halfords, we're pleased to introduce a couple of neat new products that are made from recycled materials and/or can be recycled themselves.
Storage boxes
Wham storage boxes are a great way to keep tools safe and organised in your workshop or garage. Heavy duty and available in a variety of sizes, these clever boxes are also made from 100% recycled post-industrial polypropylene plastic.
This type of recycled plastic is plastic that couldn't be used for its intended purpose, usually due to defects, and comes from products like car bumpers, crates and bottles caps. Rather than letting it go to landfill, the plastic is reground, melted down and transformed into new products like the Wham storage boxes.
These boxes have been strength tested to 380kg and are designed to last, even in cold weather. Their lids snap neatly into place, keeping the contents safe, and the boxes also feature holes where you add tie-wraps for additional security.
If you're looking for extra storage for your garage or workshop, then you can't do much better – for you and the planet – than invest in a Wham storage box.
Ice scraper and squeegee
Did you know that 640,000 tonnes of commercial fishing nets, lines, pots and traps are abandoned or lost at sea each year, according to the United Nations? And that over 100 million tonnes of plastic waste circulate the oceans, with about 10 million being added to that total each year?
The Recycled Plastic Ice Scraper and Recycled Plastic Squeegee and Scraper from BILLAT are just two of the ways that the company is revaluing marine waste, encouraging the circular economy and demonstrating that plastic doesn't have to end up as harmful waste, but can be transformed into long-lasting products.
The basic material for both products is made from fibres from the maritime industry, such as fishing nets. These nets are sourced from the deep ocean, classified and divided into different types of plastic and colours. Then the material is shredded, washed, separated and dried before being turned into a brand-new material called pellets.
These pellets are injected into moulds under high temperature and pressure, and the results are ice scrapers and squeegees made from 100% recycled materials, which can also be recycled themselves.
Make sure you grab a recycled plastic ice scraper or squeegee to keep your car safe and ice-free ahead of the winter!
Garage floor tiles
If you're someone who spends a fair amount of time in your garage or workshop, then chances are you've thought about the benefits of protecting your floor. But what about protecting your floor in an eco-friendly way?
Well, our dovetail floor tiles are not only made from recycled materials but are also 100% recyclable themselves. The hardwearing PVC can handle heavy loads, offers excellent durability and slip resistance, and can help to reduce dust and noise. They're also really easy to clean, which we're sure you'll appreciate!
The tiles come with a dovetail joint interlocking system that makes a floor quick and easy to install. Simply slot the tiles together in whatever shape you choose and use our edge and corner tiles to finish off the area.
Whether you're creating a space to work on your car or somewhere for that latest DIY project, our floor tiles will help to keep things safe underfoot while also helping the environment.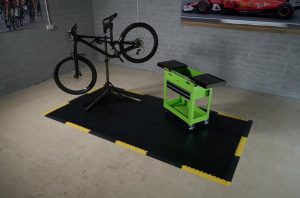 Recycling at Halfords
Outside of our products, we're supporting the environment and sustainability through our work with Re-Cycle, where people can donate their used bikes to rural communities in Africa. Since teaming up with the charity in 2013, our customers have donated almost 60,000 bikes and we're looking forward to sending many more in the future.
We also provide a service where we can recycle used car batteries via an approved waste disposal company, which recovers up to 95% of the lead from the batteries. The batteries are recycled here in the UK, helping to cut down on CO2 emission, and are turned into new batteries, automobile parts and plasterboard components.