Whether you're doing the school run or paying the park a visit, travelling by scooter is the number one way to travel! Kids love the freedom a scooter has to offer and it's a good way of keeping them occupied on those small journeys.
Halfords have a range of scooters at different prices to suit your budget. Whether you've got a Disney fan in the family or your little one just loves to cruise, we've got scooters to cover all tastes.
To help you choose, here's our Top Ten list of Scooters:
Mini Micro 3in1 Deluxe Plus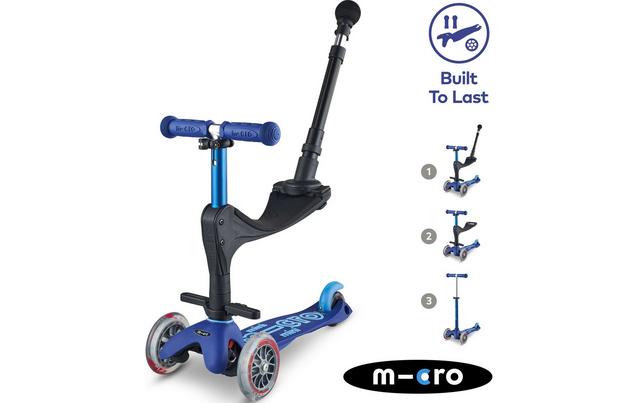 The Mini Micro 3in1 Deluxe Plus is at the top end of the market and is brilliantly designed to be adaptable as your child grows. Your child can have their first scooter experience as early as one years old using the adjustable seat and parent handle that secures onto the handlebar stem. By the time they are two, you can swap the seat for some learner handlebars as they learn the scooting fundamentals. At three years old, the learner handlebars come off and are replaced with T-shaped ones which can be adjusted for height as your child grows. The lightweight aluminium frame makes this an easy scooter for kids to operate and also easy for parents to store. It's no wonder it has award winning credentials.
JD Bug Street Scooter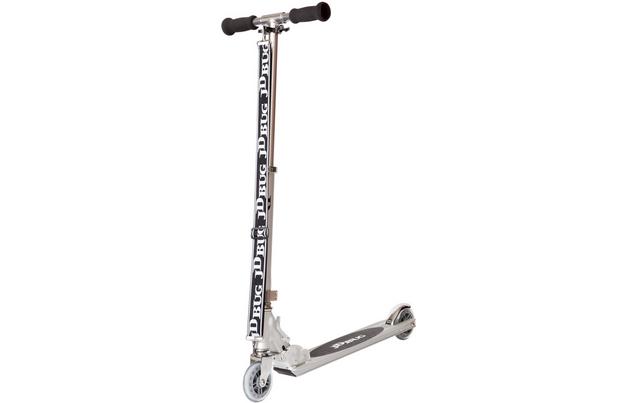 One of the clear advantages of the JD Bug Street Scooter is its weight coming in at a delicate 2.78kg.
It's hard to believe that it also folds, it's so slimline. The body of the scooter cunningly hides the mechanism which is a neat little trick and saves any unfortunate accidents to little hands. The 100mm front and rear wheels give a smooth ride if the school run can be a bit rough and they've lowered the platform to help with better posture. A lot of thought has gone into this street-smart scooter.
EVO+ Mini Cruiser Scooter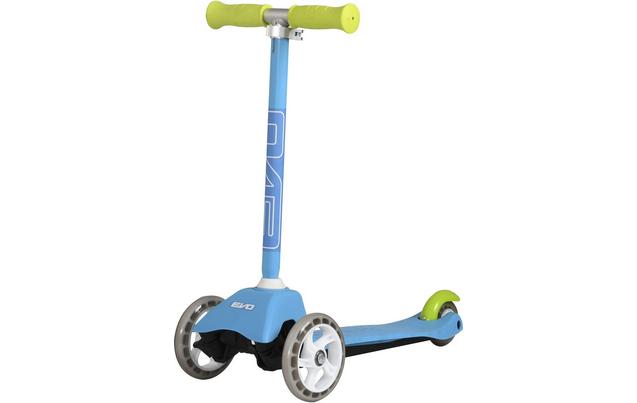 Evo's colour range make their scooters pretty adorable even before you get into the great features they offer. The EVO+ Mini Cruiser Scooter has three wheels for extra stability so kids can get up to speed safely. The lean to steer movement style means they can learn to corner with ease and the plastic non-slip footplate gives reassurance of good grip while the action is happening. There's a lot going for this mini scooter and it's at a great price too.
Trunki Folding Scooter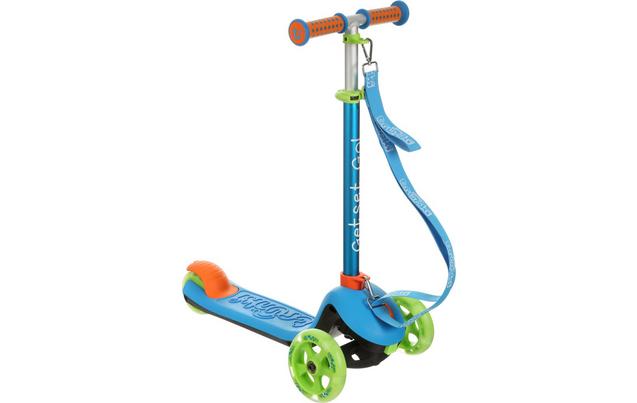 Trunki is famed for the innovation and fun personality in its products and their scooters are no exception. The 3 wheeled Trunki Folding Scooter is designed for families on the go with its lightweight frame and robust rear wheel for tackling exciting terrain. Lean to steer functionality helps teach coordination and the steering lock encourages balance. It's also easy to carry, either over the shoulder or hung on a pushchair. The protective bag will keep the scooter, or you, clean as you transport it. The carry strap gives the option for a bit of towing if anyone is over-scooted. All in all, a great little scooter for every day adventures. Their small model suits three years plus and the large is appropriate for four years plus.
Spiderman folding inline scooter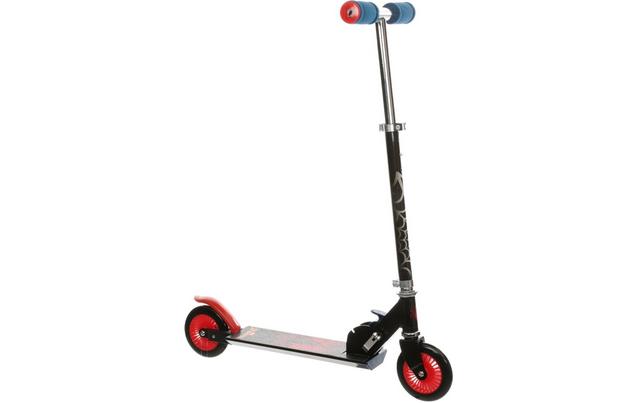 There's no mistaking that Spiderman is on the streets with this eye catching scooter. The Spiderman Folding Inline Scooter handily folds and unfolds for ease and you can adjust the height of the handlebars as your child grows. It's a must for Spiderman fans with a fully printed footplate and iconic red and blue colour scheme. Spidey-senses will definitely be tingling with this fun scooter.
Frozen 2 My First Tri Scooter
You can't go far wrong with Frozen 2 and we've even got a helmet to match. The frosty favourite Frozen 2 My First Tri Scooter has all the basics needed for a little beginner including an anti-slip foot plate not only a great safety feature, but displays Anna and Elsa. For little ones from age three the Frozen 2 scooter has anti – puncture tyres and protected forks and rear axles to protect its little rider. Too good to let it go!
U move LED Scooter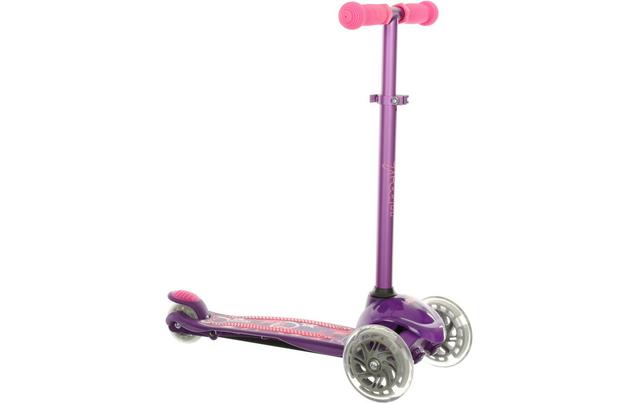 There's lots of stability provided by the U move LED Scooter so it's a great beginner's scooter. The lean to steer movement system helps your child practise balance and control. We also love the light show provided from the motion activated wheels. It comes in a purple and pink combo and blue and green alternative. Even better, no batteries needed!
 X-Rated Joker stunt scooter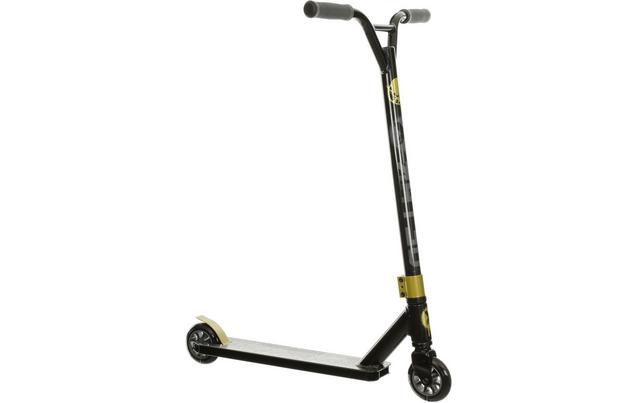 The X-Rated Joker Stunt Scooter has all the tricks of the trade for those looking for a scooter with a bit more punch. The ABEC 7 bearings give you a little more horsepower than the average scooter – one push gets you a lot further on this speedy scooter. The handlebar is designed in a Y shape, wider and taller than the norm which makes it possible to lock the scooter when you're out and about. And, if you are experimenting with some more adventurous tricks and moves, the threadless headset ensures all the parts stay exactly where they are, with minimum rattle.
Nitro Circus stunt scooter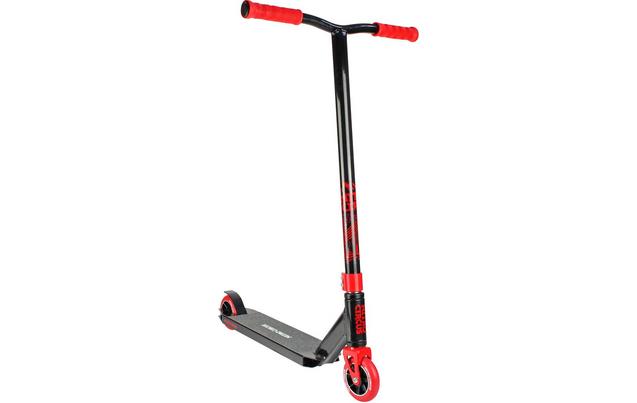 Just one look of the Nitro Circus Ryan Williams Signature Junior Replica Complete Pro Stunt Scooter and you can start to imagine yourself following in his footsteps. It's a great looking scooter and has been especially designed for young riders interested in getting the most out of their scooting time. The 100mm fast alloy core wheels have a strong outer rubber casing that smooth out the ride whilst your mini Ryan Williams is practising their hops and spins. The skatepark won't know what's hit it.
 Paw Patrol kids' scooter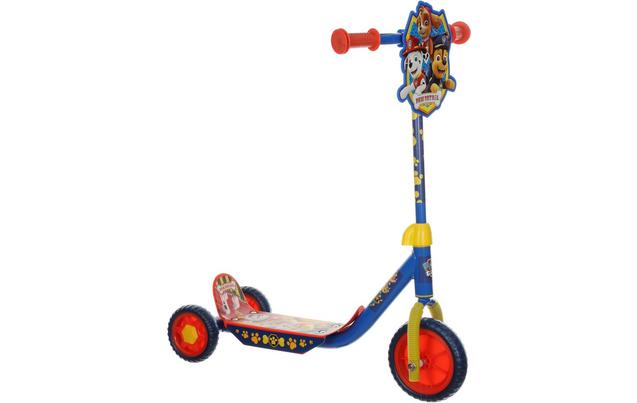 There will be no mistaking your child is a Paw Patrol fan with the exuberant Paw Patrol Tri Kids Scooter. Covered in handlebar to wheel graphics including a Paw Patrol branded plaque on the front, this funky little scooter has all the ingredients necessary for your child to learn the basics of scooting. There's lots of grip given from the plastic non-slip footplate and control from the basic turn to steer design. They'll do the patrol proud.