If you haven't tried an electric bike (or haven't even heard of electric bikes) then things are about to change. Electric bike sales are on the rise (around 50,000 – 60,000 are sold each year in the UK compared to overall UK bike sales of over 3 million), and the evidence points towards serious growth over the next 30 years.
*Source: HMRC e-bike import figures 2018
Using data from online transactions and Google trends, as well as predictions from the Office for National Statistics (ONS) and Society of Motor Manufacturers & Traders (SMMT), it's possible to guess future e-bike popularity, and show the top 10 places in the UK that could see the biggest electric bike growth over the next 30 years. So, which factors might play the biggest role in increasing electric bike sales? And why might electric bike sales increase so rapidly?
What is an Electric Bike?
Electric bikes look just like normal bikes. You can find electric road bikes, electric mountain bikes, electric city bikes and even folding electric bikes for commuting. Deciding on which electric bike you need comes down to not just personal preference, but the type of rides you'll be doing and how much assistance you require on them.
Even though there's a battery, motor and control unit on most electric bikes, electric bikes aren't like scooters or mopeds. Instead, the electric bike's battery and motor provide assistance when pedalling, so riders don't need to put as much effort in as they cycle.
Why are Electric Bikes becoming more popular?
Well, by not having to put as much effort in, getting from A to B becomes a lot easier. From tackling hills without breaking a sweat to being able to cycle to work without the pedals feeling like lead, electric bikes aren't just for lazy folks or those who are unable to cycle as vigorously – it's all about making life easier.
The top 10 locations for electric bike sales growth
To understand how electric bike sales could develop over the next 30 years, it's important to understand the environment in which cyclists will use their electric bikes. In the Netherlands for example, a country where cycling is so ingrained in society, over 400,000 e-bikes were sold in 2018, accounting for over 68% of the €1.2 billion in total bicycle sales within the country.
Sources: RAI Association and BOVAG
Dutch cities famously have outstanding bicycle infrastructure, including over 35,000km of cycle lanes, extensive storage and racking solutions, along with the already-mentioned culture of cycling over driving or taking public transport. Therefore, electric bike introduction hasn't come up against the challenges that exist here.
In the UK, we're still well behind the Netherlands in terms of infrastructure and culture, but we're slowly but surely making improvements in our cities to make cycling more favourable. Whether it's more pressure for dedicated, protected bike lanes in traffic-heavy cities like Manchester, or electric bike hire schemes to match existing bike hire services in the capital, the focus on promoting cycling to replace driving is well underway.
The other big factor for pushing cycling over cars, buses and taxis is heavy pollution. Many of the UK's cities are failing miserably when it comes to attaining acceptable air quality figures, so trading engines for non-polluting e-bike batteries and motors is an attractive proposition not just for decision-makers, but also for commuters who don't want to breathe in excessive exhaust emissions and smog.
It is this focus on cycling to and around cities that is partially responsible for the following cities being the top 10 for electric bike sales in the UK. It's unsurprising to see the likes of London, Manchester and Bristol (some of the most bike-friendly cities in the UK) on the list, but it's good to see that places like Belfast, Newcastle-upon-Tyne and Leeds – which all suffer from cramped, compact city centres with little room for cycle lanes – are all seeing predicted growth in e-bike sales too.
It's also worth noting that many electric bikes sold at Halfords are used by leisure riders away from city centres, so the demographics of each chosen city and local cycling cultures/selection of local routes will also play a large part in electric bike sales in these areas.
How the data has been collected
It is possible to guess at long-term electric bike sales by extrapolating physical sales leading up to and including 2019, and adding-in external e-bike popularity factors.
These factors include location-by-location factors as stated above, expected changes to UK demographics, and the declining use of cars and vehicles.
Alongside sales forecasts, predictions can also benefit from Google Trends data. Google Trends analyses everything from search terms to news articles to whitepapers, then delivers in-depth reports showing in which direction certain topics are headed.
Naturally, such long-term predictions should carry a cautionary 'health warning' as to their reliability – and it's important to understand that trends are fiendishly difficult to predict.
UK E-Bike Market Size: 2019
2019 has been the biggest year in history for electric bike sales in the UK. As well as more awareness around what an electric bike is, plenty of e-bike market growth is predicted thanks to a wider range of electric bike choices, from affordable, entry-level e-bikes all the way up to top-of-the-range e-bikes with longer-lasting batteries and performance frames and components.
UK E-Bike Market Size: 2020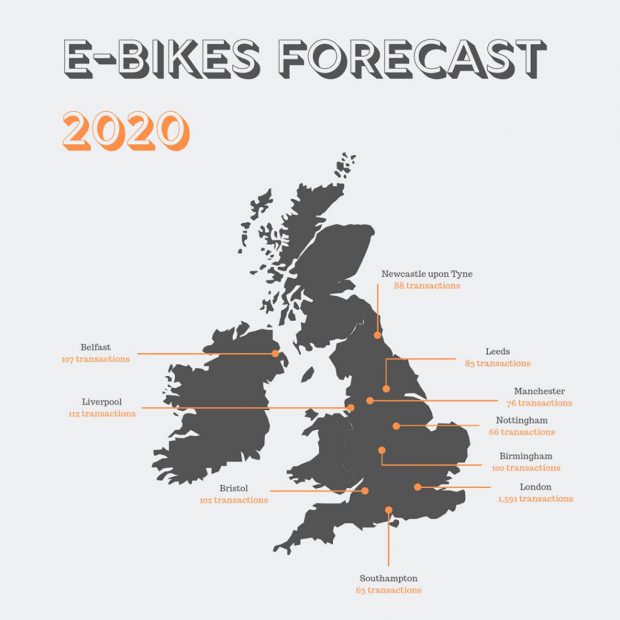 Next year, we expect increased e-bike sales in a big way. This isn't speculation either – the growth in e-bike sales over the last few years as well as 2019 points towards a 30% increase in e-bike sales, a figure that shows just how seriously cyclists in the UK are approaching electric bikes.
Yvonne R Wake, BSc MSc RPHNUt and lifestyle consultant: 
"As a registered public health nutritionist and wellbeing and lifestyle consultant, I know only too well how difficult it is to motivate people to stay fit and well, and be active in the very sedentary world that we have found ourselves living in. We all need to exercise daily if we want to enjoy better health, it's basically no longer an option. 
"E-bikes encourage exercise for all, and especially those with compromised health issues who are being told by their doctors to exercise daily to get them into better health. If e-biking were increased and it became the preferred method of transport for short distances over cars, I have no doubt that it would positively impact the increasing obesity and heart disease rates we are seeing in Europe."
UK E-Bike Market Size: 2030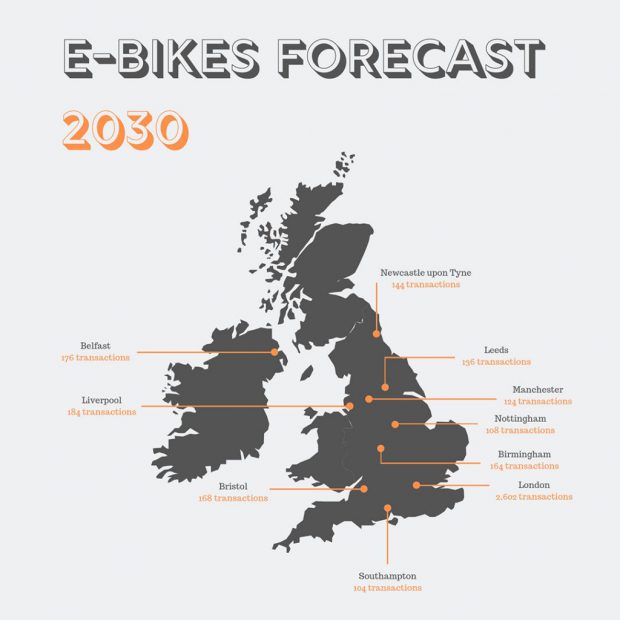 Over the next decade, several factors could play a huge role in the way the UK approaches cycling. As well as the aforementioned pressure on local authorities to create more cycling routes, resulting in improved environments for riders, a much bigger turning point comes into effect: the government's plan to completely ban the sale of new petrol and diesel cars by the end of the 2020s. This move towards electrification, along with much stricter pollution rules within towns and cities could see the bike become a key mode of transportation. This is reflected in the prediction that the number of e-bikes sold within these 10 identified cities will pass the 8,000 mark.
Craig Bennett, Friends of the Earth chief executive:
"Electric bicycles can potentially play a big role in cleaning up our transport by removing dirty vehicles from our roads and getting people onto two wheels. People who may have previously been unable to travel by bicycle could have an entire new, cleaner way of getting around.
"By getting more people out of their cars we can look to a future where our towns and cities are not choking on polluted air, and climate-wrecking emissions have been slashed."
UK E-Bike Market Size: 2050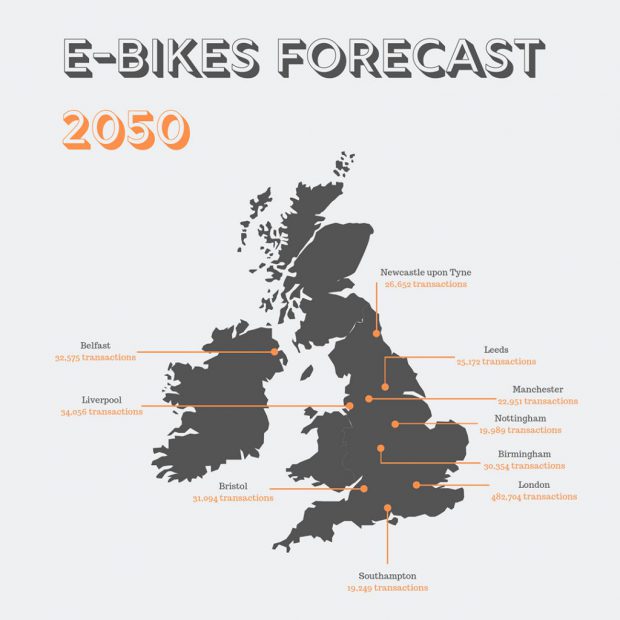 With fossil-fuel modes of transport well outdated and our infrastructure looking a lot different by 2050, e-bikes could be a popular alternative to cars. As battery technology improves to the point where a charge is only needed once a week or less, and manufacturing costs fall thanks to automation, e-bikes may become just as prevalent as pedal-powered bikes – with an estimated 1.5 million sold within these selected cities in that year.
Jim Martin, Editor Tech Advisor:
"By the year 2050, I would expect e-bikes to be cheaper, be lighter, and have a longer range. The integrated technology within the bike may also improve dramatically to include satnavs, which would direct you on the safest route, and a KERS-type system that recharges the battery when you brake and pedal, or freewheel downhill. They may also have more safety features."