Cycling has boomed in Britain during the pandemic. Quieter roads, the Government recommending cycling as a daily form of exercise, people avoiding public transport, being housebound, and an increase in leisure cycling, have all encouraged an environment where cycling has thrived.
To look further into why people are cycling more and whether they intend to continue in future, Halfords has produced a report: 'The Great Bike Boom Continues', revealing the latest trends in cycling and how the explosion of cycling is set to continue long after the pandemic.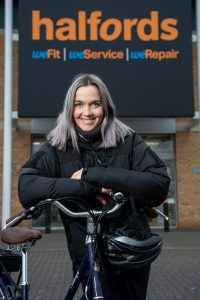 Double Olympic champion Victoria Pendleton, says: "With cycling being one of the only forms of available exercise and transport over the past year, it's been exciting to see the boom unfold, and even more so that it looks like it's here to stay.
"The research shows that the growth is being driven by two groups, those who have returned to cycling and people who have discovered it and are falling in love with it. I'm delighted that it means many more are waking up to the transformative power of bikes for transportation and recreation."
The report found that 40% of Brits say they have cycled more frequently over the past 12 months and 42% use their bike at least twice a week. Of those who cycle, the average distance cycled on a bike ride is eight miles.
As the nation adapts to life after the pandemic, the research also suggests that the cycling boom is permanent and our lifestyle habits are likely to shift dramatically. 70% of those who said cycling has replaced other forms of physical exercise say this shift will be permanent.
Let's hope it continues this way!