Whether you're a home mechanic or a DIY wizard, a sturdy and robust toolbox is essential for transporting, protecting and arranging your tools.
To help you find the perfect home for your screwdrivers, spanners and set squares, we've pulled together this handy guide to finding the perfect toolbox.
How to choose a toolbox
Finding a good toolbox may seem simple enough, but there are a few important things you'll want to consider.
Practicality
On a basic level, your toolbox should be easy to store, comfortable to carry, and have enough space for all the tools that you need. After all, you don't want to have to carry any tools loose because they don't fit in (a recipe for misplaced tools!).
Think about how and where you'll be using your toolbox. If you're a home DIY-er, then your toolbox will probably have a comfortable life, so you don't need to invest in an expensive model. Professional tradespeople and mechanics are likely to give their toolboxes and tools a harder time, so our advice is to spend a little more for a better-quality toolbox.
Be sure to plan ahead too. We know that tool collections have a habit of growing, which might mean you need to upgrade to a larger model sooner than you thought!
Size of tools
If you've got lots of small tools and tool bits to store, then you'll want to choose a toolbox that has small compartments to keep everything organised. For larger tools you will need bigger compartments and more space.
Storage space
Most plastic toolboxes will have a removable tote tray that sits on top of the main storage chest to hold tools in. The bigger the box, the larger the tote tray.
There may also be compartments on the outside of the toolbox that can be used to store things such as drill bits, chuck keys, screws, rawl plugs and other DIY essentials that can be useful if you need them.
Types of Toolboxes
Toolboxes can be broadly split into two categories: plastic and metal.
Plastic toolboxes
Plastic toolboxes come in a huge range of sizes, from the 12.5" Stanley Toolbox to the super-sized 26" Stanley Galvanised Metal Toolbox. The plastic used in both is thick and durable.
As plastic isn't quite as robust as metal, plastic toolboxes are usually better for home DIY enthusiasts who won't be transporting the toolbox as much as a professional tradesperson.
Metal toolboxes
Metal cantilever toolboxes are the other common option.
Built from heavy-duty metal, the toolbox opens out to give you access to three levels of tools. Because they're built from heavy-duty metal, these are usually the best toolboxes for mechanics because they're able to withstand repeated knocks and bumps. The payoff is that metal toolboxes are slightly more expensive and are heavier than plastic toolboxes. They also require a little maintenance to keep the mechanism moving freely.
Our choice of the best toolboxes
Every mechanic should have a toolbox, and there are few better than the Halfords Professional Cantilever Toolbox. Built from long-lasting, heavy-duty metal, it's a classic and dependable design. The toolbox opens out automatically when the handle is depressed to give you access to three tiers of tools arranged in five trays.
At 56cm long, it's big enough to store most commonly used tools.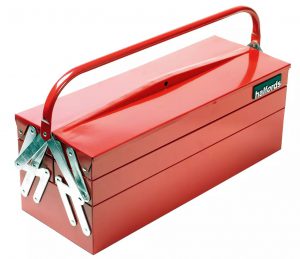 The Stanley Galvanised Metal Toolbox combines the best of plastic and metal toolboxes to produce a robust and reliable toolbox for the professional or serious amateur. The solid plastic shell is wrapped in a galvanised, rust-resistant finish. Metal latches keep everything secure and at 26" it's large enough to carry everything you'll need for the job. Built by the experts at Stanley, you know it'll last.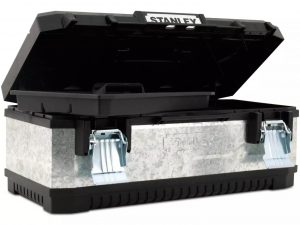 At just under £20, the Stanley 19" Toolbox is exceptional quality at an attractive price. With an innovative design, robust structure and large storage volume, the toolbox has ergonomic metal latches for longer life, and small top organiser lids and a removable tray for easier organisation of small parts or tools.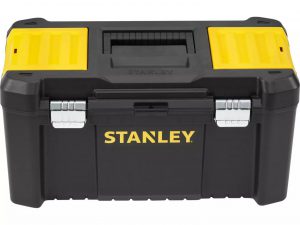 ---
Here at Halfords, we stock a variety of toolboxes suitable for all your tools and needs, and you can find the full range here.
While you're there, why not check out our range of professional-quality hand tools? We've got all the tools you need to tackle those essential DIY tasks, all at an affordable price.