Cleaning your car may not be at the top of anybody's list of favourite jobs, but if you want that showroom shine all year round, it's essential.
Sadly, a bucket of soapy water and an old sponge won't give your car the fantastic finish you're looking for. If you're happy to spend a bit of time scrubbing, washing, polishing and waxing you can get your car looking clean and fresh, and keep it looking that way for longer.
At Halfords, we've got all the car cleaning products you need. To help narrow down your search, here are our top ten car cleaning accessories that will ensure you get great results from your DIY vehicle valet every time.
Halfords Alloy Wheel Brush
If your corners are caked in mud and grime, then the Halfords Alloy Wheel Brush should be top of your list. Suitable for all alloy wheels, its hard-working bristles will easily remove dirt and grime. The plastic core coating is gentle on your alloys and used carefully, shouldn't cause any damage. It's been designed by our experts to get into those hard to reach parts to make cleaning wheels as easy as possible. Its comfortable non-slip rubber handle makes it a pleasure to use.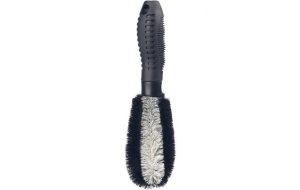 Halfords Snow Foamer
Snow foams are sprayed on to your car's paintwork before you begin your wash routine. They help to loosen stubborn dirt, grease and grime, giving you a better finish. Make it snow all year with the Halfords Snow Foamer. This ingenious gadget allows you to swap between washing and foaming, giving you complete control over your cleaning. It comes packaged with adaptors for Halfords and Karcher pressure washers and is ready-to-use straight out of its packaging.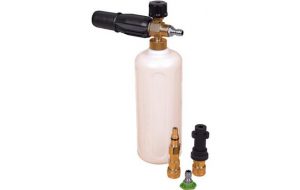 Halfords Barrel Brush
The Halfords Barrel Brush is another of our favourite products that will show your wheels a bit of love. It's bristles shape to the contour of your wheels, removing all the nasties a life on the road can throw up. We're talking dirt, grease, grime and more – all removed in seconds. When you've finished cleaning, give the brush a rinse and make sure it's dry before storing it, so it's as good as new the next time you need it. A handy tip from us: use a wheel protector after washing and your wheels will be easier to clean in the future!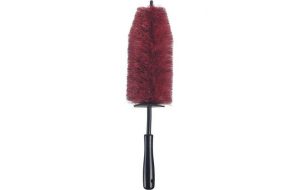 Karcher K2 FC Car Pressure Washer
The Karcher K2 FC Car Pressure Washer is an entry-level pressure washer that delivers excellent all-round performance. As well as the tried and trusted K2 unit, in this package you'll find the pressure washer itself and a host of essential accessories; Including two types of cleaning lances, a wash brush, foam nozzle and 4m high-pressure hose. A pressure washer makes removing the dirt from your car's delicate paintwork a doddle but it's also useful for other DIY tasks; Including cleaning patios, walls and just about anything else you point it at.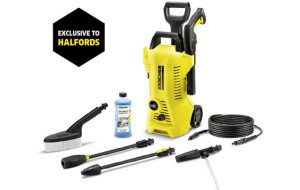 Halfords Microfibre Cloths 5 Pack
Microfibre cloths pick up all the dust, dirt and general debris that can collect inside and out of your car. As well as interiors exteriors, they provide a streak-free finish on glass too. Buy the Halfords Microfibre Cloths 5 Pack and you'll be able to choose from blue, orange and green cloths to suit your mood. Pair it with a car polish or glass cleaner for a superb finish.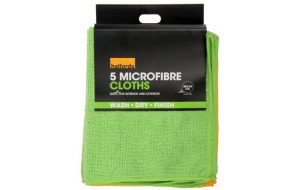 Autoglym Perfect Bodywork, Wheels and Interior Gift Collection
If you're struggling to find a gift for the classic car fanatic or picky petrol-head, then the Autoglym Perfect Bodywork, Wheels and Interior Gift Collection could be right up your street. Inside the stylish carry-case you'll find a whole collection of Autoglym products that will restore a radiant shine to your car's bodywork, wheels and interior. As well as super car shampoo conditioner, wax and polish you'll also get the cloths and sponges you need to do the job properly.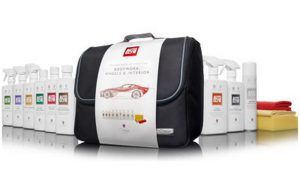 Autoglym Polar Blast Snow Foam 2.5L
Add some Autoglym Polar Blast Snow Foam to your pressure washer and your car will be bathed in bubbles in seconds. The gentle foam will help to loosen any stubborn stains and marks, leaving a finish that's ready for a proper pressure wash, polish, wax and finish. Highly recommended by users, Autoglym Polar Blast Snow Foam is pH neutral, which means it won't damage your paintwork or any previously applied layers of polish or wax.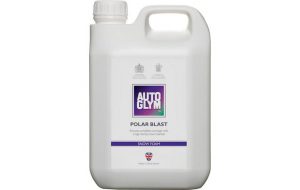 Demon Valeting Gift Pack
When it comes to keeping your car clean, the devil is in the detail(ing). The Demon Valeting Gift Pack contains everything you need for a heavenly finish, including snow foam shampoo, spray on shine, cleaning fluids for the body, tyres and wheel as well as all the accessories required. If you're searching for a single solution or an ideal gift, the Demon Valeting Giftpack could be just what you're looking for.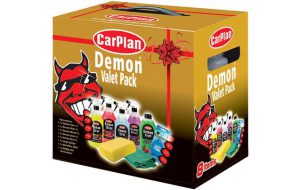 Meguiars Ultimate Wheel Cleaner
Meguiars Ultimate Wheel Cleaner is the brand's most advanced wheel cleaner, delivering superb cleaning performance that keeps your precious wheels free from damage. It's easy to use, you simply spray it on and leave it for a few minutes while it does its works. In just four minutes, this wonderful wheel cleaner breaks down heavy brake dust and cuts through grease and grime to leave wheels looking fresh. Its pH balanced and acid-free, meaning it can safely be used on polished and uncoated aluminium wheels and even painted brake components, like callipers.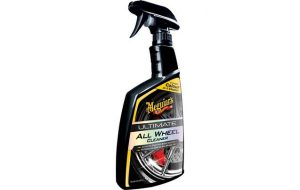 Meguiars Hybrid Ceramic Wax 768ml
Ceramic waxes have hydrophobic properties that makes water flow off your car rather than settling, giving you a better finish and stronger protection from corrosion. Meguiars Hybrid Ceramic Wax is a precision-engineered car wax that makes laying down a protective coating a breeze, with no need for rubbing, curing or buffing. It's like traditional car wax, but without the mess!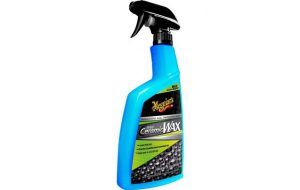 Halfords Motoring Club
Don't miss out! Join the Halfords Motoring Club today to access a range of amazing benefits and discounts that are designed to keep you moving, keep you safe and keep you saving.
It's free to join and you'll receive money off your MOT, a free car health check and a welcome voucher that can be spent on any Halfords product or service.
Or choose our Premium membership for a small monthly fee (or a one-off payment) to unlock exclusive member pricing on all motoring products and services online and across our stores, garages and Halfords Mobile Experts, as well as a variety of other benefits that will help you to keep moving for less.
With so much to enjoy, this is too good an opportunity to miss!
Join the Halfords Motoring Club today at www.halfords.com/motoring-club.