An informed driver is a safe driver. There are lots of ways that you can help to keep yourself informed and safe out on the roads (and keep others safe too).
While you're probably familiar with in-car tech like sat navs and dash cams, we reckon speed camera detectors are well-worth your time too.
Here are three reasons why!
1. They can do more than just pick up speed cameras
The basic role of a speed camera detector is to alert you to the presence of upcoming speed cameras so that you can manage your speed effectively (and avoid getting fined). But they also come with a range of other clever features.
The award-winning Saphe One+ Speed Camera Alarm, for example, starts up automatically with your car and allows you to tailor the traffic alerts to your exact needs. The system collects traffic data from over 8 million motorists in Europe, works throughout Europe itself, and will alert you about any accidents, hazards or dangers ahead that might hamper your journey.
Powered by a long-lasting battery, the Saphe One+ is also easy to install wherever you wish and you don't need to worry about any messy trailing wires.
At the other end of the scale is the Road Angel Pure One. This neat bit of road safety tech includes too many features to list (many available via subscription), but some of our favourites are the bright LCD display, live speed camera information, traffic and roadwork alerts, modem, over-the-air updates, a smart motorways feed and access to a road speed library.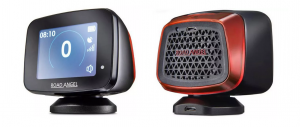 2. You don't need to touch your phone
Many mobile phones come with inbuilt navigation software and there are a number of road traffic apps that you can download too, so you might be wondering why you'd need a separate speed camera detector.
Well, these apps sometimes require you to touch your phone, which can be dangerous while you're on the move and also lead to a hefty fine. Speed camera detectors require little interaction and don't even have to be in your line of vision in order to do their job.
The Saphe brand of speed camera detectors are particularly compact and unobtrusive, which means you can easily position them in a convenient place. The Saphe Drive Mini Speed Camera Detector is palm-sized and provides a safe and reliable way to get real-time information on road accidents, speed cameras and obstacles that could obstruct your journey.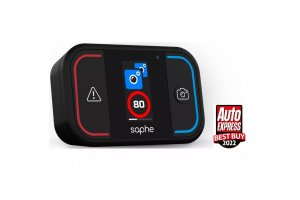 The system uses traffic data from almost 1 million users in order to give you up-to-date information about the road ahead, and then warms you when you're approaching an incident or speed camera. There's no subscription required and the device even starts automatically, so you can just leave it to take care of business.
3. They help to keep everyone safer on the road
At their heart, speed camera detectors are all about keeping drivers informed and, by extension, safe. They're particularly useful when you're in an unfamiliar area or remote location where you might be unsure of the legal limit.
They also help us to form better general driving habits by making us more aware of the limits around us and driving safely within these limits will help to eliminate the risk of speeding fines.
So, why not add a speed camera detector to your car today and see what benefits it can bring to your daily drives?