Getting ready to tuck your motorcycle away now autumn has arrived? Think again!
With its abundance of stunning colours and crisp air, autumn is arguably the best time of year to get on your bike, and you'll be rewarded with stunning views and unforgettable rides.
However, riding in autumn comes with its own challenges unique to the season, which is why you need to be prepared. From weatherproofing to maintaining your bike, here are our top 5 tips for riding in autumn.
1. Don't fall foul of the rain
Now, we're not suggesting you try to avoid riding in rain because, let's be honest, we're likely to see more than the odd downpour. However, you can easily prepare for wet conditions – doing so could be the difference between a soggy nightmare and an epic ride.
Step one in weatherproofing yourself is to wear waterproof clothing. That doesn't just mean a jacket, but trousers, boots and gloves that have waterproof qualities. When choosing clothing, also try to pick items with reflective detailing that will make you more visible in darker conditions and during night riding.
The Weise Vision Jacket is a full 360° reflective jacket that illuminates you fully when it's hit by car headlights. Unlike other reflective jackets that feature a few reflective strips, this jacket is designed to make you as visible as possible, from every angle. It also has a waterproof polyester construction and external pockets with waterproof zipped closures to keep you and your belongings dry.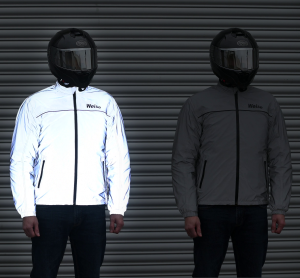 Even with waterproof clothing, water can still seep through gaps. So, why not also use Nikwax TX Direct Spray-On to add extra water repellence. Easily applied to breathable waterproof clothing, it'll enhance the performance of your gear, helping to keep you warm and dry. If you want to add extra water repellence to leather clothing, try the Nikwax Leather Restorer.
2. Beware of the cold
As the days tick by and we get deeper into the winter, the temperature will drop, and you'll need to think carefully about your warm-weather gear. Generally, it's better to be too warm than have numb fingers and not be able to operate the brakes, so now will be the time to start layering up.
For avoiding numb hands, the Richa Arctic Gloves are a great option. They're not only thermal gloves that will keep your hands nice and toasty, but they're also waterproof too.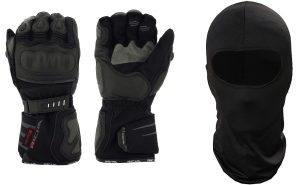 Another part of your body to consider is your neck and head. It's an easy part to forget when you're throwing on layers, but all that layering up can come unstuck if a cold draft works its way in. Luckily, you can avoid this with the help of the Halfords Core Balaclava. It's made of breathable cotton fabric and is sure to keep you warm and comfortable on long rides.
3. Watch out for ice
Numb hands aren't the only thing to think about during late autumn. The same temperatures that leave you shivering can also cover the roads in ice. It can often be hard to see ice on the road, so always check the forecast before heading out and ride carefully if ice is forecast. If it is and your ride isn't essential, you can always save it for another day when the conditions are more favourable.
4. Avoid a flat battery
Most people have experienced that heart-stopping moment when you turn the ignition key only to receive a faint splutter. And, annoyingly, it always seems to happen in autumn or winter when the weather is colder.
There's actually a reason for that – cold weather affects a battery's capacity to hold a charge and can slow it down. Luckily, there's an easy way to prevent this so your ride won't be cut short before it's begun. The best solution is to keep your motorcycle's battery topped up by manually charging it, especially if you only ride occasionally. You can do this using the Halfords Smart Motorcycle Battery Charger. It's designed to provide safe, long-term charging over 7 tailored stages without the risk of overcharging.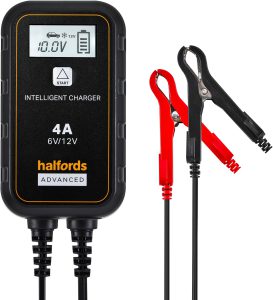 Another part of your motorcycle to be aware of are the tyres. They can take a little extra time to warm up and supply optimum levels of grip, so always start off steady to give them a warmup.
5. Know your route
The falling leaves may look beautiful, but you never know what hazards or potholes are hiding beneath them. So, always ride cautiously and pick your line carefully.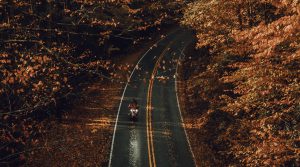 Also, try to stick to roads and routes you know well as you'll probably have a good idea of where any major potholes are. If your favoured route has any potentially hazardous roads, divert around them, and save them for when the sun is shining.
If you need any help navigating or planning routes, check out the Garmin Zumo XT Motorbike Sat Nav with Full Europe Maps. It's specially designed for motorcycling and comes equipped with lots of market-leading features like rider alerts and incident notifications.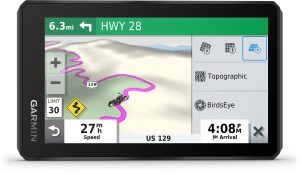 6. Be safe, be seen
The days are shorter and the nights are darker, so lighting becomes more important than ever. That means making yourself visible to other road users and having a clear view of the road.
So, before heading out on any rides, make sure your lighting system is working correctly and clean any lenses to provide optimum brightness. If you want to boost your visibility, why not upgrade your bulbs to our Halfords Advanced Motorcycle 150% Bright Bulb? With 150% more light and a beam pattern of up to 190m – 80m longer than a standard headlight bulb – you'll be clearly visible to other road users and able to see any obstacles in your path.
7. Watch out for the sun
On the flip side, the sun can also be a problem as it sits lower in the sky. That means there's more chance of it being in your eye line while riding. So, in a tip you'd probably expect for summer, make sure you use a helmet with a high-quality visor that will protect your eyes. If you need some inspiration, check out our full range of motorcycle helmets here. One of our favourites is the Shark Ridill as it packs lots of features into a user-friendly helmet, including a Pinlock anti-scratch visor.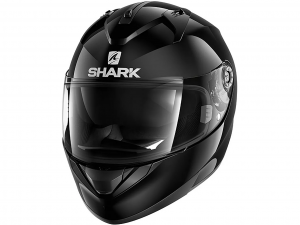 During the damper months, helmets tend to fog up quickly, which is why the Muc-Off Motorcycle Premium Anti-Fog Treatment is a must. As well as providing a long-lasting barrier against fog and mist, it can be used on the outside of the visor as a hydrophobic treatment to make rain bead and disperse.
8. Join the Halfords Motoring Club
At Halfords, we're here to provide you with the best value for all your motoring needs, so our last tip is to join the Halfords Motoring Club today! You can access a range of amazing benefits and discounts that are designed to keep you moving, keep you safe and keep you saving.
It's free to join and you'll receive money off your MOT, a free car health check and a welcome voucher that can be spent on any Halfords product or service.
Or choose our Premium membership for a small monthly fee (or a one-off payment) to unlock exclusive member pricing on all motoring products and services online and across our stores, garages and Halfords Mobile Experts, as well as a variety of other benefits that will help you to keep moving for less.
With so much to enjoy, this is too good an opportunity to miss! Join the Halfords Motoring Club today at www.halfords.com/motoring-club.
---
It's important to stay safe on your motorcycle this autumn, so make sure you follow these tips. For lots more motorcycle-related advice, why not check out our other motorcycle blogs here?
You can also find all the motorcycling accessories and clothing you need over at Halfords.com.
You want to keep riding through autumn, you want Halfords.