With the winter months putting extra pressure on our vehicles, our cars are particularly vulnerable to mechanical mishaps and potential breakdowns.
Thankfully, there are many simple things you can do to help your car run smoothly during the winter months. Here are four ways to help your car avoid a breakdown and how to get back on the road if a breakdown occurs.
1. Look after your battery
Flat or faulty car batteries are the leading cause of vehicle breakdowns. This is particularly true in winter, when the cold temperatures can play havoc with the chemical process inside your battery and make it much more difficult for the battery to hold a charge.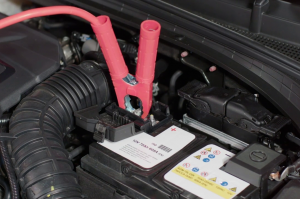 We'd recommend keeping an eye on the condition of your battery and paying attention to any warning lights that might appear on your dashboard.
It's also a good idea to take your car out for regular runs for at least 30 minutes if possible. Keeping a battery charger in your car boot will get your battery ticking over again if loses charge. This is quite common if you haven't driven your car in a while.
Also bear in mind that most batteries have a lifespan of 3-5 years, so if you notice that yours is beginning to show its age then it's probably time to start looking for a battery replacement.
If you'd like a second opinion on the condition of your battery, then our Free Battery Health Check is a great choice. Or why not go for a full 10-PointCar Check, which also covers areas such as your headlights, tyres and oil levels?
For further information on maintaining your car battery, check out our blog on how to avoid a flat battery.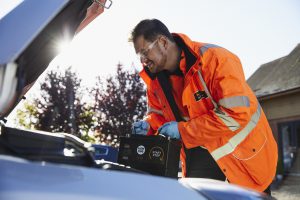 If you do find yourself with a flat or faulty battery, then we can help with that too. Our Halfords Mobile Experts can come to you at home or at work, 7 days a week between 8am and 8pm. This safe, contactless and convenient service can be booked online, and next-day fitting is also available when you book a slot before 6pm the previous day subject to slot availability.
2. Check your tyres regularly
Tyres are another leading cause of car breakdowns. More specifically, damaged or flat tyres due to a puncture or worn tyre tread. While it's difficult to avoid the risk of punctures entirely when you're out on the road, checking your tyres regularly can help reduce the likelihood that you'll run into trouble.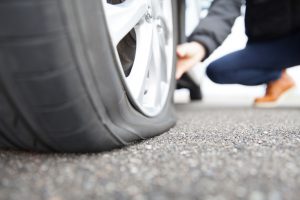 Be on the lookout for any cuts, splits and nicks in your tyres, as well as any glass, nails or screws that might have become imbedded in the rubber and could lead to a puncture in the future. You should be able to see these by giving your tyres a quick inspection.
Your tyre tread depth should be at least 1.6mm – any less than that and the tyre will need replacing. A tyre tread depth gauge is the most accurate way to measure this, so make sure you've got one in your garage.  A tyre inflator can help restore your tyres to the correct pressure, which will be listed in your vehicle's handbook.
For extra peace of mind, we offer a Free Tyre Check where one of our experienced technicians will carry out a pressure check for you, inspect the tread depth, and inspect for wear and damage. Tyres are also covered as part of our 10-Point Winter Car Health Check, so if you'd like to get both your battery and tyres checked in one go, along with eight other areas of your car, then this is the option for you.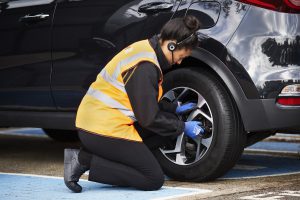 Our Halfords Mobile Experts are also on-hand to assist with tyre replacements and puncture repairs on your drive or outside your workplace.
3. Keep up-to-date with your servicing
Getting your car serviced regularly is a form of preventative maintenance because it ensures that everything's running smoothly and means your car's less likely to breakdown when you least expect it.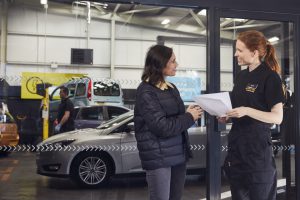 Any problems that might become more serious in the future can be spotted early and fixed, potentially saving you from expensive repair bills further down the line.
While different manufacturers have different recommended service intervals, they generally all agree that getting your vehicle serviced at least once a year is essential, or more often if your mileage is significant.
Here's a full breakdown of the three types of service that we offer at Halfords:
| | | |
| --- | --- | --- |
| Name | Recommended interval | What it involves |
| Interim service | Every 6 months or if you exceed 2,000 miles per month | A 50-point inspection that's designed for high mileage car users in between annual services. |
| Full service | Every 12 months or every 12,000 miles | A 77-point inspection and among the most comprehensive annual services available. It exceeds recommendations made by most manufacturers in terms of checks, refills and replacements to help ensure trouble-free motoring. |
| Major service | Every 24 months or every 24,000 miles | A 77-point inspection, as well as the replacement of all the parts that manufacturers recommend you replace every two years, such as brake fluid (worth £39.99) and interior pollen filter (worth at least £30.00). |
All of our services can be booked online at your local Halfords autocentre, and on a date that suits you.
4. Watch out for dashboard warning lights
Dashboard warning lights are there for a reason and while it might be tempting to overlook them, the truth is that it's much more advisable to face any issues head-on and get them sorted. The last thing you want is to experience a breakdown that could have been avoided if you'd just listened to what your car was trying to tell you!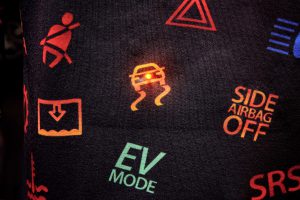 Our Car Warning Lights – What Do They Mean? article provides a great overview of the various dashboard symbols. It also contains handy advice about what to do if you're confronted with some of the common amber and red lights, so it's definitely worth a read.
If you're worried about a warning light, then let our Diagnostic Check find the root of the problem for you. The process takes about an hour and our experienced technicians will recommend any necessary repairs that are required to keep your car safely on the road.
5. Prepare for the unexpected
Even with all of the above preparation, the truth is that sometimes cars breakdown just happen despite our best efforts. And in those cases, it's important to be prepared.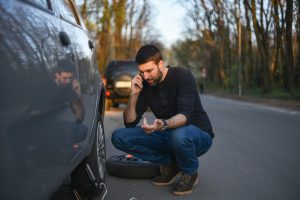 Make sure you've got some breakdown essentials in your car, so that you've got all the important bits of kit you need if you find yourself stranded at the side of the road. We'd also recommend popping some Holts Tyreweld into your boot for quick, emergency puncture repair, along with a tyre inflator and a jump starter to get your battery going again.
For another layer of protection, there's our Halfords Breakdown Cover. There are five levels of cover available for your car, van and motorbike, while all policy holders also receive a range of benefits including 10% off servicing and repairs, 10% off wiper blades, bulbs and batteries (including fitting), and half-price MOTs.
Join the Halfords Motoring Club
At Halfords, we're here to provide you with the best value for all your motoring needs, so our last tip is to join the Halfords Motoring Club today! You can access a range of amazing benefits and discounts that are designed to keep you moving, keep you safe and keep you saving.
It's free to join and you'll receive money off your MOT, a free car health check and a welcome voucher that can be spent on any Halfords product or service.
Or choose our Premium membership for a small monthly fee (or a one-off payment) to unlock exclusive member pricing on all motoring products and services online and across our stores, garages and Halfords Mobile Experts, as well as a variety of other benefits that will help you to keep moving for less.
With so much to enjoy, this is too good an opportunity to miss! Join the Halfords Motoring Club today at www.halfords.com/motoring-club.
---
And there you have the best ways to help your car avoid a breakdown. With regular maintenance and checks, you'll give your car the best possible chance of powering through during the winter months.
For all your motoring needs, you want Halfords.