If you're interested in joining the e-bike revolution (and you definitely should be!), we have great news. Electric bikes now come in all shapes and sizes, meaning there's sure to be the perfect option for you.
And here at Halfords, we have an amazing selection of e-bikes for less than £1500. From convenient commuting options to trail-ready e-bikes, here are our top picks.
Why choose an e-bike?
With an e-bike, you really can ride without limits. Each comes with an added motor that will provide assistance as you ride, helping power you over hills or distances you previously struggled with on a regular push bike.
How much power the motor provides and the range of the battery will depend on the bike, but most e-bikes can power you up to speeds of 15.5mph and for anywhere between 20 to 100 miles.
And the great thing is, there's now an e-bike for everyone. So, whether you want a mountain bike with an added boost or something to help you cycle to work, an e-bike is an amazing option.
Want to learn more about e-bikes? Visit our help and advice guides.
Carrera impel im-1 Electric Hybrid Bike, £1099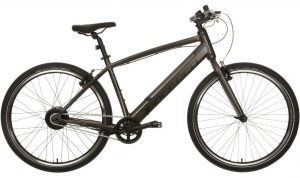 With over 25 years of experience, Carrera know a thing or two about creating e-bikes, and their newest range of impel e-bikes don't disappoint.
Whether it's powering you up hills or cruising along smooth tarmac, the impel's powerful Hyena rear hub motor will take the strain out of riding. You'll get to choose from three different levels of assistance and a walking assist mode. So, if you want an easy ride, you can! And then when you want an extra workout, simply select a lower assistance level and feel the burn.
Impressively, the impel also has a maximum range of 50 miles so you won't need to worry about running out of assistance.* And the design isn't just focussed on performance as the battery is seamlessly integrated into the frame for a sleek look.
Of course, a hybrid bike also needs to be convenient and comfortable – and the impel im-1 has got you covered. It comes with a memory foam saddle and mounts for racks and mudguards.
And to top it all off, the bike has integrated front and rear lights and is Bluetooth compatible, allowing you to connect to the Carrera app and track key rider stats.
From commuting to adventures on off-road paths, the Carrera impel im-1 will help you ride further and faster than ever before.
Carrera Subway Electric Hybrid Bike 2.0, £1,149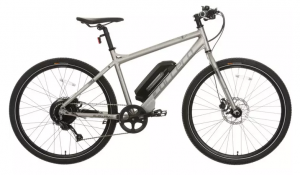 The Subway is one of Carrera's most iconic bikes – and they've taken it to the next level with the Subway electric bike.
Still as versatile, the Subway e-bike can handle a range of surfaces. Its hydraulic disc brakes provide dependable stopping power in all conditions and the double-walled rims are more puncture resistant, perfect when riding on off-road paths.
Assistance is provided by the Suntour performance motor which also benefits from a cadence and speed sensor. This sensor ensures the motor turns on as soon as you start pedalling – perfect for stop-and-start commuting. And with a range of up to 40 miles, you'll never find yourself running out of assistance on a ride.*
So, if you're looking for a versatile and dependable e-bike that can handle roads and off-road paths alike, the Carrera Subway should definitely be on your list!
Carrera Vengeance Electric Mountain Bike 2.0, £1,149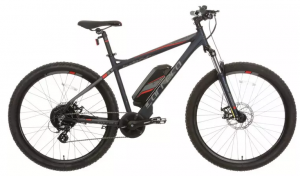 Want an e-bike that can tame trails? Or something suitable for all off-road terrain? Look no further than the Carrera Vengeance e-bike.
The Vengeance is our best-selling bike, so it's no surprise that its e-bike version is just as impressive. First and foremost, it's a mountain bike and comes with a high-quality suspension fork and a trail-ready geometry. The SRAM gearing is reliable and provides a wide range of gears, perfect when riding on any off-road terrain.
Disc brakes are a must on mountain bikes, and you can always depend on the Vengeance's Tektro disc brakes to perform.
Alongside this impressive mountain bike package is the added motor and battery. Helping power you up steep ascents and along rugged terrain, the Vengeance has a range of up to 40 miles – more than enough for a day at the trails.* Plus, the battery can be recharged in at little as 6 hours, so it'll always be ready the day after for another adventure.
Want to take your mountain biking to the next level? Look no further than the Vengeance e-bike.
Carrera impel im-2 Electric Hybrid Bike, £1299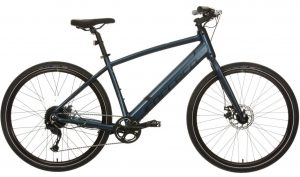 Another out of Carrera's new range of impel e-bikes, the im-2 boasts an improved range of up to 50 miles.*
Like the impel im-1, it's a versatile bike. Whether commuting or cruising around town, the robust and lightweight aluminium frame provides a comfortable and smooth ride. Then, when it comes to stopping, the mechanical disc brakes are dependable in all conditions.
The motor can power you up to speeds of 15.5mph and alongside the 9-speed gearing, you'll have no trouble getting up any inclines in your journey. Controlling the level of assistance is easy thanks to a high-quality LCD display that can also be used to charge your phone or other devices via USB charging.
Like what you hear? You can learn more about the impressive im-2 over at Halfords.com.
Pendleton Somerby-E Electric Hybrid Bike, £1049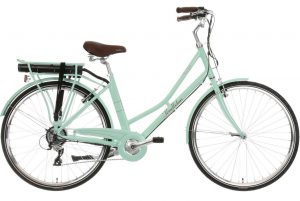 Pendleton bikes are famous for their comfort and style-led designs, making them the perfect choice for urban riding and casual rides.
This comfort-led approach has also provided the foundations for the Pendleton Somerby e-bike. It benefits from a low step-through frame, an upright riding position and relaxed handlebars, all of which ensure comfort when cruising around town. Every aspect of the bike is carefully designed to meet the needs of urban riders, with a chainguard keeping your clothes clean while you pedal.
The motor can power you for a maximum of 50 miles, so you won't need to worry about running out of battery while carrying out errands or commuting.*
And as we've all come to expect from Pendleton bikes, the Somerby's stylish design means it looks as good as it rides!
---
E-bikes are constantly growing in popularity and there's never been a better time to discover the benefits of assisted riding – with the rising cost of living, e-bikes can be a great way to save money on commuting or travelling. Want to learn more about e-bikes? Head over to our Electric Bike Hub.
You can also discover our full range of e-bikes over at Halfords.com, or explore our bike servicing and free bike check offers.
*The maximum range will depend on the capacity of the battery, rider and luggage weight, power mode setting and riding style.