The days of using a map to navigate have long gone, and most of us now rely on technology. In more recent times, many people have turned to their phones and use apps to get around.
However, here at Halfords, we believe sat navs are still the way to go. They benefit from a wide range of technology that will not only help you get to your destination, but also enhance your journey. Need a little convincing? Here are five features you'll find on a sat nav but not on an app.
Foursquare POI
Sat navs can help turn your journeys into adventures.
The first step is finding the perfect places to explore en route. With the help of Foursquare, this is easy. Available on multiple Garmin devices including the Garmin DriveSmart 66 Sat Nav, the app provides points of interest along your route and its database includes over 100 million venues worldwide – so you won't struggle to find places to explore on your journey!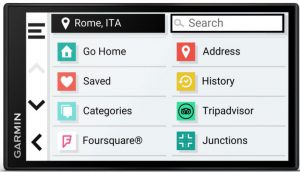 Taking advantage of this feature is easy and each device comes pre-loaded with these points of interest. Plus, if you link your Foursquare account to a smartphone, you can discover more details about a location, check in to locations, and search for specific points of interest in Foursquare's online database.
Featured on: Garmin Drive 52 EU Sat Nav, Garmin DriveSmart 66 EU Sat Nav, Garmin DriveSmart 66 EU Sat Nav with Amazon Alexa
TripAdvisor traveller ratings
Foursquare provides millions of points of interest – but how do you choose which ones to explore? That's where TripAdvisor traveller ratings comes in handy.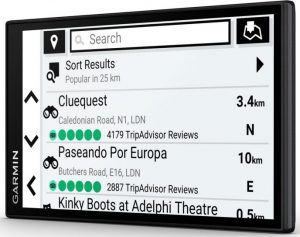 You've probably heard of TripAdvisor before – they're one of the most popular travel websites that compile reviews, ratings, and other information on everything from popular attractions to hotels. So, if you want to find the top-rated places to visit, TripAdvisor is your go-to.
That's why Garmin have teamed up with TripAdvisor to enhance their point of interest feature. This means you can now view TripAdvisor ratings and reviews for many of their pre-loaded points of interest.
Combine it with Foursquare and you'll find every must-visit location on your journey.
Featured on: Garmin DriveSmart 66 EU Sat Nav with Amazon Alexa, Garmin Drive 52 EU Sat Nav, Garmin DriveSmart 66 EU Sat Nav
Large screens
First and foremost, sat navs are there to get you from A to B and to make navigation as easy as possible – and that's why their larger screens are a big advantage.
Even if you rely more on voice navigation, there will be a time when you'll need to look at the screen for more guidance – we all know how confusing roads in big cities can sometimes be. And in that scenario, you need a screen that's clear and easy to read.
This can be an issue when using an app on a phone where maps will be condensed onto a smaller screen, but not with a sat nav.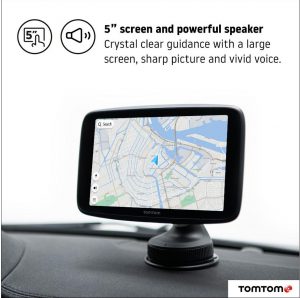 A perfect example, TomTom and Garmin's newest ranges of sat navs all benefit from larger screen sizes between 5 and 7 inches. As a sat nav is specially designed for navigation, their screens are also more intuitive and easier to use.
Examples: TomTom GO Classic 6″ Sat Nav, TomTom GO Expert Truck Sat Nav 7″, Garmin CamperVan 780 MT-S Sat Nav with Full Europe Maps
Up Ahead
Sometimes, your sole focus is getting to your destination. That's when you need more focussed suggestions for important things like service and fuel stations or places to eat.
Finding these essential locations to stop off is easier with the help of Garmin's Up Ahead feature. It provides location suggestions for the road you're travelling on – perfect for those long motorway slogs!
These suggestions aren't limited to restaurants or services either, and it even provides important information on upcoming exits and cities.
Perfect for long journeys, the Up Ahead feature is great for those who take ad hoc stops along the way.
Featured on: Garmin Drive 52 EU Sat Nav
Campground directories
Some journeys are planned, others are spontaneous. While some of us like to have strict itineraries, others go with the flow and see where the journey takes them.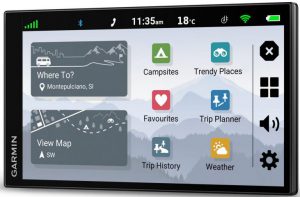 For the latter carefree travellers whose choice of transport is a campervan, the Garmin CamperVan EU MT-S is a useful addition. It comes preloaded with a directory of campervan campsites and other places to stop off. So, when you're out on the road, you can easily find places to spend the night.
Featured on: Garmin CamperVan 780 MT-S Sat Nav with Full Europe Maps
Introducing the Halfords Motoring Club
Don't miss out! Join the Halfords Motoring Club today to access a range of amazing benefits and discounts that are designed to keep you moving, keep you safe and keep you saving.
It's free to join and you'll receive money off your MOT, a free car health check and a welcome voucher that can be spent on any Halfords product or service.
Or choose our Premium membership for a small monthly fee (or a one-off payment) to unlock exclusive member pricing on all motoring products and services online and across our stores, garages and Halfords Mobile Experts, as well as a variety of other benefits that will help you to keep moving for less.
With so much to enjoy, this is too good an opportunity to miss!
Join the Halfords Motoring Club today at www.halfords.com/motoring-club.
---
Whether you're a carefree traveller looking for places to stay or are seeking an adventure along the way, a sat nav is the perfect solution. And, here at Halfords, you'll find a range of market-leading sat navs from the best brands including Garmin and TomTom. You can explore the full range here.
If you need any help picking a new sat nav, head over to our help and advice guides where you'll find lots of handy tips.