Every year, thousands of bikes are stolen in the UK, which is why you need to keep yours protected.
To help you do this, we've put together these top tips for protecting your bike at home and when out and about.
Storing a bike at home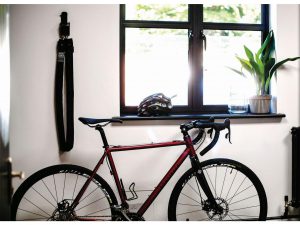 It's easy to assume that bikes are only stolen in public places. That's why so many people store their bikes in a garage or shed without even thinking about protective measures.
However, your bike is just as likely to be stolen while stored at home, so you need to keep it protected. Here are a few tips:
To start, think about where you store your bike. Is it in a secure location that's hard to access? Remember, a bike is worth a lot of money, so a rickety, old shed lock won't deter would-be thieves. That's not to say a garage or shed isn't safe, you just need to make sure it is secure and has a high-quality lock with all the doors and windows locked whenever your bike is inside.
Another thing to consider is where you position the bike. Most thieves are opportunistic and won't attempt to steal what they can't see. So, place your bike out of sight or under the Halfords Bike Cover so it's not easily visible.
Finally, lock it to a secure point. Lots of people make the mistake of locking their bike to a manoeuvrable or unsecured object, rendering a lock useless. So, find something robust. If you're struggling, the Halfords Advanced Ground Anchor is a great solution. It provides a robust anchor to secure either a chain or D-lock to, helping keep your bike safe. And remember to check with your insurer about the level of lock required for your bike.
Keep your bike safe in public
When it comes to protecting your bike when out and about, there is one golden rule: always lock it! If you fail to lock your bike, you're essentially leaving a 'take me' sign for any would-be thieves.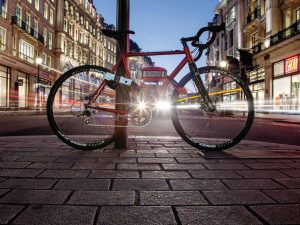 However, you can't simply lock it anywhere – location matters too. Try to pick somewhere public where there are lots of people who will act as a deterrent.
Have a look around to see if there are any security cameras – something else thieves like to avoid. And whatever you do, make sure the anchor point is secure and not damaged. It can sometimes be easy to miss, but some public anchor points will have been targeted by thieves before. If they've been completely cut through, a thief could simply slide your lock off.
That brings us neatly onto the final point – try to avoid a location where it looks like a theft has occurred before.
Have a quick look to see if there are locks around anchor points without any bikes (people tend to leave the lock behind if their bike has been stolen). You'll be able to tell if these locks have been damaged. Many thieves like to return to spots where they've been successful.
Which bike lock do I need?
Wherever you store your bike, whether it's at home or out and about, a high-quality lock is essential. But which lock do you need? After all, you don't want one that a thief will easily cut through. Here's what you'll need to consider:
Security rating
The key when buying any lock is to look for a security rating, and every lock sold by Halfords comes with either a standard or a Sold Secure rating. Sold Secure are an independent company that provide the industry standard for security testing. After rigorous testing, they award each lock a grade. These grades are:
Bronze approval – A good level of resistance against the opportunist thief.
Silver approval – A greater level of resistance against the more determined thief.
Gold approval – A high level of resistance against the dedicated thief.
Diamond approval – An extra-high security grade used only for specific products such as lock cylinders, security chains, ground anchors, and portable wheel locks for the caravan market.
And if you have insurance, you should have the appropriate lock based on the value of your bike that meets the policy requirements.
Having a lock with the right security rating can also help when it comes to claiming against insurance, should you be unlucky enough to lose your bike to theft. And you should definitely have your bike insured, as we discuss later.
Types of locks
You also need to consider which type of lock is best suited to your needs. There are four types, and we'd recommend you use two for that extra deterrent:
D-locks – Are a popular choice. They have strong, curved tubes of steel that can be slotted around the frame before hooking around an anchor point and locking into place. Most D-locks come with a frame that can be attached to your bike, making them easier to carry around.
Chain locks – Use heavy-duty chain links with locking mechanisms at each end. They are less rigid than D-locks and are easier to carry as they can be wrapped around your frame as you ride.
Cable locks – Aren't traditionally as robust, so are best used alongside a D-lock or chain lock. However, they are much lighter and more flexible than other options, meaning you can wind them around multiple parts of the bike before securing it to an anchor point.
Anchor lock – Are great when storing your bike at home. They securely attach to the floor or a wall and will act as an anchor for you to feed your locks through, securing your bike.
Our favourite bike locks
There are lots of locks available, but which would we recommend? Here are a few of our favourites.
For commuters and everyday riders – Hiplok Gold Superbright Wearable Chain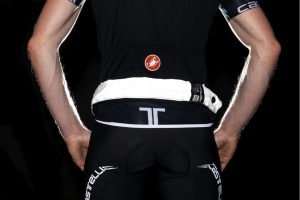 With gold Sold Secure approval, the Hiplok uses a robust 12mm hardened steel shackle and a 10mm hardened steel chain to keep your bike secure.
You can also wear the lock comfortably around your waist when riding, and it can easily be adjusted to fit waists from 28" to 44". It even has a highly reflective sleeve to help make you visible on dark nights.
For e-bikes – Halfords Advanced 23cm D-Lock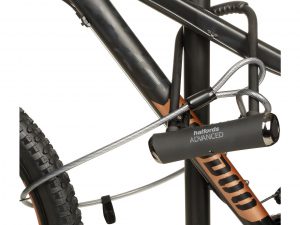 Naturally, thieves will target bikes that they think are worth the most money, making e-bikes a big target.
That's why you need to protect your e-bike with a high-quality lock, and the Halfords Advanced 23cm D-Lock is a dependable choice.
Featuring hardened steel casing to protect against drilling attacks, an anti-pick locking mechanism, and an ultra-hardened steel shackle, it's no surprise that the lock is diamond Sold Secure approved – meaning it offers the highest level of protection.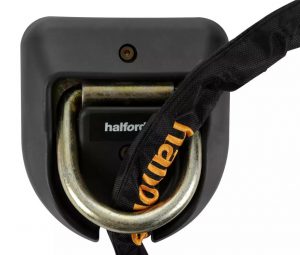 For securing your bike at home – Halfords Advanced Ground Anchor
When securing a bike at home, you need to lock it to an immovable object. That's where the Halfords Advanced Ground Anchor comes in handy. Gold Sold Secure approved, the anchor benefits from a large, weather-treated shackle and can be used with a chain or D-lock to keep your bike safe and secure.
How to correctly lock a bike?
You can have the best lock in the world, but if you don't use it correctly, it won't offer much protection. When using a lock, it's best to:
Lock it to an immovable object with an approved lock – A bike is only as secure as the object it's locked to. That's why your bike must be secured to an immovable object using a lock approved by your insurer. Also, make sure the immovable object isn't damaged as your lock could simply slide off.
Wind the lock around multiple parts – Wind the lock through the frame and any quick release wheels so that everything is secured. Aim for lower down the frame near the bottom bracket, as this can make it harder for a thief to reach. This should also make the lock tauter against the frame, making it harder to cut or damage.
Use two locks – For extra security, it's best to use two locks. Not only will your bike be more secure, but it'll also act as a great deterrent.
Insure your bike
Unfortunately, no matter what steps you take, a bike can still be stolen. That's why it's important to get your bike insured.
In association with Cycleplan, we offer customers in England, Wales, and Scotland the option to activate free 14-day bike insurance when they purchase a bike through Halfords (not available in the Republic of Ireland).*
And, if your bike was purchased from Halfords within the last two years, you're still eligible!
Cycleplan bike insurance protects you against**:
Theft of your bicycle from your home
Theft of your bicycle while away from home
Theft of your bicycle from a motor vehicle
Accidental damage to your bicycle
Malicious damage to your bicycle
Activating this free 14-day bike insurance is easy too! Simply fill out the form on the bottom of this link.
Cycleplan bike insurance isn't limited to 14 days either, and the Cycleplan annual policy can provide greater cover and allows you to enjoy a year of riding safe in the knowledge your bike is insured.
Plus, if you find the same level of coverage and terms elsewhere within 14 days of taking out the plan, Cycleplan will refund the difference.
So, what are you waiting for? You can protect your bike with Cycleplan's insurance here.
---
That's everything you need to know about keeping your bike safe and protected. Don't forget to head over to Halfords.com where you'll find an extensive range of Sold Secure approved locks and Cycleplan bike insurance.
If you need further help finding the perfect lock, head over to our Bike Lock Buyer's Guide.
And remember… if you want to keep your bike safe and secure, you want Halfords.
*Halfords Limited is an Introducer Appointed Representative of Ripe Insurance Services Limited, trading as Cycleplan, which is authorised and regulated by the Financial Conduct Authority.
**Exclusions may apply, please check your insurance documents to ensure you know what is covered. Also please check the General Security Requirements to ensure you have the correct level of lock, and you know how and where you can store your bike.