Over the last couple of years, cycling has become more popular than ever before – and with good reason! Cycling is a great way to exercise, enjoy the outdoors, and (in our opinion!) is the best way to commute to work.
However, if you're not used to cycling on roads or in traffic, you'll need to learn the rules of the road, and there are some steps you can take to keep yourself safe. We've pulled together some top tips to help you stay safe while cycling.
Follow the Highway Code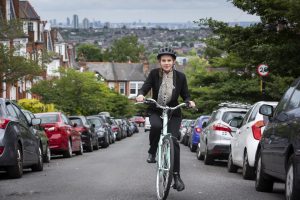 This is essential reading for cyclists, motorists, and pedestrians alike. So, make sure you've read up on it and are aware of the rules of the road (many of which are covered in this blog).
If you're following the rules but are unfortunate enough to be involved in an accident, you're less likely to be held responsible.
Importantly, this also means your insurance claim is more likely to be successful – on that note, you need to have bike insurance, as we'll discuss later!
Position yourself correctly
We know how tempting it is to hug the kerb as you ride. The closer you are to the kerb, the further away from any vehicles, right?
Actually, you should ride at least half a metre away from the kerb. Doing this will help you avoid slippery drain covers, potholes, and debris (which collects in the gutter).
Plus, if someone tries to overtake you too closely, you need space to move into. If you're already tight to the kerb, you'll have nowhere to go. Don't feel pressured if a motorist is trying to overtake you and look out for potential dangers like potholes. Riding in this position will also deter motorists from trying to squeeze past you.
Finally, leave plenty of space when passing parked cars – enough for a car door to open without hitting you. Most motorists are very considerate of cyclists, but some may forget to check before opening their car door.
Be aware
Even if you follow the rules, motorists can sometimes do unpredictable things – so be prepared!
Always have an awareness of what's around you and is coming up. Keep your hands near the brakes so you can quickly react if needed.
And try to make eye contact with motorists, especially those waiting to pull out at a junction or roundabout. If you've made eye contact, you can be more confident they've seen you, although you should still be prepared in case they haven't.
Make others aware
Motorists also need to be aware of what you're doing. That's why you need to use good hand signalling.
Hand signalling is the equivalent of using indicator lights and makes other road users aware if you're turning, or even if you need to adjust your position in the road to avoid a pothole.
Start indicating early so you have plenty of time to adjust your position in the road – especially when turning right, as you'll need to move across the road to make the turn.
If you're new to cycling, practise indicating in a quiet location, so you get used to riding in traffic with one hand.
Only undertake when it's safe to do so
If you cycle to work, you'll need to get used to cycling in traffic, and there'll be occasions when you need to undertake stationary or slow-moving traffic.
In this scenario, it's important to be attentive. If there's a left turn coming up, be cautious, as vehicles could turn without seeing you.
Be especially cautious when passing large vehicles, as they have blind spots that make it difficult for drivers to spot cyclists. That's why it's best to wait until they're stationary or at traffic lights, so you can safely move in front of them. Try not to ride alongside a large vehicle as the driver may not see you. Instead, hang back and pass the vehicle when it's safe to do so.
Whenever you're undertaking, the key is to be alert and only undertake when you're confident you can.
Be seen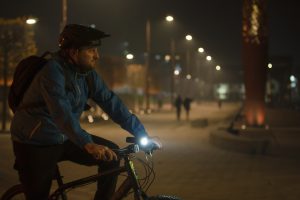 When riding on the road, you want to make sure you're easy to see. That's why you should wear bright, fluorescent clothing and use plenty of lights.
A front and rear light is the minimum, but the more lights you have on your bike, the better.
And when it comes to clothing, look for something that's fluorescent. Ridge has a great selection of waterproof fluorescent jackets that will make you visible while protecting you from sudden downpours (which are inevitable when you're riding in the UK!). If you want something a little smaller for the summer, try one of our hi-vis vests.
It's also a good idea to wear a helmet camera. This will capture footage of the road, acting as a witness should you be involved in an accident. It'll also come in useful if you have to make a claim against your bike insurance.
Get your bike insured
Even if you follow the rules of the road, accidents can sometimes happen – that's why bicycle insurance is so important.
In association with Cycleplan, we offer customers in England, Wales and Scotland the option to activate free 14-day bike insurance when they purchase a bike through Halfords (not available in the Republic of Ireland).* And, if your bike was purchased from Halfords within the last two years, you're still eligible!.
Cycleplan bike insurance protects you against**:
Theft of your bicycle from your home
Theft of your bicycle while away from home
Theft of your bicycle from a motor vehicle
Accidental damage to your bicycle
Malicious damage to your bicycle
Activating this free 14-day bike insurance is easy too! Simply fill out the form on the bottom of this link.
Cycleplan bike insurance isn't limited to 14 days either, and the Cycleplan annual policy can provide greater cover and allows you to enjoy a year of riding safe in the knowledge your bike is insured.
---
If you follow the rules and these safety tips, riding on the road and in traffic will be much safer. Just make sure you're prepared with everything you need including a helmet, bike insurance and other safety essentials – and you can find them all over at Halfords.com.
And if you need a little motivation before venturing outside, check out our 'The benefits of commuting by bike' blog.
*Halfords Limited is an Introducer Appointed Representative of Ripe Insurance Services Limited, trading as Cycleplan, which is authorised and regulated by the Financial Conduct Authority.
**Exclusions may apply, please check your insurance document to ensure you know what is covered. Also please check the General Security Requirements to ensure you have the correct level of lock, and you know how and where you can store your bike.