Brompton is renowned for compact, high-quality folding bikes that are still hand-brazed in the company's London factory. Brompton has also been campaigning to encourage all Brompton owners and bike riders to cycle more than they have before. The reason? The more of us that ride, the better our towns and cities will be, and the happier and healthier we'll be in return.
In this blog, the experts at Brompton have shared their top 3 reasons why we should spend more time in the saddle.
1. Cycling can help boost your mental and physical health
Regular physical activity has been found to reduce depression by up to 30% and the chance of developing cancer by up to 45%*. And what better way to increase your physical activity than on two-wheels?
Riding evokes a sense of freedom – the wind in your hair, the fresh air in your lungs and the ability to take a break from the everyday stresses of life. We're all dealing with a considerable amount of change and stress right now, so there's never been a better time to jump on a bike to pedal out that stress while boosting your health and wellbeing.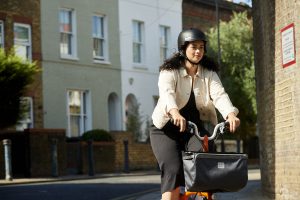 2. Cycling can free up space in your town or city
Did you know that over 8,000 hectares of central London land is taken up by parked cars? That's the same size as 57 Hyde Parks, 6.6 Heathrow Airports or 5,714 football pitches!**
By riding on two wheels, you can reduce traffic and increase space, leading to safer, cleaner cities. Riding is also a great alternative for a short commute or an essential shopping journey. By riding, you'll free up space on the roads and on public transport.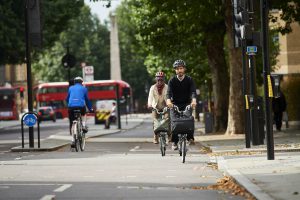 3. Cycling can be the perfect morning commute (even when you're not commuting)
Many of us are now working from home. So why not replace your usual commute with a ride around your local area?
A regular dose of morning exercise will give you more energy for the workday ahead and help increase your physical activity in a safe and socially-distanced manner. Just make sure that you always follow local government advice regarding safe exercise and restrictions.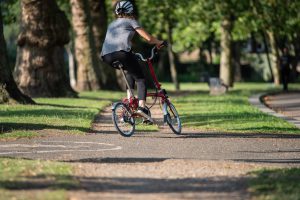 Brompton bikes at Halfords
Brompton is the leading bike manufacturer here in the UK and a Brompton bike is perfect for those that live, work or play in towns or cities. Each model folds up to a third of its original size and weighs just 11kg (on average), making them ideal for commuters, space-savers or those who always want to have a mode of transport to hand.
To find out more about reasons to ride in your town or city, or to see what Brompton is doing to campaign for change, visit https://www.brompton.com/campaign-for-movement.
And pick up a Brompton bike at Halfords today to get moving – for yourself and for where you live.
---
*Source: NHS (2018), Glasgow University (2017).
**Source: Farells, WSP & Parsons Brinckerhoff (2018).