Cycling technology has developed significantly over the years, with a vast range of advanced cycling gadgets frequently entering the market. There was once a time where cycle tech gadgets such as power meters were much less accessible and geared more towards professionals. However, with much more affordable options now available, everyday cycling enthusiasts can train like the pros.
Many of us love to keep up with the latest tech trends and, with cycling technology, there are always exciting new developments hitting the market.  By pairing your GPS cycle computer with external sensors, such as power meters, heart rate monitors, and cadence sensors, you can access in-depth ride data at your fingertips. This data can allow you to shape and personalise your training cycles, show off your efforts on social media or even compare yourself to the pros!
We're breaking down the different types of cycling gadgets available, and how the data can be used to help you become a better cyclist.
Best cycling gadgets
There are a wide range of cycling tech gadgets available to provide insight into various aspects of your cycling performance. Useful devices to help you push your cycling limits are as follows:
Power meters
Power meters are the most reliable way of gaining cycling performance data. Power meters were once only ever used by the pros but are now becoming increasingly more affordable, allowing cycling enthusiasts to train and measure their rides with power.
Although power meters are at a higher price point compared to other cycle tech products, they are a worthwhile investment for any dedicated cyclist looking to enhance their performance.
Many cyclists find training by power output more accurate than by heart rate as it is not impacted by external factors.  Power measurement is recorded in watts and will only be affected by the power you output from your legs at any given time, regardless of the time of day, temperature, or health status during your ride.
You can use either single-sided or dual-set crank-based power meters. As the name suggests, single-sided power meters measure power from one side, usually the left leg. The reading is then doubled to estimate the power of both legs. While single-sided power meters are more affordable, they may not be as accurate as dual-side power meters as they do not consider any imbalances in power between your left and right leg.
The 4iiii Precision 105 7000 Power Meter 172.5mm is an ideal option for those looking for a single-sided power meter. Lightweight and easy to set up, this device will provide you with further insight when it comes to your power output. Single-sided power meters are fantastic options for those beginning their journey to training with power and is ideal if a dual crank set is slightly out of your budget.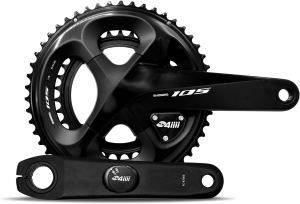 If you're after a dual-sided power meter, look no further than the 4iiii Precision Pro 105 7000 172.5 52-36T. Precision is renowned for providing accurate data and is a brand frequently used by professional cyclists. This dual side power meter provides the power output for each crank side – perfect for those looking to maximise their cycling efforts. It's also important to note that your power meter should match the crank length or chainring size that you currently have on your bike.
Heart rate monitors
Monitoring your heart rate while you cycle is also a valuable metric as it can help you become a stronger cyclist, increase your speed, and improve your overall fitness. Analysing this data can help you train specific heart rate zones, allowing for more focused training to improve specific sections of your rides. This could be training long periods in a low HR zone to improve your overall race endurance or focusing on short bursts at your maximal HR zone to help improve your sprint finishes.
There are five different heart rate zones:
Zone 1: Recovery – intensity should be 50 – 60% of your maximum heart rate
Zone 2: Endurance training – intensity should be 60 – 70% of your maximum heart rate
Zone 3: Aerobic capacity – intensity should be 70 – 80% of your maximum heart rate
Zone 4: Lactate threshold – intensity should be 80 – 90% of your maximum heart rate
Zone 5: Anaerobic capacity– intensity should be 90 – 100% of your maximum heart rate
You can track your heart rate whilst cycling using a heart rate monitor. The Garmin HRM Dual trams is ideal, as it can transmit real-time heart rate data to your GPS computer and can also be used with training apps such as Zwift. Both comfortable and adjustable, the device is a simple way to track your heart rate while training.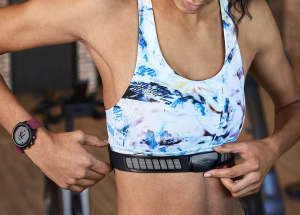 It's important to note that training by heart rate alone is subjective as it can be impacted by factors like age, temperature, medications, and overall fitness levels. Although training by heart rate is not as reliable as with a power meter, it's a great option for those looking to gain performance insights on a lower budget.
Cadence sensors
Within the world of cycling, cadence is simply the number of revolutions per minute (RPM) your pedals make as you ride. Keeping an eye on your RPM will help you maximise your speed and efficiency while also placing less strain on your muscles.
It's important to remember that there's no one ideal cadence level as this can be impacted by a variety of factors such as terrain, inclines and how much experience you have as a cyclist. Regardless of this, it's useful to understand your cadence so you can find the RPM that works best for you and consistently maintain it throughout your rides to maximise your pedalling efficiency.
You can measure your cadence by attaching a cadence sensor to your bike, like the  Halfords Magnetless Cadence Sensor. This lightweight sensor is affordable, quick to set up, and easy to use. It also has Bluetooth and ANT+ connectivity so can easily transmit data to your GPS computer, making it an excellent choice for those who want affordable access to cycling performance data.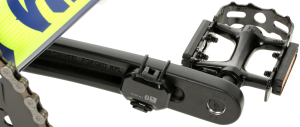 To improve your cadence, you can incorporate cadence drills into your training to help build your strength and enhance your pedalling coordination. Some useful examples include endurance spinning, single-leg focus drills, isolated leg training and kick and pull drills.
GPS cycle computers
Having a reliable GPS cycle computer is vital to improving your performance as it is the central hub to capture and display all the performance data measured by your external sensors all in one place. It is also useful for recording cycling routes and tracking your location.
The Garmin Edge 530 GPS Cycle Computer will provide you with your essential cycling insights – all in one simple, to use device. Discover key information such as VO2 max, recovery status, training load focus, heat and altitude acclimation, nutrition, hydration prompts and more.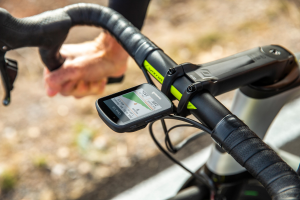 GPS cycle computers are also useful as you can link to training apps like Strava which allow you to share and compare your ride progress with friends. Apps like Garmin Connect are also extremely beneficial as you can analyse your cycling performance and highlight areas in which you wish to improve. Training-Peaks is another valuable app, where you can build training programs to improve specific areas of your performance through tailored cycling sessions.
Smart turbo trainers
For the days when it's just too cold and wet to ride outside, a turbo trainer is a smart way to continue your training indoors. Turbo trainers provide resistance to imitate the feeling of cycling on the road and can measure stats such as pedal power, speed, and cadence.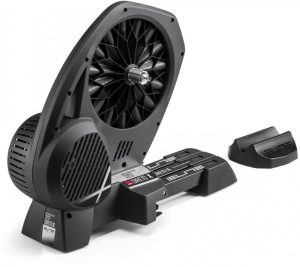 The Elite Direto-X OTS Turbo Trainer is fully interactive and compatible with training apps such as Zwift, TrainerRoad, and Rouvy so you can monitor your training and improve your cycling performance, all from the comfort of your own home.
---
By simply incorporating a bit of technology into your cycling training, you can gain real insight into your current performance and what you need to do to take yourself to the next level.
If you want the best in cycling technology, you want Halfords.