If you're thinking of heading off on staycation this year, then it's highly likely that the family car will be your mode of transport from home to the campsite, caravan park or B&B by the sea. So how on earth are you going to fit 2.4 children, 3 suitcases and the family pooch in your three door hatchback?
Here's out ultimate car packing guide, full of tips on getting everything in safely and securely.
Plan it out
The secret to logistics is the P word – planning. From full-on spreadsheets to a quick list on a notepad, write down everything you intend on taking and where you plan on storing it in the car. Start with the absolute essentials, then go onto non-essentials. This is where a big red pen comes in handy so you can start crossing out stuff that will just take up space without actually being of use!
Another good way of making sure you've got enough space is to draw a diagram. It doesn't have to be fancy, just the rough shape of your car. You can then start drawing in the duvets, tents and dog cage, making it easier to see where space can be saved.
Weights and measurements
One of the worst things you can do on a family road trip is overload the car. As well as having a negative effect on handling and fuel consumption, you could also end up breaking the law. Check your car owner's manual for the maximum carrying weight, then make sure your family and possessions don't go over this. It might also be worth measuring your baggage to see if it will actually fit in the boot too!
If you're going to be carrying more weight than usual, don't forget to check your tyre pressure. Many cars require additional air to be added to tyres if there are more then two people travelling in the car plus luggage, so check your manual again or look inside your door panels or fuel filler cap for the recommended numbers.
This is also a great opportunity to check your tread depth. If you're below the 1.6mm legal limit, you'll need to get new tyres before driving anywhere. If you aren't sure how to check this, head to your local Halfords and we'll happily check your tyre tread depth for you.
Prioritise your packing
Ever rushed to get on a plane, only to realise that as your case was the first one in, that means it's going to be last one out when you reach your destination? Well, the same concept applies to packing your car, which is why it's important to think about what order you store your items in.
Hard, low-priority items like sports equipment, camping furniture, toys and duvets need to be at the bottom of the boot or tucked out of the way, whereas essentials like medicines, phone chargers and spare clothes should be easy to grab from the top of the pile. You'll thank us when you aren't having to completely unpack the car in a motorway services looking for your sat nav charger!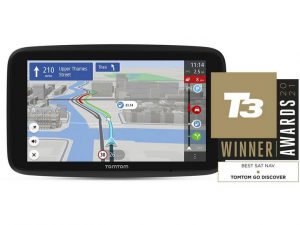 On the subject of sat navs, are you still relying on road maps? Consider upgrading to a TomTom GO Discover 6″ Car Sat Nav, with industry-leading maps and wi-fi connectivity for easy updates.
Get a roof box
Save yourself the difficulty of having to jam luggage into every corner of your car by getting a handy box on the roof where you can store everything instead! Fitting onto a pair of roof bars (which you'll need first), roof boxes are a real life-saver for larger families who have a lot of stuff to take on their trip away. They also come in handy for smaller groups who are going away for a longer period of time, as you'll be able to take more clothing, food and kit with you.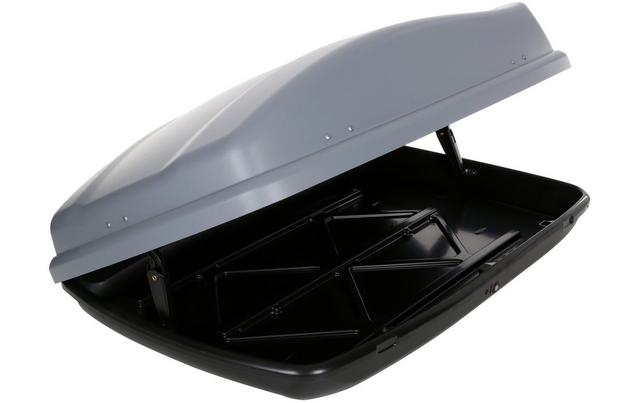 Our Halfords 320L Roof Box is a great choice for short breaks and fits on a wide range of roof bars quickly and easily. It also opens from the side, making it easier to reach luggage no matter where it has been packed.
Go soft
Although suitcases are great for storing in the hold of an aircraft, they can be quite cumbersome and awkward to fit in your car's boot. Consider swapping your trusty case for a soft sports bag, which can be squeezed into tighter spaces or even tucked into a spare foot well (as long as there isn't a passenger there too!). You could even recycle a few plastic shopping bags and use them to transport clothes instead.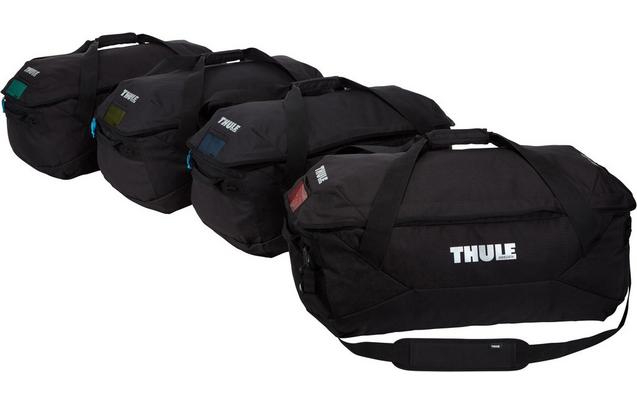 Organise your clothing and kit with this superb set of four GoPack Duffel Bags from Thule. Durable and easy to compress, these lightweight 60L travel bags can easily slot into your boot or roof box.
Take extra care
Always practice safe driving with a full car. Keep things away from the back window (and the windscreen for that matter), don't have heavy items loose on the back seat, and never store anything in the engine bay. If you're trying to force extra items into an already over-stuffed car, it might be time to rethink your packing or even consider hiring a larger vehicle.
Don't forget to take breaks on longer drives too, and consider getting a Free 5-Point Car Check at Halfords before you department for added peace of mind.