An assistant bike buyer at the Halfords Support Centre, James Trigg knows a thing or two about cycling. Here, James shares his experiences of riding the Boardman SLR 8.9 Road Bike and discusses how cycling helps keep him motivated, healthy, and provides a boost to his mental wellbeing.
You've been riding the Boardman SLR 8.9 105 Road Bike – how have you found it?
I love the new SLR 8.9!
The shifts on the 105 groupset are slick and the 11-speed 11-32t cassette provides plenty of gear selection. The carbon frame is tried and tested and has received great reviews and I certainly understand why, it's a pleasure to ride. The 28mm tyres have looked after me in the winter but are rapid on dry roads too.
Where do you like to ride?
I primarily use the bike for exercising – it's a great, Covid-friendly way to maintain fitness. When Covid restrictions have allowed, I've enjoyed a few lengthy rides with friends and I'm building up to a 100-mile sportive that I've signed up for during the Easter holidays.
I usually ride a mountain bike, so this has been an amazing way to build up my fitness. I've enjoyed it so much that on some weekends I've decided to ride the Boardman rather than heading to a trail centre! On days when I need to visit the support centre, I use it for my commute as it's the quickest bike I own and is a great way to get some exercise and refresh the mind before work.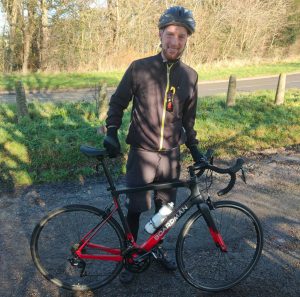 What are the must-have accessories for the Boardman?
On previous road bikes I'd used clip-in mountain bike pedals, so I decided to use road-specific Shimano R550 pedals and Boardman Road Cycle Shoes instead. I think they're an absolute essential for anyone looking to maximise the performance of a bike like this. They feel really connected and firm and it feels like every bit of effort I put through my legs is getting transferred to the bike – which is great on those days when you want to challenge yourself and ride hard.
Why do you enjoy cycling?
The thing I love most about riding any bike is spending time with friends and enjoying the experience.
However, like most people, I've found myself riding solo a lot more frequently this year and I've really enjoyed challenging myself and learning routes while trying to outdo any previous efforts. Having a cycling GPS has been really helpful with this – I wouldn't have had the same sense of achievement or drive to go faster if I couldn't track my rides with one. Of course, it's not just about going faster, and it's incredibly rewarding to achieve any target you set yourself.
What motivates you to ride?
Having fun – plus I enjoyed the fact I was able to binge on chocolate guilt-free over Christmas having put in some good miles the week before.
Now that I'm riding faster, it's also great to feel like I'm not holding my friends up, although I think that was always only my concern and not theirs. Ultimately, when you're all riding together and having fun, it doesn't matter how fast you ride!
How does cycling fit into your lifestyle?
Any day when I have to work from the office provides the perfect excuse for a ride, but I mostly ride on weekends and evenings.
Evening rides can be as short as half an hour and it's the perfect opportunity to find a bit of headspace and enjoy the freedom of riding. Knowing you're not going too far also makes it easier to chase a good average speed!
On the weekend, I love getting up early and going for a longer ride – completing 50 miles before lunchtime on Saturday is always a great feeling and leaves you with a sense of achievement for the rest of the weekend.
---
Inspired by James' cycling experiences? Explore more benefits of riding a bike over on our wellness hub.
You can find all the cycling gear you need, including the Boardman SLR 8.9, over at Halfords.com.
You want the best route to a healthier you. You want Halfords!