After your camping trip is over and you've arrived back home, it's tempting to throw all the equipment in the shed or garage with little thought. Many of us have been guilty of it! But you'll regret it when your next adventure arrives, and you pull out your gear to find it stinks of damp or – even worse! – is damaged.
That's why you should take the time to store camping equipment properly. We'll concede it's not the most fun job, but it's definitely worth the time and effort. To help, we've pulled together our top tips.
Clean everything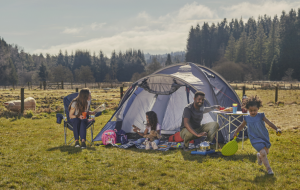 Job number one on your list should be making sure your equipment's clean. If you don't, you'll be met with some nasty surprises when you pull everything out ready for your next trip.
Before starting, check the manufacturers' labels for guidance on how to wash and dry the equipment. If you don't follow this, you could end up ruining your gear!
Washing your sleeping bag and tent should be fairly easy, and you can do it by hand. However, if you want to make life easier, most sleeping bags can also be washed in a washing machine. When finished, you'll need to dry them out which can take a bit of time, but it's important to make sure they're completely dry before storing them away. If your tent's fairly clean, it might only need to be vacuumed.
Next up is your cooking equipment. We've all left pots a little longer than we should and, as you'll know, the longer they're left, the harder they are to clean. That's why it's best to take care of them while still at your campsite. You can then give them a quick clean when back home.
Make sure everything's dry
We've just mentioned drying out your tent and sleeping bag, but we can't emphasise enough how important it is. If you don't, you'll be greeted by a horrible damp smell which isn't something you want lingering around throughout your trip. Worst still, there'll likely be some mould and mildew accompanying it, which can rot sleeping bags and tents.
So, before storing your tent and sleeping bags away, roll them out in a dry location in your home, garage or garden and leave them to fully dry. When they are, you can roll them back up and store them away. Just be cautious when drying sleeping bags outdoors as too much direct sunlight can damage the material.
Think about what you might need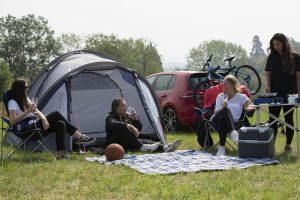 Have you ever stored things away only to realise you need them a few months down the line? Cue some frustration as you rummage through your belongings desperately looking for what you need.
That's why, before storing anything, you should think about which items you're most likely to need before your next camping trip. It might be some rucksacks, sleeping bags or portable cups. Keep these items somewhere where they're easy to access to prevent future stress.
…and what needs replacing
Over time, camping gear can become worn out or damaged. So, now's the perfect opportunity to assess what might need replacing.
And whether it's a new tent or much-needed cooking utensils, you'll find everything you need over at Halfords.com.
Use storage
Don't worry, you're nearly there! It's time to store your camping equipment away. But before throwing everything into the most convenient empty space, consider using some form of storage.
This will help you keep everything organised, which might not feel like a priority right now, but you'll appreciate it when you're preparing for your next camping trip.
Storage containers are particularly handy here, as you can easily group things together. For example, one box can be for cooking equipment while another might be for smaller accessories like lanterns and portable chargers. Just remember to remove any flammable items and store these separately.
For other items like pillows and sleeping bags, a storage bag is better as it will allow everything to breath, keeping them fresh.
Store in a cool, dry place
That's all the hard work done, now you can store everything away.
Try to pick somewhere that's cool, dry and away from direct sunlight. Lofts and basements are good options, as are garages. When you're finished, you can rest assured your camping gear will be in perfect condition ready for your next trip.
Introducing the Halfords Motoring Club
Prepare for your next camping adventure in style by joining the Halfords Motoring Club today. You'll get access a range of amazing benefits and discounts that will help to keep you moving, keep you safe and keep you saving.
It's free to join and you'll receive money off your MOT, a free car health check and a welcome voucher that can be spent on any Halfords product or service.
Or choose our Premium membership for a small monthly fee (or a one-off payment) to unlock exclusive member pricing on all motoring products and services online and across our stores, garages and Halfords Mobile Experts, as well as a variety of other benefits that will help you to keep moving for less.
With so much to enjoy, this is too good an opportunity to miss!
Join the Halfords Motoring Club today at www.halfords.com/motoring-club.
---
While cleaning and organising your camping gear is the last thing you want to do after returning from a holiday, it's definitely worth the time and effort.
And don't forget, if you want to treat yourself to some new camping gear or have some old equipment that needs replacing, you'll find everything you need over at Halfords.com.
You want to enjoy unforgettable camping adventures, you want Halfords.