From picturesque national parks to miles of sun-soaked beaches, the UK is blessed with some amazing countryside, and there's no better way to experience it than with a camping getaway.
However, knowing what to take camping is always a bit of a challenge, so we've done the hard work for you by pulling together our list of the top 10 camping must-haves. Get your hands on these and you'll be well-prepared for any camping situation!
1. Tent
We couldn't really start anywhere else, could we? Tents are an integral part of the camping experience and the right tent will keep you company during many adventures. At Halfords, our tents range from two-man to eight-man and here are a couple of our favourites.
The Halfords 4 Person Vis a Vis Tent packs a lot into its 420 x 210 x 140 cm frame. Two separate sleeping areas make this a great option for families, while the middle of the tent provides a spacious interior storage area. There's also a canopy to provide extra protection from the elements.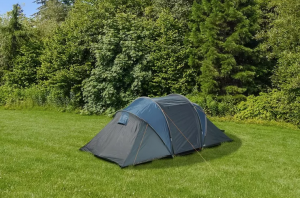 The tent has a packed size of just 53 x 20 x 20 cm and a pitching time of approximately 20 minutes. The 2,000 mm waterproof rating provides protection from the rain, while the double-skin construction helps to prevent condensation.
If it's pitching speed you're after, then look no further than the Halfords 4 Person Quick-up Dome Tent.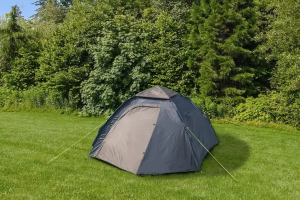 This four-man tent can be assembled in just 10 minutes thanks to its integrated poles, and it comes with an oversized storage bag that makes taking it down and storing it away a breeze. The 3,000 mm hydrostatic head is suitable for heavy rain – perfect for our unpredictable British weather! – and the double skin helps to prevent condensation.
2. Sleeping bag
After a hard day's exploring, cycling or simply chilling out with your family, you want something comfy to come back to. The Halfords Envelope Sleeping Bag has got you covered there, with its 100% monofibre filling and poly-cotton lining providing added warmth. Perfect for the summer season, it comes with a drawstring bag for easy storage and weighs just 1.2kg.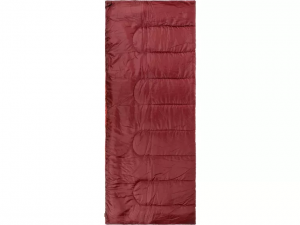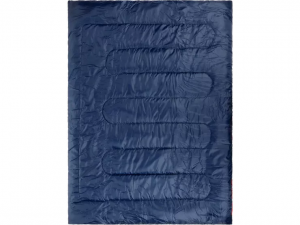 There's also a double sleeping bag version that gives you 137 x 190 cm of space and comes with a compression sack for easy storage.
3. Air bed
Take your comfort to the next level and team your sleeping bag with an inflatable mattress. Air mattresses like the Halfords Single Flocked Airbed inflate quickly (make sure you invest in a pump at the same time) and are compact enough to fit neatly inside most tents.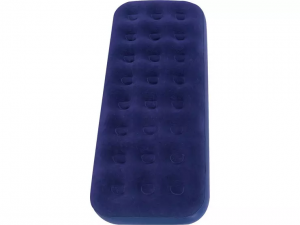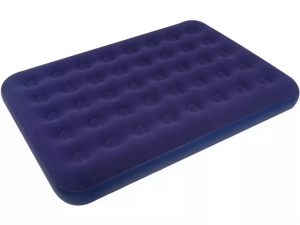 Like our sleeping bags, the Halfords flocked airbed is available in double airbed format too and we also offer a matching flocked pillow for a couple of pounds – a bargain for that extra touch of luxury!
4. Cool box
Moving on from sleeping and it's time to think about food. Whether you've prepared a picnic at home or grabbed some supplies from your local store, you want that food to remain fresh until you're ready for it. And that's where a cool box comes in.
The Halfords 24 Litre 12V Electric Coolbox is powered by your car's 12V accessory socket and has a hefty 24 Litre capacity. It can keep food cool or warm as required, while the durable casing helps to protect the yummy contents while you move the coolbox around.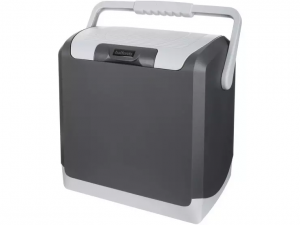 Another winning option is the Halfords Advanced 75L Compressor Cooler and Freezer. This unique coolbox has 2 separate, temperature-controlled compartments allowing you have both chilled and frozen food at the same time. The fridge capacity of 45L and the Freezer 35L makes it ideal for families, longer trips as well as caravans and motorhomes, whilst the quiet operation won't disturb your sleep when you're camping.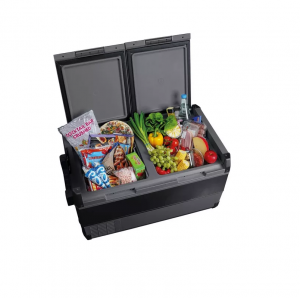 5. Camping stove
Imagine waking up your campsite and being able to cook up a bacon butty for breakfast. Or fry up a couple of steaks for your dinner. If that sounds right up your street, then you need a Halfords Portable Gas Stove in your life.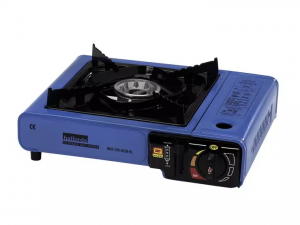 For just £12.00, you get a convenient single ring cooker with an automatic flame ignition system. The camping stove is suitable for 8-20cm pots and pans and comes with a handy carry case for easy storage. One thing to bear in mind is that you'll need a Butane push in A4 gas cartridge to provide the power, so pop a couple of those on your camping checklist too.
To get maximum value for money, we'd recommend the Halfords Complete Cookset Pack. This gets you the stove, four aluminium pans, three cooking utensils, four plastic food containers and a carry rucksack for the bargain price of £30.00. Truly a great purchase for any camper!
6. Camping kettle
And going hand-and-hand with the camping stove is a camping kettle! After all, no British camping staycation is complete without the ability to brew a cuppa. We love the Halfords Stainless Steel Whistling Kettle for its classic look, 1.7 litre capacity and folding insulated handle.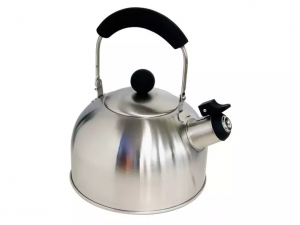 7. Camping cutlery and crockery
The food's cooked and the kettle's brewed, so it's finally time for the eating. Our range of rainbow plastic cutlery, bowels, tumblers and plates easily stack together for compact storage (apart from the cutlery, for obvious reasons!). They're also tough and durable, which means you can use them trip after trip after trip.


For the adults in the group, we've also got these handy acrylic wine glasses. Tough, durable and colourful, they'll allow you to enjoy a well-earned beverage at the end of a busy day.
8. Lamp or a torch
A lamp or torch is an essential bit of kit for a whole host of reasons. Whether you want to be able to read in your tent, check on the kids without losing your way or just be prepared in the event of an emergency, a good torch can be trusted to help guide your way.
Just remember to bring enough batteries to keep it in good working order! No one wants a dead torch in the middle of the night.
9 Gazebo
Last, but by no means least, is a camping gazebo. The Halfords 300 Fully Waterproof Gazebo with 2 Side Panels is the perfect foil for the fickle British weather, providing protection from both blazing sun (50+ UV rating) and pouring rain (2,000m waterproof rating).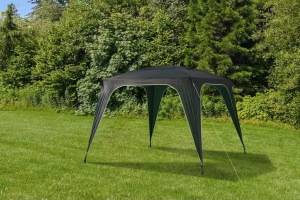 It's quick and easy to erect; all you need to do is connect the poles together (like a tent), stand it upright and attach the canvas covering. Then when you're finished, just take it apart again and tuck the poles and canvas back into the compact carry bag.
The gazebo has a walk-in height of 175cm and a floor coverage of 3 x 3m, providing plenty of space for a couple or family.
10. Repair essentials
Tape, string, pegs, spare guy ropes, waterproofing spray, bin bags, old towels… little things on their own, but together they make up the ultimate repair kit. Tape is perfect for mending unexpected tears or breakages. String, pegs, and spare guy ropes can secure errant tents, while a waterproofing spray does what its name suggests and keeps the rain firmly on the outside. Bin bags can be used for pretty much anything, from their original purpose to an impromptu raincoat.
Added extras
They didn't quite make our top 10 list, but here are a few other products that it's definitely worth having to hand when you're off on a camping adventure.
Wet weather clothes
There's a reason we Brits like to talk about the weather so much – it can be unpredictable and dance between raining and blazing sun on a whim.
Make sure you're covered for the wetter of these two possibilities with some wet weather clothes. As a minimum, we'd suggest an emergency poncho, waterproof jacket or cagoule and shoes that aren't going to faint at the sight of some moisture. If you want to make sure you're completely protected then waterproof trousers, wellies and rucksack covers are other options you could tuck into your suitcase.
Warm weather clothes
On the other hand, make sure you're covered for the warmer of these two possibilities with some items that'll keep you cool and protected in hot weather. A picnic umbrella can provide a great burst of shade that you can move to wherever you need it, while a sunhat and sun cream are absolute must-haves. Remember that even when it doesn't feel that hot or the sun isn't directly beating down on you, you can still get burnt!
Good walking shoes
Hands up all of those who've made the mistake of walking miles in unsuitable shoes? (Yep, us too). The inevitable blisters the following day are a pain your staycation can do without. Thankfully it's easy to avoid by making sure that you've got some good walking shoes to accompany you on your adventures.
If you can, always try before you buy with walking shoes to make sure you get the perfect fit for your feet. You want ones that aren't too tight and will still be a good fit if you plan on wearing walking socks too.
Games
We love them, but bored or restless kids can be a bit of a nightmare! So stave off that storm by bringing along some outdoor games for them to enjoy. A frisbee, a football, a cricket bat, and ball – it doesn't matter what you choose, outdoor games can lead to hours of fun and tired, satisfied kids that are ready for bed. Giving you some much-needed adult time.
---
That concludes our list of the top 10 camping essentials! Of course, this is just a snapshot of the full range that's available on Halfords.com, so have yourself a browse if you're after something we haven't covered here.
You want the ultimate camping staycation. You want Halfords.