Indoor training is all the rage as we look for home-based fitness solutions during lockdown. Les Mills on Demand is one of the most comprehensive online exercise providers, with the site offering over 800 workouts scientifically designed to improve your speed, stamina and strength. If you're considering signing up to Les Mills on Demand, our inside guide is for you.

What is Les Mills on Demand?
Les Mills on Demand provides online workout videos that you can do at home. The fitness programmes and classes are based on the famous Les Mills workouts that you might find instructors offering at your local gym, fitness centre or health club. The company works with over 140,000 instructors at 20,000 clubs across the world, with many millions of people using a Les Mills workout to achieve their fitness goals.
If you sign up to Les Mills on Demand, you can access over 800 workouts designed by the experts, including spin classes and HIIT classes.
What do I need to run Les Mills on Demand?
If you subscribe to Les Mills on Demand, you can log in to their website to access workouts or download one of the Les Mills on Demand apps. The business currently supports apps on:
Smartphone: iPhone, Android phone
Tablet: iPad, Android tablet, Kindle Fire tablets
TV streaming: Amazon Fire TV, Roku, Apple TV4, and Android TV
Games consoles: Xbox One
You can also stream workouts to your TV if you have an Apple TV or Google Chromecast device.
The choice is yours, but we wouldn't recommend attempting to follow a workout on your phone! A laptop, good-sized tablet or streaming the exercise to a TV will give the best results.
As with all on-demand services, you are relying on the speed of your internet connection. If you can already stream videos online then you should have no problems using Les Mills on Demand.
What exercise classes does Les Mills on Demand offer?
You can choose from over 800 different Les Mills workouts, covering everything from BODYPUMP and BODY COMBAT classes to its insanely addictive dance workout SH'BAM. If you've ever been to a gym class, chances are you'll find a similar one in the programme.
Each class lasts between 15 – 55 minutes and is graded according to its intensity. The great thing about these classes is if you choose the wrong one you don't have to stick around until the end!
There are workouts to improve flexibility, targeted classes for key muscles like the abs and chilled out classes like BODYBALANCE that are about relaxing and refocusing your body and mind.
As well as adult workouts, there is a range of children's workouts for those aged between 2 – 16 years of age. They're tough, tiring and a lot of fun for the family.
You can dip your toe in an do any workout you choose or follow one of the many structured plans designed to help you achieve your goals. Whether you want to tone up or lose weight, there's a plan for you – all included in the price.
What equipment do I need to complete Les Mills on Demand workouts?
The equipment you need depends on the class that you are completing, with many requiring nothing at all, aside from suitable clothing and a bit of space. Les Mills recommend you have at least 6 square metres of space to complete your workout, but most of us will be fine using the space we have and just clearing the room of obstacles.
To complete certain workouts, you will need specific equipment, including:
BODYPUMP & LES MILLS GRIT: A barbell and/or weights plates
CXWORX: a resistance band and weight plates
RPM: a stationary cycle.
Does Les Mills on Demand offer spin classes?
Les Mills on Demand offers its own form of spin classes called RPM. The indoor cycling workout is done in a group setting and puts you in control of the intensity. We agree with Les Mills when they say it's low impact and intense, with excellent calorie-burning potential – but we're not sure it's everyone's idea of fun.
Each session is led by an instructor who will provide the music and the encouragement you need to reach your pedalling potential. The idea with the RPM sessions is to push you to your cardio limit. The instructor will increase and reduce the intensity throughout the session to provide a thorough workout.
All you need to enjoy the workout is a bike and a static trainer. Unlike specialist cycling apps such as Zwift or Trainer Road that require expensive smart turbo trainers, a simple standard trainer will work just fine.
At just £50 our Bikehut Turbo Trainer is a great option, with six levels of variable resistance giving you a decent workout. It's easy to set up out of the box and folds away for simple storage – making it much more suitable to modern homes than a bulky exercise bike.
Does Les Mills on Demand offer HIIT Training?
High-intensity interval training (HIIT) is a popular way to achieve the maximum impact in the minimum amount of time. Your body isn't given a chance to recover as you swap between exercises. In just 30 minutes, you can complete a super workout, maximising calorie-burning potential.
Les Mills provides four LES MILLS GRIT HIIT workouts, that target specific parts of the body including Spring for cyclists, Strength for muscle building, Athletic for better performance and Cardio for optimal calorie burning.
These workouts aren't for the faint-hearted but are an excellent resource for building up an impressive level of fitness. Each exercise takes half an hour, which means they can be easily slotted into your day.
How much does it cost?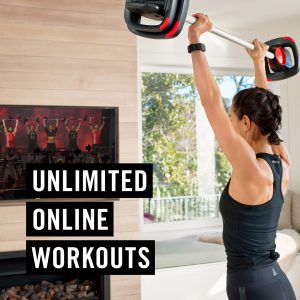 A subscription to Les Mills on Demand costs £11.95 a month – and is even cheaper if you sign up for a 3-monthly or yearly plans. There is a free trial period of 14 days so you can enjoy a few workouts before deciding whether it's right for you or not.
However, all Halfords customers can get a 25% off discounted rate of just £8.95 per month following the free trial period. Go here to sign up for this great offer.
At just £8.95 per month with our offer, it's cheaper than most gym memberships and more flexible too. You can choose to work out when you want, without the need to travel or queue up for a shower afterwards.
If you've not been to the gym in a while or don't enjoy them, Les Mills on Demand offers professional quality workouts in your home which will build fitness and confidence – and that's something we can all benefit from.