We know that you might be starting to think about life after lockdown and what you'll need to do to get your car back on the road after its long rest. Equally, we know that you might not be able to make it to our stores or autocentres for car repairs and fittings right now, particularly if you're self-isolating.
And that's why Halfords has launched a contactless and mobile garage service that brings our talented experts directly to your home – while keeping both them and you safe.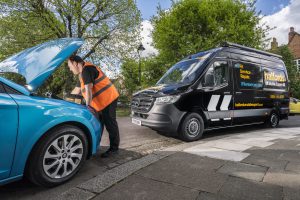 Our mobile technicians can carry out battery replacements, tyre changes, tyre replacements, oil changes, windscreen chip repairs and more. With over 80 vans on the road, our contactless service covers 75% of households in the UK and is designed to keep you moving in this uncertain time and beyond.
So how does it work? You'll find a step-by-step guide below to help you to get the most out of this unique service.
1. Book an appointment
Appointments can be booked online or through a phone call (0333 016 6550).
You'll need to provide a few details including your registration, postcode and service requirements. Then it's just a case of choosing a time slot that suits you (two hours, four hours or all day).
Fittings are available 7 days a week between 8am and 8pm. We're also pleased to be able to offer same day and next day fittings where available.
2. Prepare your car
On the day of your service, make sure that you park your car somewhere safe. Store your car keys and locking wheel nut in a pre-arranged safe place so that the technician can easily access them.
3. Arrange things with the technician
Our technician will call you on the day of your service to confirm the location of your car, keys and locking wheel nut. This allows them to find everything they need to carry out the work without any physical contact being required.
4. Sit back while the technician gets to work
The technician will only gain access to your vehicle while work is being carried out. They'll also wear a new pair of disposable gloves for each job to ensure your safety.
The technician will confirm when the job is complete via phone call or text message. If you'd like to inspect their work, then they'll wait at a safe distance in the van until you're finished.
Your keys and locking wheel nut will be returned to where they were collected from, and we will make a note on our records that the job is complete.
5. Be secure in the knowledge that your car is ready to go if you need it
And that's it! The technician will leave you with a fixed car and move on to help someone else. At the end of their shift, they'll also thoroughly clean their van and ensure all rubbish is disposed of in a safe, legal and environmentally-friendly manner to maximise customer and staff safety. For more information about how we dispose of batteries in particular, check out our guide to battery disposal and recycling.
We hope you find our new service useful! If you'd like to try your hand at car maintenance, we've got some great tips about how to maintain your car on the drive.
If you're in need of a more significant service or MOT, then you can still visit one of our autocentres. We've introduced a range of new processes to keep both customers and staff safe during this difficult time – find out more here.
And if you're happy with the work of our mobile technicians, you can thank them by sharing your photos with us on Instagram and Twitter using #ReadyFor and tagging @Halfords_UK.