We all know that sinking feeling you get when your car engine makes that wheezing sound and refuses to start on a cold morning. Or when you step outside to find your tyre doing its best impression of a deflated balloon. Or when a tiny stone hits your windscreen at a hundred's miles an hour and leaves behind a nasty little chip.
Not only does it mean a cost you probably weren't anticipating, but also hours of potential hassle as you track down your local garage, try and find an appointment that you can fit into your schedule and plead with your car to get you there in one piece.
So, what's the answer?
Well, here at Halfords we're happy to take the hassle off your hands this autumn and winter thanks to our Halfords Mobile Expert services. Our talented mobile technicians can carry out a range of fittings and repairs on the go, such as battery replacements, windscreen wiper replacements, tyre replacements and dash cam fitting, all while you stay settled and warm inside your home or workplace.
Here's our case for why you should make a booking today.
1. It's convenient
Picture the scene: you're sitting on your sofa, cup of tea in your hands, catching up on some must-watch TV. Outside on your driveway, a Halfords Mobile Expert technician is replacing your car battery.
Or you're at work, typing away on your laptop, head down as you power towards a deadline. And outside in the car park, a Halfords Mobile Expert technician is replacing your flat tyre.
Sounds pretty good, right? Which is why convenience comes in at the top of our list. And it's not only about the fact that our mobile experts bring our services straight to you – you can also book your appointment online with a few clicks of the mouse, and choose whatever date and time suits you best (more on that later). The service is available 7 days a week, 8am to 8pm, and we even offer next day appointments when you book before 6pm the previous day (subject to availability).

2. It's Covid-safe
We know that Covid remains on everyone's minds and that's why we've set up our Halfords Mobile Expert service to not only be convenient, but also safe and completely contactless. In fact, all you need to do is make sure your car is parked somewhere accessible on the day of your appointment, and that you've left your keys in a safe place, and then you can sit back and let our technician take care of the rest.
Before they arrive, our technician will give you a quick call to confirm where your car's parked and where you've left your key. They'll use gloves and protective materials while they work and will ensure your car's well-ventilated too.
Once the work is complete, they'll return your key to a safe place and let you know via phone or a text message. If you like, you can inspect their work and they'll wait a safe distance away in their van until you're finished.

3. You'll save time
Having to take time out of your day – and potentially time off work – to get yourselves to a garage, and then having to wait for work to be carried out, can be pretty inconvenient. Let our mobile experts come to you and you can put that time to much better use at home or at work.
As our fitting appointments are free, there are also no added costs when you choose to use Halfords Mobile Experts. So it's the same price as going to a garage, without any of the hassle or inconvenience or time slipping away… sounds like a bit of a no brainer to us.

4. You can watch the work being carried out
Whether you're mechanically-minded, like to know what's going on or just curious in general, being able to watch as the work's carried out on your car is a nice bonus of using our Halfords Mobile Experts service (and one you won't normally get in a garage).
If you've got any questions about the process or the work, then just ask and our technician will be happy to help. And like we mentioned above, you'll also get the opportunity to inspect the work once it's finished to make sure you're satisfied with everything.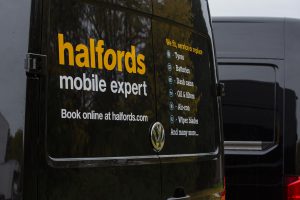 5. The booking and payment process is easy
If you've got this far then you're probably wondering how you make an appointment with our Halfords Mobile Experts. Well, the good news is that the booking process is easy and only takes a few clicks of the mouse.
Start by heading over to our Mobile Fitting Services page and entering your postcode and vehicle registration number to find out what mobile services are available in your area.
Pick your service and product (if applicable).
Pick the mobile fitting option and a time/date that suits.
Head to the checkout.
When it comes to payment, you can pay the whole amount online during the checkout process or you can pay in 3 with Klarna.
Introducing the Halfords Motoring Club
Join the Halfords Motoring Club today to access a range of amazing benefits and discounts that are designed to keep you moving, keep you safe and keep you saving.
It's free to join and you'll receive money off your MOT, a free car health check and a welcome voucher that can be spent on any Halfords product or service.
Or choose our Premium membership for a small monthly fee (or a one-off payment) to unlock exclusive member pricing on all motoring products and services online and across our stores, garages and Halfords Mobile Experts, as well as a variety of other benefits that will help you to keep moving for less.
With so much to enjoy, this is too good an opportunity to miss!
Join the Halfords Motoring Club today at www.halfords.com/motoring-club.