As a keen cyclist you'll already be familiar with the benefits of cycling, particularly in current circumstances where it can help you make the most of your time outside.
Whether you enjoy cycling as a way to maintain your fitness levels, hit the MTB trails or both, an e-bike can be a fun alternative to your regular pedal bike. Packing some extra power, an e-bike will allow you to steam up those hills a bit quicker and enjoy the ride back down without you having to compromise on exercise. You stay in control of how much you pedal and how much you don't!
We've put together answers to some of the most asked questions about e-bikes so that you have everything you need to know that will help you make the most of your cycle time.
What's the difference between an e-bike and a normal bike?
A lot more oomph! An e-bike has a motor attached to either the front wheel, back wheel or the centre of the bike powering the chain. The motor is surprisingly lightweight and is powered by a battery. Think of it as a modified bike giving you some extra leg power. It's a bit like when you use a moving walkway in an airport – your feet are still pedalling but you seem to be getting up that hill with not much effort! If you're having to commute right now, e-bikes are a really helpful alternative to public transport. You'll be able to move through the traffic quickly and still arrive nice and fresh to work.
Isn't having an e-bike cheating?
Only if you're planning on entering the Tour de France with one! The beauty of an e-bike is you can decide how much effort you want to put in versus getting the bike to do more of the work. You can use the extra motor power as much or as little as you want. The motor will automatically cut out at 15.5mph so at top speed the bike becomes a pedal bike giving you an opportunity to put some more leg work in.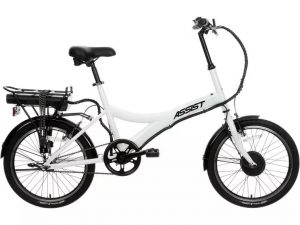 The Assist Hybrid Electric Bike – 20″ Wheel will take you up hills and against the strongest winds or if you're using it for a shorter trip out, it has a walking mode that helps you push the bike up a path after a trip to the shops. On average you can travel up to 20 miles on one charge and it will only take 2-3 hours to charge back up so the Assist is a good low maintenance option.
Is it easy to charge?
It's really straightforward to charge your e-bike. You simply remove the battery and charge it inside before re-fitting it back on your bike when it's back up to full charge. When you first buy your bike you'll want to give it a full 24 hour charge before you take it out. Once you're up and running a normal charge time will be between three and eight hours depending on your e-bike's battery capacity. Check out our handy guide for more information.
Are there different types of e-bikes?
Yes, there are three main types available:
Folding e-bikes
These bikes can be folded to make them easy to stow. They do have smaller wheel sizes which will reduce the speed you'll be able to travel at. This is one of the best options for commuters as they are so easy to travel with and store when you get to work.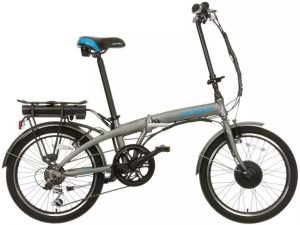 If space is an issue then the Apollo Transport E is a great choice. The fact that it folds doesn't mean you have to compromise on features. You get up to 20 miles of power assisted pedalling at speeds of up to 15.5mph, 6-speed Shimano gears for full control and alloy V-brakes. It's also got a handy kick stand for when you want to take a break.
Hybrid e-bikes
Just as with a normal hybrid bike, a hybrid e-bike combines features of both road bikes and mountain bikes. You get the best of both worlds. suitable to ride on rugged terrain, bridle ways and uneven ground as well as roads and cycle paths.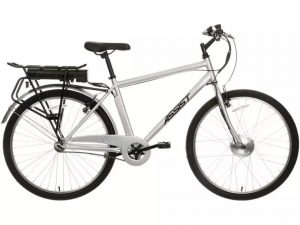 The Assist Crossbar Hybrid Electric Bike is a great way to explore your local area and also for when we're able to venture further afield. Powerful V brakes increase your stopping power and double wall rims help to prevent punctures from regular use.
Mountain e-bikes
Unsurprisingly, a mountain e-bike has all the features of a normal mountain bike with the usual rugged, sturdy frame and bigger tyres. The only difference is the motor that's going to get you up and down that trail even quicker.
Can I get up to a decent speed?
Absolutely! When you consider the average speed of a car is approximately 18mph in a built-up area, an e-bike can get up to an average speed of 15mph. That's plenty fast enough when you're out for your daily exercise.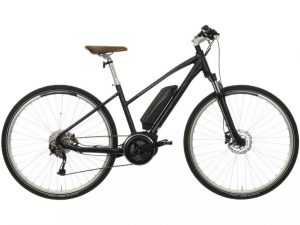 The Carrera Crossfuse E carries a 400Wh Bosch Powerpack battery that gives an impressive range of up to 80 miles. You'll easily get up to the legal limit of 15.5mph and the motor automatically stops assisting you at this speed so that you can't get carried away! There's a lot of power and control in this e-bike with rapid-fire Shimano Alvio 9-speed gears, plus Shimano hydraulic disc brakes, front and rear. It's comfortable too due to the Suntour NEX HLO forks and the large 700c wheels with Schwalbe Tyrago KG tyres meaning you won't feel jarred by the terrain.
I'm guessing I can't go out if it's raining because of the battery?
This is a common-held misconception about e-bikes. The battery and power components on an e-bike are completely sealed and secure so if you're happy to go out in all weathers, so is your e-bike!
Do e-bikes affect the environment?
No more so than normal bikes. The batteries are 100% recyclable so you're still doing your bit for the environment as you would be on a non-powered bike.
 Aren't they quite expensive?
E-bikes are little pricier than a pedal bike but our wide range means there's an e-bike to suit everyone with prices ranging from £429 to £2799. And at Halfords we've got several finance options via Klarna, to help you spread the cost of your purchase. We've got 3 and 12 month interest free options, as well as 24, 36 and 48 month options where interest is charged. If you don't want to spend all your cash up front, find out here how we can help you.
As you can probably tell, we're big fans of e-bikes. It's a great way to get the best out of cycling and whilst our travel distance is limited, a fantastic way to get out and about in our immediate area. Plus, it's something new to try!
If you're feeling intrigued, we've got loads more information on our Electric Bikes Hub.