As a keen cyclist, you'll already be familiar with the benefits of cycling, but you may not be aware of the amazing benefits of e-bikes.
Whether you enjoy cycling as a way of maintaining your fitness levels, hitting the MTB trails or both, an e-bike can be a fun alternative to your regular pedal bike. Packing extra power, an e-bike will provide assistance whenever you need it, allowing you to steam up those hills a bit quicker and enjoy the ride back down without having to compromise on exercise. You stay in control of how much you pedal and how much you don't!
To help you learn more, we've pulled together the most popular questions about e-bikes.
What's the difference between an e-bike and a normal bike?
A lot more oomph! An e-bike has a motor attached to either the front wheel, back wheel or the bottom bracket, and this will provide added power whenever you need it. Think of it as a modified bike giving you some extra leg power. It's a bit like when you use a moving walkway in an airport – your feet are still pedalling but you seem to be getting up that hill with not much effort! For those commuting to work, e-bikes are a really helpful alternative to public transport. You'll be able to move through the traffic quickly and still arrive nice and fresh to work.
Isn't having an e-bike cheating?
Only if you're planning on entering the Tour de France with one! The beauty of an e-bike is that you can decide how much effort you want to put in versus getting the bike to do more of the work. You can use the extra motor power as much or as little as you want. The motor will only assist you up to a speed of 15.5mph and after this point you'll need to take care of the pedalling yourself.
On those days when you want a workout, you can lower the assistance level or turn it off completely. When turned off, you can still ride an e-bike like a standard bike. So, whether you want an easy ride to work or a leg-burning workout, an e-bike has got you covered.
Is an e-bike easy to charge?
Charging an e-bike is as easy as charging any other device and you can charge the battery while it's still on the bike or by removing it (great for those who commute and want to top it up at work!).
When you first buy your e-bike you'll want to give it a full 24-hour charge before you take it out. Once you're up and running, a normal charge time will be between three and eight hours depending on your e-bike battery's capacity.
Are there different types of e-bikes?
E-bikes come in lots of different shapes and sizes, and no matter what type of rider you are, there will be the perfect option for your needs.
Folding e-bikes
Folding down in a matter of seconds, folding e-bikes are easy to store and are a great choice for those who carry their bike on public transport. They have smaller wheel sizes compared to other e-bikes which will reduce the speed you'll be able to travel at, but they're one of the best options for commuters as they are so easy to travel with and store when you get to work.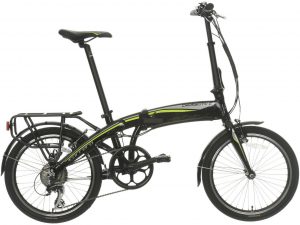 The best folding electric bike? You'll struggle to find better value for money than the Carrera Crosscity Folding Electric Bike. A reliable solution for commuting and equally at home on a leisure ride, its powerful battery will assist you for up to 30 miles. Designed with practicality in mind, its lightweight frame folds down in seconds and it comes with mudguards, a kick stand and a rear pannier rack.
Hybrid e-bikes
Like a normal hybrid bike, a hybrid e-bike combines features from both road bikes and mountain bikes. You get the best of both worlds meaning they're equally as capable on rugged terrain, bridleways and uneven ground as they are on roads and cycle paths.
Available in both a men's and women's version, the Boardman HYB 8.9 Hybrid Electric Bike is one of our favourites. Boardman are renowned for their high-quality bikes and the HYB doesn't disappoint with an e-bike that offers unrivalled versatility – whether it be for exercise, fun or commuting.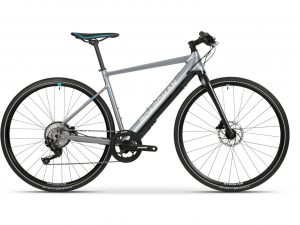 Another great option, the Carrera Crossfire Electric Hybrid Bike will power you for up to 60 miles and boasts an impressive design. For those interested in commuting, the bike's available in a bundle with all the commuter essentials.
Mountain e-bikes
Unsurprisingly, a mountain e-bike has all the features of a normal mountain bike with the usual sturdy frame and bigger tyres. The only difference is the motor that's going to get you up and down that trail even quicker.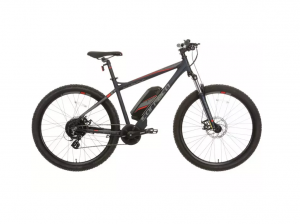 The Carrera Vengeance is our best-selling bike ever, so it's no surprise that its electric bike version is one of our most popular e-bikes. Specially designed to excel on off-road trails, the Carrera Vengeance Electric Mountain Bike packs a lot into an impressive package. This includes a Suntour motor that will power you up steep trails, a trail-taming suspension fork and dependable disc brakes. What's not to like about the Vengeance e-bike?
How fast can e-bikes go?
When you consider the average speed of a car is approximately 18mph in a built-up area, an e-bike can get up to a maximum speed of 15.5mph. That's fast enough when you're out for your daily exercise.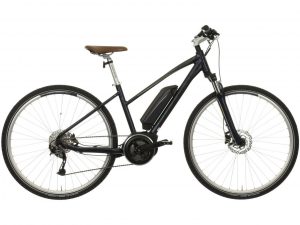 Take the Carrera Crossfuse E for example. It carries a 400Wh Bosch Powerpack battery that gives an impressive range of up to 80 miles. You'll easily get up to the legal limit of 15.5mph and the motor automatically stops assisting you at this speed so that you can't get carried away! There's a lot of power and control in this e-bike with rapid-fire Shimano Alvio 9-speed gears, plus Shimano hydraulic disc brakes. It's comfortable too thanks to the Suntour suspension fork and the large 700c wheels with Schwalbe Tyrago KG tyres meaning you won't feel jarred by the terrain.
I'm guessing I can't go out if it's raining because of the battery?
If you're considering an e-bike, you're probably questioning whether an e-bike can get wet. After all, won't the water damage the electrical components?
This is a common-held misconception about e-bikes. The battery and power components on an e-bike are completely sealed and secure so if you're happy to go out in all weathers, so is your e-bike!
Are e-bikes environmentally friendly?
E-bikes are zero emissions vehicles, that means they release no tailpipe emissions. Of course, the production of a bike causes some pollution, but a study by the European Cyclist's Federation found that, even with production taken into account, e-bike's are far more environmentally friendly than motorised vehicles.
More and more cities around the UK are introducing clean air zones to combat pollution, meaning more charges for those driving. However, e-bikes can travel through these zones free of charge – another great reason why you should consider one.
And to top it off, e-bike batteries are recyclable so you're still doing your bit for the environment as you would be on a non-powered bike.
How much do e-bikes cost?
As they have an added motor, e-bikes are naturally more expensive than standard bikes, but they're still a lot more affordable than you may think. Here at Halfords, we have a wide range of e-bikes for every type of rider, with options starting from £499. Plus, at Halfords you can pay over 24 months with Klarna on orders over £99, so you can spread the cost of your purchase.
Those who want to use an e-bike to commute can also use our Cycle2Work scheme, which can save you up to 47% off the cost of the bike and any accessories.
---
As you can probably tell, we're big fans of e-bikes. They're a great way to get the best out of cycling and can help you ride without limits!
If you're feeling intrigued, we've got loads more information on our Electric Bikes Hub. Or if you're ready to find your new e-bike, head over to Halfords.com where you'll find our extensive range, all from top brands.
You want to enjoy riding with an added boost, you want Halfords!