It only feels like the summer holidays started yesterday but the new school year is already upon us. While you're probably in the process of hectically buying new uniforms and shoes, it's important to also get ready for the school run.
Here at Halfords, we want to help you prepare. So, we've teamed up with car seat experts Joie to provide a low-down on everything you need to know about child travel, ready for your little one's return to school.
When to use a car seat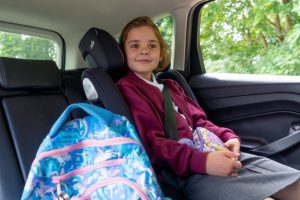 When it comes to the school run, your main priority is undoubtedly your child's safety. Which raises the question, does your child need to use a car seat?
The answer to this depends on your child's height or weight. It's a legal requirement in the UK for any child up to approximately 12 years of age or 135cm in height (150cm in the Republic of Ireland)/36kg in weight to use a car seat. So, if your child falls within this age or height/weight range, you'll need a suitable car seat ready for the school run.
However, children grow at different rates. Many of us have bought new school uniform only for our children to have sudden growth spurts. That's why we'd generally advise you to judge whether your child needs a car seat based on height and weight.
Choosing a car seat
So, you know your little one needs a car seat for the school run, but which one do they need? There are so many car seats available, things can be a little confusing. And even if you already have a car seat, knowing when it needs upgrading to a bigger size is tricky too.
But don't worry, as choosing a car seat is easier than you might think. The main thing to consider is the size and weight, and there are two standards commonly used: R129/i-Size and R44.
The R129/i-Size standard is newer and uses height-based sizing while the R44's is weight-based. Both standards are perfectly safe although the R129/i-Size standard will eventually become the only available.
Whether you choose a seat that conforms to the R129/i-Size or R44 standard, the most important thing is getting the right size for your child. You'll then need to upgrade the seat once they've outgrown it.
You can find a size guide for both R129/i-Size and R44 seats here.
What about multi-stage car seats?
Don't want the stress of replacing your child's car seat every few years? No problem! A multi-stage seat can be the perfect solution.
Multi-stage seats span multiple sizes, meaning they don't need to be replaced as regularly. Halfords and Joie recently teamed up to create the new Joie for Halfords Transfix i-Size Group 2/3 and Joie for Halfords Convoy Group 0+/1/2 multi-stage car seats. They're both packed with market-leading technology and, when used together, they'll protect your child from birth all the way through to approximately 12 years of age.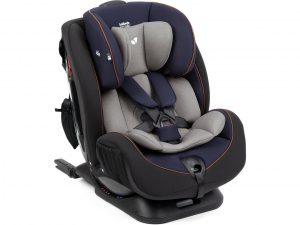 It's even possible to buy all-stage seats that cover every size like the Joie Every Stage 0+/1/2/3 Car Seat – so you can arrive in September every year safe in the knowledge you have a car seat ready for the school run.
Car seat technology
Once you know which sized seat your child needs, you can start to consider what features and technology you'd like your new seat to have too.
If you have a small car that's tight on space, it's worth considering a spinning car seat for ease of access. This will save you wrestling with the seat and car every time you try to fasten your little one in – not something you want to contend with every school run!
Comfort is also important. Many seats like those in the Joie for Halfords range have adjustable headrests and the Joie for Halfords Convoy Group 0+/1/2 also has an adjustable harness to help maximise comfort.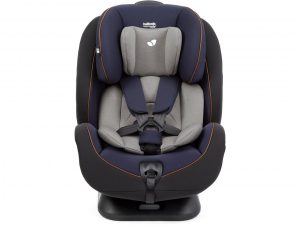 And, finally, do you want an ISOFIX seat? ISOFIX is the name given to the anchor mechanism built into many modern cars. Any ISOFIX-compatible seats are designed to easily click into this anchor point, securing the seat without using the seat belt. It makes life much easier when you need to regularly swap a seat between cars.
Top tips for the school run
Here are some more top child travel tips ready for the school run:
Take a blanket – The colder months are just around the corner, so your little one will soon be going to school in a big, warm coat. However, your child shouldn't travel in their seat in large clothing as the seat won't offer the same level of protection. Therefore, take their coat off before strapping them in and leave a blanket in the car in case they get cold.
Travel in the back seat – Although it's perfectly legal for a car seat to be used in the passenger seat, we'd generally advise using it in a backseat wherever possible. This is further away from any airbags and is considered a safer spot. However, if they do travel in the front seat, make sure you deactivate all the front airbags before setting off.
---
Kids will soon be returning to school but if you follow this advice, you'll be prepared for the school run. And if you need to upgrade or buy a new car seat, you can find Joie's full range of car seats over at Halfords.com.
For more car seat advice, head over to our help and advice guides.
You want to keep your little one safe on the school run, you want Halfords!