Who doesn't love a spotless, gleaming car? And with the (mostly) good weather of summer, there's plenty of opportunity to head outside, give your car a good scrub and leave it sparkling in the sun.
If you want to do the job properly, then filling a bucket with hot soapy water and wheeling the vacuum cleaner out onto the drive isn't going to cut it. For particularly dirty cars (or perfectionists!), there are plenty of tips, tricks and products that can get things gleaming on the outside and squeaky clean on the inside. Here are a few of our favourites.
1. Pick your moment
While summer gives you ample opportunity for car washing, it's still important to pick your moment to apply certain products. High temperatures and blazing sunshine will make your car hot to the touch, and washing with formulas or adding wax in these conditions could end up damaging your paintwork. It's best to apply finishes on cooler days when there isn't as much sunshine. Better still, apply finishes and leave them to dry inside a garage or away from heat and direct sunlight.
A red-hot day doesn't need to be an excuse for not cleaning your car, however – you can still give it a good hose down and wash with some car shampoo, or simply clean the interior.
2. Start on the inside
Before you break out the water and wax, get the inside of your car looking spotless. Start by removing any rubbish and lost pound coins (fingers crossed) from the footwells and underneath the seats. This will make it much easier to do the actual cleaning, plus you won't vacuum up loose change, missing toys, etc.
3. Wash the car floor mats
Instead of trying to vacuum your rubber car mats while they're still in the car, remove them completely and clean them away from your car. Grab a hose, or better a pressure washer, then clear off the thickest dirt. Then, grab a bucket of soapy water and give them a good wash on both sides, before leaving them to dry while you do the rest of the car.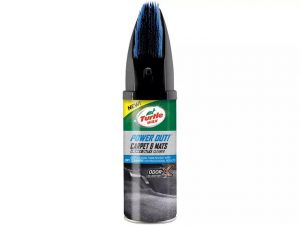 If you've got carpet floor mats, then use a car carpet cleaner to get them clean and smelling fresh. Our Turtle Wax Power Out carpet and mat cleaner is ideal for getting rid of deeply-embedded dirt and comes with a built-in brush for working the foam deep into your mats and carpets.
4. Brush, then vacuum
If you're used to using a vacuum cleaner without any attachments to try and suck up the grit and dust from your interior, then try this easy car cleaning hack: Use an interior detailing brush first, then give all of the carpeted surfaces a good sweep and rub. The bristles will dislodge any embedded stones from your shoes and dust that has worked its way into the carpet. You can then vacuum up the loose muck for a new-look carpet!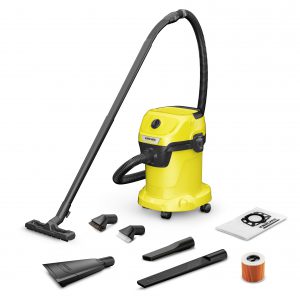 Instead of having to cart your home vacuum out into the street, why not invest in a specifically-designed vacuum cleaner for car cleaning? The Karcher WD 3 Car Vac has interchangeable accessories that make car cleaning easier, plus there's a handy blower function for shifting dust and dirt from places like air vents and behind dashboard buttons.
5. Grab a make-up brush
If you have a clean, unused make-up brush, then use it to get inside the nooks and crannies that a larger brush or vacuum may not be able to reach. Don't forget to brush between the joins of the dash itself, as well as behind the steering wheel and the gear stick cover. And put your vacuum nozzle close to your brush to make sure all of the dust gets sucked away.
If you don't have an unused brush, our Halfords Detailing Brushes will be perfect for both interior and exterior spots that a cloth/wash mitt won't reach.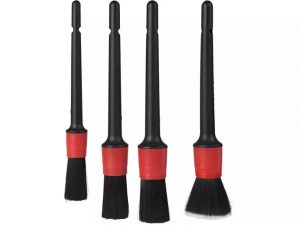 6. Use a dash and trim cleaner
Rather than a quick wipe with a wet cloth, use a product like the Turtle Wax Dash and Glass to break down grease and grime, and make your car's interior look and smell shiny and new. Dash and trim cleaner will also help your car interior to stay cleaner for longer.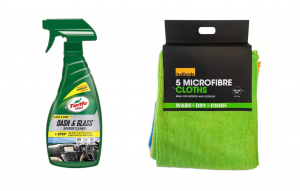 The best way to make sure your dash and trims remain dust free is to use a microfibre cloth. These cloths attract dust using static and they're soft enough to prevent scratches to your surfaces.
If you've got a stain that's proving particularly difficult to remove or a bit of ingrained muck on your vinyl interiors or dash, then find a lump of blu-tac and start rubbing – it's surprisingly good at lifting off stains and dirt!
7. Don't forget the upholstery
Unless you've got leather seats (we'd recommend the Autoglym Car Leather Cleaner for leather), grab some Halfords Upholstery Cleaner and an Upholstery Cleaning Brush to get any stains or smells out of the fabric.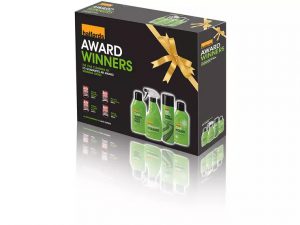 Save some cash by taking advantage of our award-winning Car Cleaning Kit. As well as our upholstery cleaner, the kit also contains everything you'll need to clean the exterior of your car, as well as a wet-look finish for your tyres.
8. Get that new car smell
It can be difficult to get rid of an unwanted odour in your vehicle. A good clean and, potentially, an air freshener will go some way, but there are much better cleaning tips to get rid of smells in cars.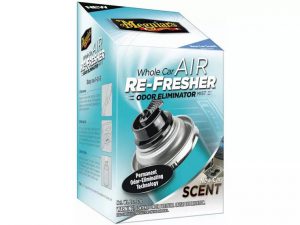 Instead of hanging 10 Magic Trees from the rearview mirror, try out a Meguiar's Air Re-Fresher. The powerful, single-use aerosol is circulated through your car's air vents to provide a pleasant smell that will last far longer than standard card air fresheners. Perfect for getting rid of smells left behind by fast food, pets and cigarettes! Simply turn on your blowers, ensure the windows are up, activate the can by pushing down on the cap and shut the doors for 10-15 minutes.
9. Wash from the top down and use snow foam
When it comes to washing the outside of your car, it makes sense to start at the top and work your way down. After all, gravity will do a decent job of pulling any loose muck, mud and dirt to the ground, plus you won't have to do parts of the car twice when dirty water runs over them again.
You can use a bucket or hose with plain water and a sponge or cloth to loosen the worse of the dirt, but a pressure washer will do a much better job. The Karcher K2 Power Control Car Pressure Washer will make removing even the stickiest grime much easier, thanks to a variety of attachments and even a soft car brush for working off stubborn dirt.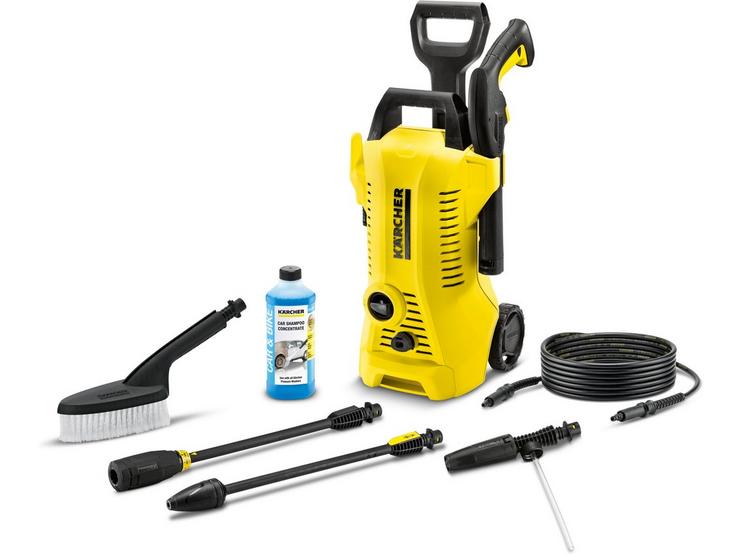 Using snow foam is another great option. Snow foam targets the grime and road contaminates on your car's paintwork and loosens it safely. Autoglym Polar Blast is a top snow foam to use on your car – simply apply and then hose down or pressure wash off. The Halfords Snow Foamer Kit is also perfect and compatible with all Halfords/Karcher K series pressure washers.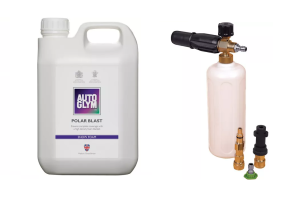 10. The contact wash
Can you believe you've reached step 10 before even putting a wash mitt to your paintwork? For this stage, you're going to need a shampoo such as Meguiar's Ultimate Wash & Wax, a bucket such as Meguiar's 5 Gallon Yellow Bucket and the Halfords Wash Mitt.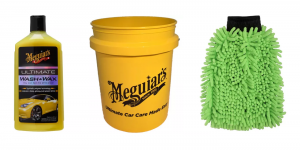 We'd also recommend using the 'two bucket method', where the first bucket is where you rinse your mitt after each contact and the second bucket holds your wash solution. This means that you're not dragging dirt across the car's paintwork and causing scratching or swirls.
11. Scrub the wheels
Wheels can be the toughest part of the car to clean. Close to the road and prone to getting covered in dust from the brakes, your shiny alloys can soon look dull and dirty no matter what the season is. They may require tougher cleaning products than the rest of your car.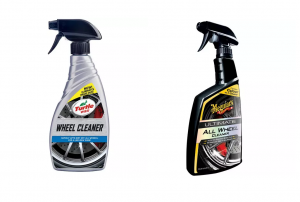 One of our best top car cleaning tips is to use a specific wheel cleaning formula, like Meguiar's Ultimate Wheel Cleaner. Just spray your alloys and let the product do its magic as you move on to the rest of the car. You'll notice that the liquid changes colour as it removes iron particles and pollutants that have accumulated from the road, so you can actually see the dirt breaking down!
12. Dry using a microfibre towel
Try the Halfords Drying Towel, a super-absorbent and plush towel that soaks up water and leaves a completely dry body that's ready for waxing and polishing. The long piles of microfibre towels quickly and easily absorb water and remove detailing sprays, waxes and sealant residue if being used to buff.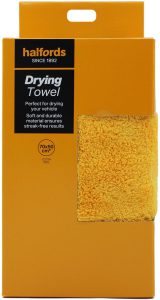 13. Decontaminate your paintwork
As you drive, your car's paintwork can get coated in a thin layer of dirt from the road, smoke and iron particles from brake pads, exhaust emissions and various other bits of nasty pollution. Traffic film remover attacks and breaks down this layer, which can be hard to remove even with a pressure washer, making for a much cleaner car.
Autoglym Magma is an intensive traffic film remover that breaks down all of these difficult-to-remove substances, with colour-changing properties that let you know that it's working through even the worst grime. Autoglym Magma can also be used on alloy wheels, and it's pH neutral so it won't remove wax layers.

Clay bars can also be a fantastic tool to remove any remaining contamination. The Halfords Clay Bar, used with a detailer is ideal for this stage.
14. Consider polishing
Although many people get polishing and waxing mixed up, they're two completely different processes. Polishing removes imperfections and gets rid of dirt, grease, scrapes and scratches using abrasives that can't be washed off with a cloth and elbow grease. It's actually polishing that helps a car to look shiny, a look that is amplified by a layer of wax.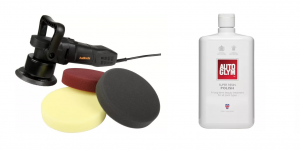 Although it is possible to polish by hand, you'll save yourself a lot of effort by using a machine polisher. The Halfords Dual Action Car Polisher is easy to use, with a 5m power cord and a soft start function for total control. You can even pick up replacement pads to ensure your car's finish is consistently smooth and shiny. A perfect polish to accompany this machine would be the Autoglym Super Resin Polish – a classic! It's easy to use and gives a deep, glossy finish.
15. Protect your hard work
You've done all that hard work, now it's time to protect it! There are many different types of protection in the forms of waxes, sprays, liquids and pastes. Quite simply, it's up to you! A spray and liquid wax will be quicker to apply but offer less protection, whereas a paste wax will take longer but offer more protection.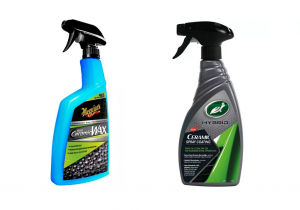 Ceramic wax, which includes SiO2 and polymer qualities, is a great choice. Products such as Meguiar's Hybrid Ceramic Wax or Turtle Wax Hybrid Solutions Ceramic Spray Coating will offer you up to 12 months' protection while also being quick and easy to apply. Typically, you would apply these directly to the wet paint surface after washing off your shampoo, but always check the bottle for application instructions.
16. Get shiny tyres
Dull, dark rubber can pull the whole look of a clean car down, so grab a stiff brush and add some tyre shine to make the entire tyre look brand new. This is also a great opportunity to check the pressure of your tyres and top them up if they don't match the recommended PSI found in your car owner's manual.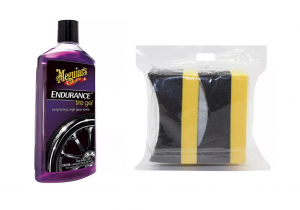 For a long-lasting shine, try Meguiar's Endurance High Gloss Tyre Protection, which will leave your tyres looking factory-fresh for several weeks. Use the Halfords Tyre Dressing Applicator for easy and tidy application.
17. Leave the glass 'til last
The windows can be the hardest part of the car to get clean, with water mist, soap suds and excess wax often finding their way onto the glass. Once you've completely finished cleaning, polishing, waxing and detailing your car, grab a window cleaning spray such as Meguiar's Perfect Clarity Glass Cleaner and a clean microfibre cloth and give them a good wipe, inside and out. Don't forget to pay attention to your light and indicator covers too if you haven't already – your headlights may even appear brighter!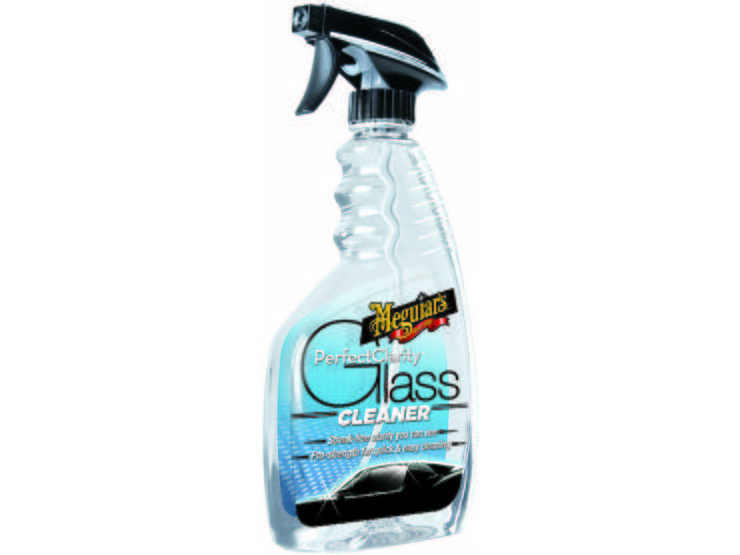 Meguiar's glass cleaner is specifically designed to provide a streak-free finish to all glass types. The formula contains a lubricant that provides an effortless slide effect, leaving no residue.
Introducing the Halfords Motoring Club
Don't miss out! Join the Halfords Motoring Club today to access a range of amazing benefits and discounts that are designed to keep you moving, keep you safe and keep you saving.
It's free to join and you'll receive money off your MOT, a free car health check and a welcome voucher that can be spent on any Halfords product or service.
Or choose our Premium membership for a small monthly fee (or a one-off payment) to unlock exclusive member pricing on all motoring products and services online and across our stores, garages and Halfords Mobile Experts, as well as a variety of other benefits that will help you to keep moving for less.
With so much to enjoy, this is too good an opportunity to miss!
Join the Halfords Motoring Club today at www.halfords.com/motoring-club.
---
With these car cleaning tips, you can easily turn the clock back on even the most well-loved (or well-used) car. A cleaner car on your drive will make you feel better too for some reason! Either way, these 17 steps should keep you occupied and make good use of your time this summer.
With the uncertainty of the energy price cap and cost of living crisis, we know that you'll be keen to save money as and when you can. Here at Halfords, we're committed to driving down prices and offering you the best value possible to keep you safe, happy, and secure. We've pledged to never be beaten on price on 1000s of motoring essentials – read more here.