Bosch is known as one of the world's biggest engineering brands, but did you know they made electric motors for bikes?
In fact, Bosch has been building electric bike motors for over 10 years. Alongside Shimano and SunTour, it has been leading the development of the technology.
If you're interested in buying an electric bike, it's likely to be powered by a power unit from one of the big three. Together, they cater to all price points and all types of electric bikes.
Back to Bosch. The German powerhouse has gained a reputation for creating motors that are powerful and efficient. In this guide, we introduce you to the Bosch range of electric bike motors, batteries and displays.
Inside Bosch electric bike motors 
At the heart of every e-bike system is a motor. All Bosch motors are located in the crank, where your feet meet the pedals. In the trade, this is called a mid-drive motor.
Locating the motor at the bottom of the frame means its weight sits at the lowest point of the bike, which makes the bike feel stable both on and off-road.
Bosch motors are powerful, and when switched on will provide a welcome assist to the pedal stroke. Riders find the power assistance provided by Bosch motors to feel natural – like a welcome push of power, not a surge of speed.
Bosch motors can provide assistance up to a top speed of 15.5mph, the legal limit here in the UK. You can choose from four different modes of power (turbo, sport, tour and eco) depending on whether you want to conserve energy and extend battery range, or need extra support to tackle a hill or get you home.
While you're riding, the computer inside a Bosch electric bike motor measures power (torque), speed and acceleration more than 1000 times a second. It uses this information to help manage the power delivery, making the power provided by the motor feel as natural as possible.
Bosch e-bike motor range
There are five different types of Bosch e-bike motors. Here's a bit more information on each of them:
Performance Line CX
Bosch's most powerful motor that's designed to be used on electric mountain bikes. It provides power directly through a traditional chainring at the front of the bike. This motor is super-powerful and can deliver up to 340% assistance, which is perfect for hills, trails and off-road rides.
Performance Line
These motors are designed for road riders who want access to substantial power when they need it. It's a bit heavier and bigger than the Performance Line, but packs some serious power into the package, delivering 65nm. As well as being a sturdy and robust motor, it's quiet too – so nobody needs to know you're using it!
Active Line Plus
Bosch designed its Active Line Plus motors for commuters and longer weekend leisure rides. Quiet as a whisper and packing enough power to get you to the office and back, it's a sensible choice for the rider who wants reliability and performance.
Active Line 
Bosch's lowest-priced power unit provides well-controlled acceleration and rider assistance, delivering 40nm of torque (power) and 250% support in turbo mode, so it's anything but entry-level.
Cargo Line 
Designed specifically for large cargo bikes, Bosch's Cargo Line motor makes carrying large loads easy. Extremely powerful, the motor will provide support for cargo bikes and loads that weigh up to an incredible 250kg!
Bosch electric bike batteries
Every electric bike needs a battery, and Bosch supplies them as part of its package.
The size and strength of your battery (measured in wH or simply watts) will affect the range of an electric bike. Batteries can have different charge times, and the position of the battery on the bike can affect how the bike handles too.
Integrated battery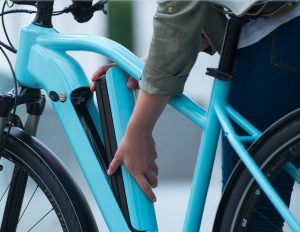 Slim and compact, built-in batteries can be incorporated inside the frame – which means no bulky battery packs on display!
Sometimes called PowerTubes, Bosch offers 400w, 500w and 625w versions. Integrated batteries aren't cheap and are usually found on high-end mountain bikes.
Frame battery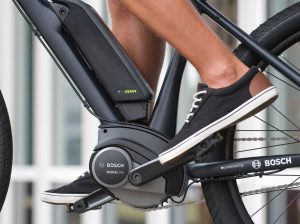 Bulkier than an integrated battery, frame batteries sit on, or in, a bike's downtube (the tube below the saddle that leads to the pedals).
Bosch calls these PowerPacks and sells them in 300w, 400w and 500w sizes. You'll find Bosch frame batteries on electric hybrid bikes, electric mountain bikes and even electric folding bikes.
Rack battery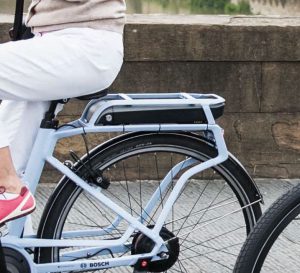 It's impossible to use frame batteries on a step-through bike, so Bosch designed the rack battery. It's located on the rear rack and comes in 300w, 400w, 500w versions.
How long do e-bike batteries last on one charge?
So how far can I ride with a Bosch e-bike? That's a question we get asked all the time, and it's difficult to answer accurately.
For each electric bike, you will find an estimated maximum range, but this is a calculation based on some assumptions.
Thankfully, Bosch has done the hard work for you; with its e-bike range assistant, you can calculate your range based on your weight, effort and the speed you want to achieve.
Bosch electric bike display
Packed full of technology, Bosch e-bike systems are controlled using either an onboard computer or a compatible smartphone display. Here's how they stack up:
On-board computers
Kiox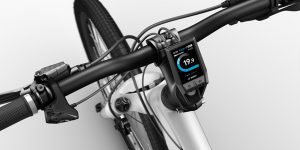 Bosch Kiox is a full-colour, compact display that packs some serious features. Its 1.9" full-colour display delivers all the essential information you need, and it's easy to change ride modes on the move.
There's a scratch-resistant display which will keep it looking good for longer. If you're interested in recording your rides, you can pair the unit with the e-bike connect app on your phone to share GPS ride data.
Nyon
Bosch Nyon offers everything an e-bike rider could ever want: ride data, navigation, fitness measurement and motor control, all in one place.
The in-built GPS enables you to choose between the fastest or most scenic route to a given location. It's the perfect tourist or touring companion.
Purion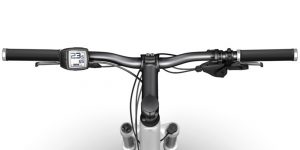 The Bosch Purion is their smallest device, displaying charge status, speed, ride mode, range, trip distance and total distance. The small, but perfectly formed unit fits at the end of a handlebar and can be operated with a thumb or finger while riding.
Intuvia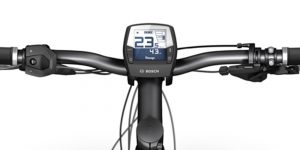 Mounted on an e-bike stem, Bosch Intuvia displays all the critical information. It's easy to read, even in low light and a USB port enables you to charge your devices on the go.
Smartphone displays
SmartphoneHub
SmartphoneHub from Bosch can transform an e-bike into a fully connected part of your digital life. You can use it as a GPS and link it to ride-tracking apps such as Strava. You can even stream music on the go.
Which electric bike motor is right for me?
Choosing an electric bike can be tough with so much technical information out there.
If you need some advice on electric bikes from the experts, then visit our e-bike hub where you can find information on different types of electric bikes, including electric mountain bikes and hybrids. Each type will be better suited to different journeys, whether you're planning to cycle to work or hit the mountain trails.
Here you can also find the e-bike range assistant to help you understand the range of an e-bike battery for your next route!
If you'd prefer to get up close and personal, then visit your local Halfords store where you can see a range of electric bikes. Our trained technicians will answer any questions you may have and help you select the right e-bike for you. It's what they do best.
---
E-bikes can be a great way to save money on transportation costs, and with the uncertainty of the energy price cap and cost of living crisis, we know that you'll be keen to watch every penny. Here at Halfords, we're committed to driving down prices and offering you the best value possible to keep you safe, happy, and secure. We've pledged to never be beaten on price on 1000s of motoring essentials – read more here.