Scooters aren't just for kids, they're great for grown-ups too! They're fast, fun and environmentally friendly – which makes them perfect for adult adventures. Here's your essential guide to adult scootering, courtesy of the experts at Halfords.
Scooters are fun, but they're serious pieces of engineering and, like buying a bike, there are a few things you should consider before making a purchase.
Wheel size
Obviously, adults are going to need larger scooters than kids, but there's more to it than that. The bigger wheels used on adult scooters makes them more comfortable and the ride faster! Adult scooters typically come with either 145mm or 200mm wheels. The choice of wheel size depends mainly on your height and what feels comfortable to you. As a rule of thumb, the larger the wheels, the taller the rider it can accommodate.
Using 200mm wheels, the Micro Classic Scooter is designed specifically for adults, with the stylish and sleek scooter at home in the city and the country. The lightweight aluminium frame, non-slip footplate and adjustable handlebars give you a comfortable ride every time. Designed in Switzerland and built from premium parts, the Micro Classic Scooter is the Rolls Royce of adult scooters (until Rolls Royce makes their own, obviously).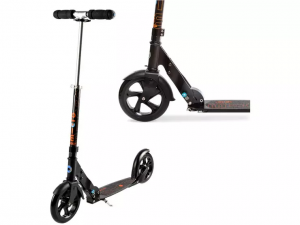 Handlebar height
Handlebars on scooters can be adjusted to accommodate riders of different heights. The handlebars on the Evo Commuter Scooter (145mm) for example can be adjusted from 75 – 93cm in height, while its bigger brother the Evo Commuter Scooter (200mm) can be raised from 87-102 cm to give you the best and most comfortable riding experience.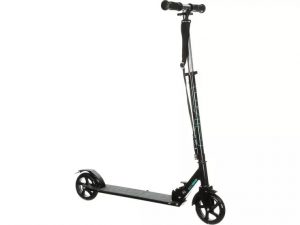 When choosing your scooter, check out the handlebar height range. The taller you are, the higher you'll need your handlebars.
Ride comfort
While larger wheels do a reasonable job of protecting you from lumps in the road, if you want the smoothest ride possible then choose a scooter with built-in front and rear suspension.
The Evo Suspension Commuter Scooter has integrated suspension front and rear, with the built-in springs, hardwearing ABEC 7 bearings and 200mm wheels will make bothersome bumps a thing of the past. Suitable for riders over 8, the Evo Suspension Scooter comes with a removable carry strap and a simple folding mechanism which makes it easy to carry for on-the-go adventures.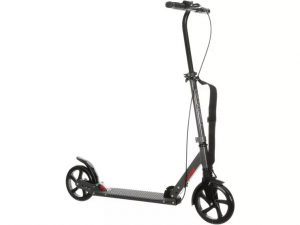 Stopping power
You can reach impressive speeds on a scooter, so working brakes are a must. All adult scooters come with a rear brake fitted to them which is operated by standing on it (gently!). Some models come with a hand-operated brake, which some riders find smoother and more comfortable to work.
Models like the Evo Suspension Commuter Scooter come with a handlebar operated front-brake for increased stopping power. Before heading out in to the wide world, spend some time getting to know how the brakes perform. You'll need a deft touch to slow steadily, but even the rustiest rider should pick it up in no time.
Safety first
You don't need to wear helmets, arm pads and knee pads on a scooter, but they will provide greater protection than your regular clothing. A cycle helmet will be fine, offering solid protection from harm.
Scooters are a lot of fun, but before you set off on your adventure, ensure your scooter is roadworthy with a free scooter check from Halfords. Our experts will ensure your ride is (off) road-worthy, checking the vital components are working smoothly.
If there's an issue with your ride, we stock a selection of scooter spare parts for most makes and models. If you're handy with a spanner, repairs and replacements can be done at home with a simple toolkit.
So be prepared to have some serious fun and get out there!