It looks like 2021 is going to be the summer of staycations and what's synonymous with the good old British staycation? Good old British ice cream trucks.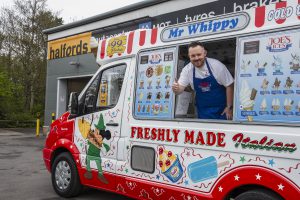 Like many other industries, ice cream vendors have had a difficult year. Multiple lockdowns have left them grounded and it's estimated that ice cream vendors and parlours have lost a combined £289 million of business during the pandemic. Now, with lockdown restrictions lifting and the busy summer season just around the corner, we wanted to help ice cream vendors get idle vans (with potentially flat batteries) back on the road.
Halfords has teamed up with the Ice Cream Alliance to offer free 5-point van checks to the alliance's members. The service is available at all 1,000+ of our stores and garages and can be booked online, by calling or by popping in. One of our experienced technicians will check the van's headlights and brake lights, the condition of the wiper blades, the battery health, the condition of the windscreen and the MOT due date – all for free!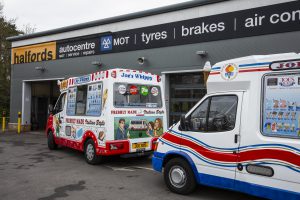 "Our sector has been hit really hard over the last 12 months, but our members are now raring to go – and we want them to do that safely – so we're delighted to be working with Halfords," Zelica Carr, Chief Executive of the Ice Cream Alliance, says. "Vehicle maintenance is a really important part of our business and it feels like we're in expert hands. Nothing says summer has arrived like the sound of the ice cream van."
Lisa Bond, Halfords Group Marketing Director, agrees. "No British holiday would be complete without a 99 from an ice cream van. With millions of Britons getting ready to head off on a staycation break, our expert technicians are ready and prepared to keep the nation's ice cream vans on the road."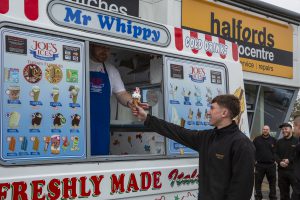 The initiative is part of a larger campaign to support summer staycations. With our recent research revealing that 59% of people would rather go on staycation than go abroad, it's set to be a bumper year for holidays within the UK and we're here to provide everything that British motorists need to get packed up and road-ready.
As well as a range of staycation essentials like bikes, roof boxes, bike racks, camping gear and in-car tech, we offer a number of free maintenance checks at our stores and garages across the country to get your cars back on the road (and keep them there). So, prep your car for the ultimate staycation this summer with Halfords – and enjoy an ice cream or two while you're there.
---
Free ice cream van check: Terms and conditions
Halfords are offering a free ice cream van check to members of the Ice Cream Alliance (the "ICA"). Anyone who is not a member of the ICA will not be entitled to a free ice cream van check.
Customers will need to show their ICA membership card or certificate of membership on arrival of the booking.
These checks must be booked in advance and to book your ice cream van in for a free check, simply book here, or call your local store or garage.
The free check includes wiper blade condition, headlight and brake lights, windscreen chip check, MOT reminders and battery health.
Due to the bespoke installation, we are unable to offer the battery health on Mercedes Sprinter vans, registered from 2007 onwards. All other checks will be completed.
The free ice cream van check can be carried out in any of our stores or garages, subject to availability.
Only one ice cream van can be booked in for a free check at one time.
This service is available until 31/12/2021.