Nothing beats the freedom of heading out on the open road on your motorcycle. And with the warmer months ahead, now's the perfect time to plan your next motorcycling adventure.
Before you do, it's important to make sure you have all the essential motorcycle accessories you need. Whether it's to protect you, help you navigate, or to keep your motorcycle in tip-top condition, here's our guide to must-have motorcycle accessories.
Always wear a motorcycle helmet!
This is an obvious one, but you should always wear a helmet whenever you're riding. Doing so can be the difference between life and death in an accident.
Don't simply pick the first helmet you find either! Finding one that's suitable for your needs will help with comfort while riding as well as safety.
For most riders, a full-face helmet with a visor is a must – with the visor acting as a welcome barrier between you and any bugs or dirt. Shark's newest full-face helmet, the Shark Ridill Motorcycle Helmet, is a great example. Designed to be user-friendly, it benefits from an internal sun visor and a quick-release, anti-scratch visor. Its thermoplastic resin shell will also keep you well protected.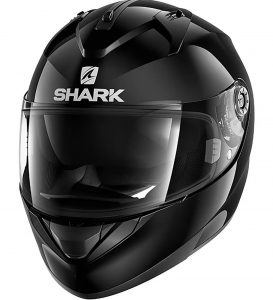 Even in Britain, summer days can be sweltering, and keeping cool is the name of the game. If you plan on riding on warm days, opt for a helmet with high-quality ventilation like the Shark D-Skwal 2 Motorcycle Helmet. It benefits from two air inlets and two air extractors helping to keep a refreshing airflow even on the hottest of days.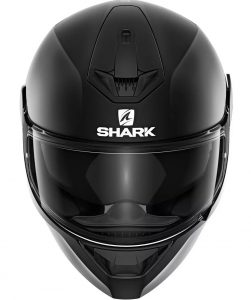 And if you need any help finding the right helmet size, check out our guide to motorcycle helmet sizing.
Keep on track
While taking the wrong turn can lead to some unexpected adventures, it's usually a big inconvenience – so you'll want to stick to the correct route.
Nowadays, there are lots of GPS devices and apps that'll help keep you on track, you just need to decide where you'll mount your device. Ideally, you want to keep your navigation in a convenient place that isn't distracting and doesn't clutter your handlebars. The solution? Ultimateaddons' range of motorcycle mounts.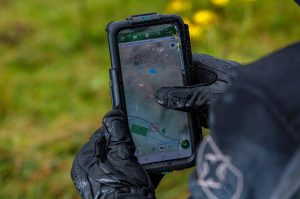 Robustly built to keep your device protected, there are a range of Ultimateaddons mounts available for whatever your needs. Want to use an iPhone 11 to navigate? The Ultimateaddons iPhone 11 and XR Motorcycle Tough Case will help. Need a case that can handle all conditions? Try the Universal XXL Tough Case which has an IPX5 waterproof rating. There's even a mount that attaches to mirrors and crossbars.
Keep your motorcycle protected
By covering it…
Your motorcycle will spend most of its time in storage between rides.
That's when a motorcycle cover will come in handy, keeping your motorcycle protected from the elements and in tip-top condition ready for your next adventure.
If you keep your motorcycle in a garage, you'll need a motorcycle cover that's designed to keep dust out, like the Oxford Heavy Duty Cover. Equally as effective when used for outside storage, the cover will protect your motorcycle from the harshest of weather.
Alternatively, the Oxford Rain Cover is another dependable option, especially for those who keep their motorcycle outside. Built to last, it's the world's best-selling motorcycle cover – so you know you can rely on it to protect your pride and joy!
While motorcycle covers are solely there to protect your motorcycle from the elements, they can also act as a useful deterrent against theft. If a would-be thief can't see a motorcycle in plain view, they're unlikely to attempt anything.
And locking it
But if any would-be thief does try to take your motorcycle, they'll soon be scuppered by a robust lock.
When choosing a motorcycle lock, make sure it has a Sold Secure Rating. All Sold Secure approved locks have been through rigorous testing before being awarded either a bronze, silver, gold or platinum rating. You can find a full breakdown of the different ratings here.
For storing your bike, we'd recommend a higher rated lock like the Oxford Hardcore 13 Chainlock.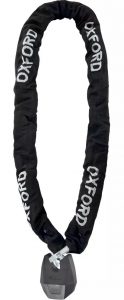 Gold Sold Secure approved, its hardened steel body and double-locking mechanism have been rigorously tested and are resistant to sawing, drilling, bolt cropping and sledge hammering.
Of course, a lock is only as secure as the anchor it's attached to. Many people make the mistake of wrapping a lock around something that can easily be cut through or removed. With the Oxford HS Ground Anchor, this won't be a problem. Securely fastening to a wall or the floor, the anchor can be used with any chains up to 12mm in diameter – giving you that peace of mind that your motorcycle's safe and secure!
But if you want extra reassurance, you can also use a disc lock to prevent your motorcycle from being wheeled away. Silver Sold Secure approved, the Oxford HS Max Lock is a dependable choice.
All Oxford motorcycle locks are Sold Secure approved.
Don't forget maintenance essentials
When out riding, mechanical issues sometimes arise. When they do, you can be forgiven for thinking the worst has happened…only to realise you've forgotten the necessary tools to correct the issue!
Most issues out on the road only require simple fixes which is why you should always carry a small tool kit with you. Containing 28 tools for a variety of jobs, the Oxford Biker Tool Kit is a compact and portable option that can easily be stored under a seat.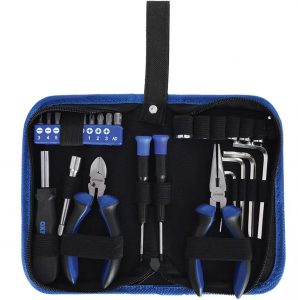 Not everything can be carried with you on your rides, so it's worth having a collection of tools at home ready to help keep your bike in tip-top condition – such as an air pressure gauge, spindle key, cable repair kit and a valve access tool. It's also much easier to carry out work on your motorcycle when you have a specialised paddock stand.
Join the Halfords Motoring Club
Don't miss out! Join the Halfords Motoring Club today to access a range of amazing benefits and discounts that are designed to keep you moving, keep you safe and keep you saving.
It's free to join and you'll receive money off your MOT, a free car health check and a welcome voucher that can be spent on any Halfords product or service.
Or choose our Premium membership for a small monthly fee (or a one-off payment) to unlock exclusive member pricing on all motoring products and services online and across our stores, garages and Halfords Mobile Experts, as well as a variety of other benefits that will help you to keep moving for less.
With so much to enjoy, this is too good an opportunity to miss!
Join the Halfords Motoring Club today at www.halfords.com/motoring-club.
---
That completes our list of must-have motorcycle accessories. Of course, there are many other things we could have included in this list and you'll find all the motorcycle accessories you need over at Halfords.com.
You want the best motorcycle accessories, you want Halfords!