Dash cams. As a motorist, they've probably crossed your mind from time-to-time. Maybe you've had one on your wish list for a while, but just haven't taken that final step yet. Maybe you've wondered if they're worth the investment. Well, our friends at Nextbase have put together a convincing argument for why your car deserves a Nextbase dash cam (and what your options are).
Why should I buy a dash cam?
Accidents can occur when you least expect them. With over 38 million cars now on UK roads, it's more important than ever to ensure your car has 24/7 protection from potentially costly incidents. In many situations, it can be difficult to prove fault in an incident resulting in lengthy insurance claim processes and putting your insurance payout, No Claims Bonus, and premium at risk.
Smart dash cams were introduced to the sector by Nextbase with the Series 2 range, bringing Alexa voice control, Emergency SOS and Intelligent Parking Mode to dash cams for the first time. These features give drivers a new level of comfort and security, offering a full technology upgrade to any vehicle. They make a dash cam the perfect solution for upgrading your vehicle on a budget.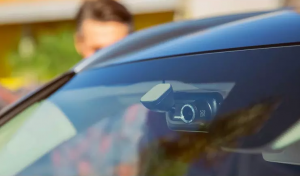 What should I look for in a dash cam?
Dash cams are traditionally used to act as an independent witness for drivers, providing good quality footage of incidents on the road. This means that the most important factor to consider when choosing your dash cam is video quality. Generally, the more expensive dash cams can offer the best video quality, supported by features such as HD video, anti-glare lenses and powerful sensors. Great quality video footage will allow you to view important details clearly, such as number plates, car make and model, and the key details of an event.
Intelligent Parking Mode is an important feature to consider when choosing a dash cam and is available in Nextbase Series 2 dash cams. As soon as you park and your ignition is turned off, the dash cam will automatically switch into 'parking mode' by shutting down everything except the G-Force sensor. The sensitivity of the G-Force sensor then increases dramatically. If your car is bumped and the G-Force sensor registers movement, then the dash cam will automatically turn on and record for 30 seconds before shutting back down again.
One final factor to take into account is the fact that dash cams are no longer just there to record the road. The Nextbase Series 2 models host a range of exclusive features that enhance your driving experience and improve the safety of your family on the road. One of the latest of these features is Amazon Alexa (available with the 522GW and 622GW), which means you can use full Alexa commands to play music, check the weather, control smart home devices and more. You can also use the power of your voice to protect dash cam footage, start/stop recordings, send recordings to your phone and take pictures – allowing you to concentrate on driving.

What else can a dash cam do?
Nextbase is constantly looking for new ways to take care of drivers and improve their safety on the road.
The most significant safety feature in the Series 2 range has to be Emergency SOS (available in models 322GW and up). In the event of an incident where the driver is unresponsive, Nextbase Emergency SOS can alert the emergency services to your location and other personal details such as medical history, blood type and allergies. This ensures that they can respond quickly without relying on other road users – crucial on rural or quiet roads.
This has been upgraded further in the Nextbase 622GW thanks to what3words. This geocode system pinpoints the user's precise location within three metres, allowing drivers to relay their location to emergency services — even if they have no data reception or Wi-Fi. The popular geocode system has never been used before in a dash cam and offers a critical, failsafe option for drivers globally.
Is a dash cam easy to set up?
Nextbase dash cams are designed for ease of use, whether you love gadgets or have no tech experience whatsoever. For a start, Nextbase dash cams work straight out of the box. Installation is quick and easy with the exclusive Click & Go Pro™ powered magnetic mount and a car power cable that connects from your car's 12V socket directly into the mount.
Alternatively, if you want help fitting your dash cam then we can take care of it for you with our Halfords WeFit service. Simply select the fitting option during the online checkout process and one of our technicians will install your new dash cam in line with our safety measures. Or if you'd prefer to wait until after the current lockdown has ended, then you can pop into your local Halfords store to arrange a fitting at a later date.

What are my options?
At the top of the range, we've got the Nextbase 622GW. This award-winning dash cam was released in 2020 and includes a whole heap of features such as 4K image resolution, enhanced night vision, Extreme Weather Mode, super slow motion, Emergency SOS, Amazon Alexa and more.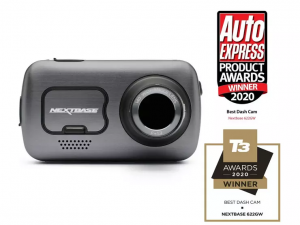 A great budget option is the Nextbase 322GW. While it doesn't have all of the additional features of its newer cousins, this is still a solid dash cam that offers 1080p resolution, Wi-Fi, Bluetooth connectivity and Emergency SOS. It's also compatible with various Nextbase add-on cameras.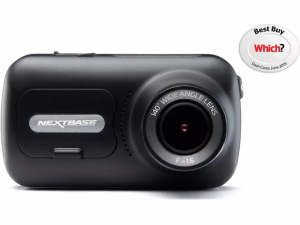 Or if it's value for money you're after, then you can't get much better than one of our Nextbase dash cam bundles. There are three options available and we've listed them all in a handy table below so you can compare their key features and find the perfect one for you.
NEXTBASE DASH CAM BUNDLES
222GW BUNDLE
322GW BUNDLE
522GW BUNDLE
Image quality
1080p HD
1080p HD
Front: 1440p HD (1080p HD when used with a rear camera)

Rear: 1080p HD

Wi-Fi
No
Yes
Yes
GPS tracking
No
Yes
Yes
Emergency SOS
No
Yes
Yes
Amazon Alexa
No
No
Yes
Touchscreen
2.5" HD IPS
2.5" HD IPS
3" HD IPS
Rear camera included
No
No (compatible rear cameras available)
Yes
Carry case included
Yes
Yes
Yes
32GB microSD card included
Yes
Yes
Yes
Polarising filter included
Yes (attachment)
Yes (attachment)
Yes (inbuilt)
---
For further savings, we're also offering a number of refurbished Nextbase dash cams. These dash cams have all been returned to the manufacturer for various reasons (e.g. unwanted, ex-demo products) and have been fully restored/tested before being put back on sale. They're a great way of getting top tech for less money!
Make this winter a dash cam winter with Nextbase and stay safe on the roads!