Summer's a great time of year to sort out your garage, start a new project, practice your DIY skills… or turn something old into something new.
Upcycling and restoration have seen a surge in popularity over the last several years, with shows like The Repair Shop and Money for Nothing becoming TV staples, and a simple internet search providing you with thousands of results full of inspiration and advice.
So, we decided it was time to dive into this brave new world and have a look at the tools that'll come in handy when you embark on an upcycling adventure this summer.
What is upcycling?
Simply put, upcycling is a way of turning unwanted products, waste materials or by-products into something new. It's a term that's often linked to furniture or design, and can be a cheap, fun and creative way of giving old pieces a new lease of life. It also means there's less chance of the piece ending up at the tip or in landfill, which the environment will thank you for!
So those off-cut bits of wood you've been storing in the back of your garage, just in case? Why not turn them into a handy shoe rack for your hall. Those wooden crates that have been clogging up your shed? Build a nifty storage solution for your spare room. Or that ancient chest of drawers you inherited from Great Aunt Edith? Sand it down, change the handles, add a lick of paint and give it a new home in your bedroom.
All you need is a little imagination and the right tools for the job.
What tools do I need?
1. Screwdriver
Every good upcycler needs a screwdriver or two to hand and we recommend the Halfords Advanced 8-Piece Screwdriver Set. Inexpensive but effective, you get four plain slot screwdrivers and four Pozidriv ones with magnetised ends and comfort grip handles. They're ideal for removing old screws from handles and inserting new ones alike.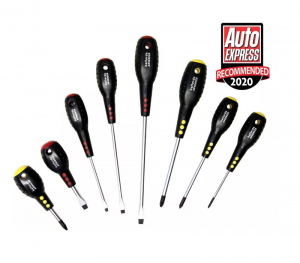 2. Pliers and wrench
Older fixtures and fittings can be stubborn, so it's a good idea to make sure there are pliers and a wrench in your toolbox. The Halfords 4-Piece Pliers and Wrench Set includes combination pliers, long nose pliers, a locking wrench and an adjustable wrench, so you're covering all your bases.

3. Utility knife
A utility knife, or craft knife, allows you to cut materials like card, craft foam and even fabrics with a high degree of precision, which is ideal if you've taken on the challenge of reupholstering a piece of old furniture.
The Halfords Quick Change Utility Knife has an ultra-thin design for comfort, a quick change blade release button and retractable blade storage that can hold up to five blades. It'll get the job done neatly and safely, and for under a fiver it won't break the bank.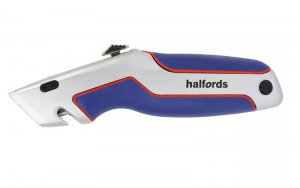 4. Sandpaper
If you've got rough surfaces that need smoothing down and primed for a new lick of paint or varnish, then sandpaper or a sanding sponge like the Halfords Sanding Sponge will come in handy.
The Halfords Sanding Sponge is designed for either wet or dry use, rinses clean in water and has a soft backing for easy use. It's particularly suitable for sanding contoured areas and can be used on metal, wood, plastic and most DIY materials.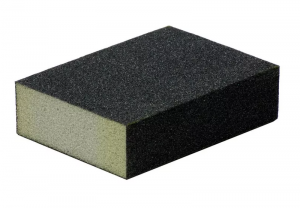 5. Hacksaw
Add a Halfords Junior Hacksaw to your arsenal to help you cut materials to size including metal, wood and rigid plastic. Don't let the name fool you – this isn't suitable for kids! It's simply a more compact type of hacksaw that's adept at handling smaller and more precise jobs.
The Halfords Junior boasts a plated steel frame with a finger guard and comes supplied with the blade, so you can get to work with it straight out of the box.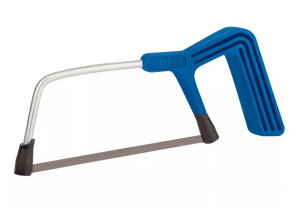 6. File
A good file or two is a must-have if you want to deburr, round or remove those hard edges. The Halfords Advanced 8-Piece File Set Modular Tray contains the most common file shapes and two sizes.
The set is also part of our modular tray range, which are designed to help you build your own ideal took kit and fit neatly into any Halfords Advanced tool chest or cabinet.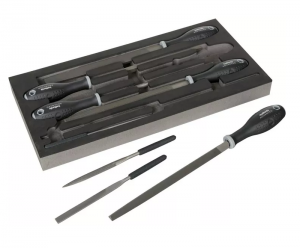 7. Drill
Ryobi knows a thing or two about hand tools and the Ryobi 18V ONE+ Combi Drill Starter Kit is a great choice if you've got some drilling to do.
Not only does this drill feature a compact design, two-speed gearbox, 24 clutch settings and a comfort handle, but it's also part of Ryobi's ONE+ system of cordless tools. This means you can use the same 18V+ rechargeable battery for multiple tools, providing maximum mobility and convenience.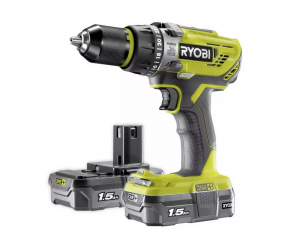 8. Tape measure
No DIYer or upcycler can do without a trusty tape measure to get those tricky measurements exact. The Laser Tape Measure has a robust case with a ribbed grip, as well as a locking mechanism and fast return-release. You also get a five-metre-long tape, with easy-read-numbers, so you'll never miss a measurement.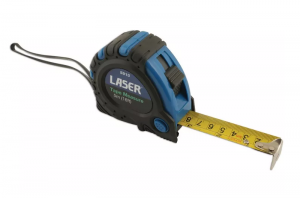 9. Duct tape
Duct tape has so many uses there's no way we couldn't include it in this list. Sticky, strong and – in some cases – weatherproof, duct tape can do everything from holding broken pieces together to protecting vulnerable areas when you whip out the paint brush. And for that, it will always have a place in our hearts.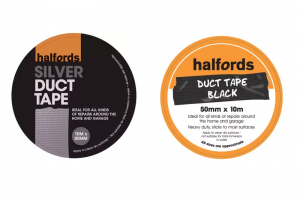 10. Storage
You'll need somewhere to store all of these tools (or at least the ones that don't have their own cases already) and that's where the Stanley SortMaster Organiser comes in.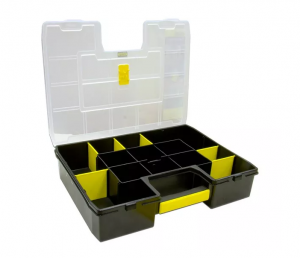 The organiser's unique open-ended corners mean you can configure the space to meet your requirements (apparently there are 1,024 different combinations, if you fancy trying them all) and the lid provides the perfect storage solution for all your bits and bolts.
---
Right, that should give you everything you need to get started on your upcycling adventure! After the basics are sorted it'll be time to think about design and painting – but we'll leave that to the interior design blogs to cover.
For all your DIY essentials this summer, you want Halfords.