There are lots of amazing places you can explore throughout the UK, and there's no better way to experience them than by heading out in your caravan or motorhome. Plus, with the rising cost of living squeezing budgets, more local holidays are becoming more popular than ever.
Before starting your adventure and basking in the great British summer, make sure you're fully prepared with our list of essentials for caravan and motorhome owners.
Power your staycation
Phone chargers, microwaves, televisions, fridges, motor movers – our caravans and motorhomes are crammed with energy-sapping appliances, and you'll need a dependable leisure battery to keep them powered.
Which leisure battery you need will depend on your style of travel and the size of the battery compartment on your caravan or motorhome. For those spending plenty of time on campsites, the Halfords HLB750 Leisure Battery is a reliable choice. It's powerful enough to power high-energy appliances like motor movers while not hooked up to an energy supply, and it benefits from a dual-terminal design – allowing you to power multiple devices at once and enabling easy wiring for motor movers.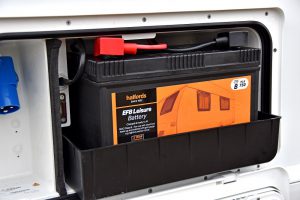 Those who prefer to travel off grid need a battery with more power like the Yuasa Active L36-AGM and L26-AGM leisure batteries. Specially optimised to handle high-energy demands, both batteries benefit from AGM technology ensuring maximum endurance, more charging cycles, and faster charging. Capable of powering everything from televisions through to motor movers, these Yuasa batteries are the recommended choice for off-grid travellers.
Whenever choosing a leisure battery, always make sure it's NCC approved. Any NCC-verified battery has gone through rigorous testing before being rated. All batteries sold by Halfords are NCC verified and both Yuasa batteries are NCC Class A verified.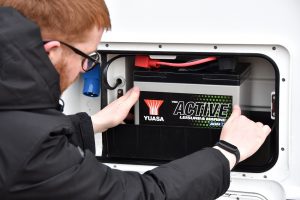 …with the help of the sun
Ideal for off-grid travellers or those who would prefer a greener way of topping up their leisure battery, solar maintainers are a great addition for any staycation.
Easily plugging into the terminals of a battery, solar maintainers use the power of the sun to recharge your electrical supply.
Not all solar maintainers will be compatible with your leisure battery and you'll need to find one that matches the voltage and doesn't exceed the amp hours (Ah).
Don't forget the cooking essentials!
While it's always fun to head out and taste some of the local cuisine, with a caravan or motorhome, you get the added convenience of being able to whip together a meal yourself. Just make sure you remember everything – you don't want to be eating out of a pan because you've forgotten your plates!
If you want to treat yourself to a brand new set or simply need to top up what you already have, we have lots of plates, bowls, cutlery and other cooking utensils to choose from.
Stock up on toilet roll
OK, this isn't a particularly exciting part of the checklist, but you'll thank us for this later – always remember toilet roll!
And just as importantly, use toilet roll that's designed for motorhomes and caravans, or you could find yourself with a clogged toilet. The Aqua Soft Dissolving Toilet Roll is a great choice as it's specially designed to quickly dissolve in the waste tank.
While we're on the topic of waste tanks, use some toilet cleaning fluids to keep your loo smelling fresh.
And don't forget…
To finish our list, here are some essentials that many caravan and motorhome owners often overlook, especially when staycationing for the first time.
Starting with a cable extension lead. In an ideal world, your electrical hook up point would be conveniently placed, but this isn't always the case. That's when an extension cable like the Maypole 25M 240V comes in handy.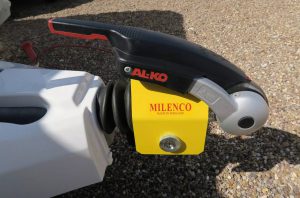 Whether on staycation or parked up at home, you also need to protect your caravan. Preventing thieves from towing your caravan away, the Heavy Duty Alko Hitchlock is one of the strongest hitchlocks available and is a must for any caravan owner.
For added peace of mind, also use a wheel clamp to ensure your caravan's as safe as possible.
Introducing the Halfords Motoring Club
Don't miss out! Join the Halfords Motoring Club today to access a range of amazing benefits and discounts that are designed to keep you moving, keep you safe and keep you saving.
It's free to join and you'll receive money off your MOT, a free car health check and a welcome voucher that can be spent on any Halfords product or service.
Or choose our Premium membership for a small monthly fee (or a one-off payment) to unlock exclusive member pricing on all motoring products and services online and across our stores, garages and Halfords Mobile Experts, as well as a variety of other benefits that will help you to keep moving for less.
With so much to enjoy, this is too good an opportunity to miss!
Join the Halfords Motoring Club today at www.halfords.com/motoring-club.
---
That completes our list. It's time to pack your caravan or motorhome and head out on your staycation adventure!
Head over to Halfords.com where you'll find a range of camping and touring essentials. And if you need any more advice ahead of your staycation, head over to our help and advice guides.
You want to enjoy the ultimate staycation, you want Halfords!