The latest report on global traffic congestion has been released by TomTom and we have put together the most interesting highlights from the data. The TomTom Traffic Index has collated all the real-time traffic information from around the world and has produced a handy ranking system for the most congested cities.
Taking the number one spot for the third year in a row for the most congested UK city is Edinburgh with drivers spending an extra 41% travel time stuck in traffic. Coming in at a close second was London with 38% additional travel time with Brighton & Hove, Bournemouth and Hull following closely behind. As a result, the UK spends an average of 6 days sat in traffic every year despite congestion only rising by 1% from 2018.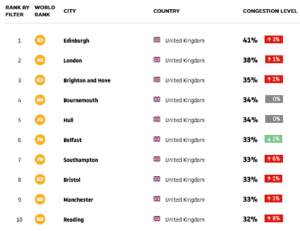 Looking more broadly at the mainland regions of the UK, the report shows that Midland commuters, are subject to the worst congestion, spending 160 extra hours a year in traffic. With 145 extra hours in traffic, Scotland are the second most congested region in the UK. In third are the Southerners with Northerners having the shortest congestion times with cities like Middlesbrough only waiting an extra 87 hours in traffic this year. Do you wonder what could have been done with all of this time?
Taking a wider look at the traffic statistics, we can see that the Indian city of Bengaluru has been crowned the most congested city in the world with drivers spending an extra 243 hours in traffic every year. Despite not even being mentioned in the top 30, the UK comprises of 10% of the world's most congested cities! Here are the top 10 congestion contenders: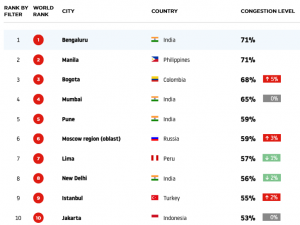 Has this talk of traffic, congestion and cars got you feeling stressed? Here are some handy tips to beating the congestion in your area.
Be Prepared with Available Technology
Checking your route before you set off can alert you to unexpected traffic in your area. Thanks to real-time traffic navigation systems such as Halfords range of TomTom products, you can be comfortable in the knowledge that alternative routes will be automatically set up for you based on the current congestion in your area.
Choose How and When You Travel
TomTom satnavs utilise the technology to inform users of hour-on-hour updates of congestion within cities. With this information, you can jump the gun with the impending traffic jams or make better use of your time by waiting for the traffic to clear.
Alternative Travel
With a wealth of traffic information at your fingertips, you may find that it is beneficial to not travel by car at all. Instead, you can make your journey via alternative transport measures such as using bicycles and scooters which can unlock quicker, shorter and more pleasant routes for your commute – if the weather permits. Halfords offer a fantastic range on electric and non-electric bikes and scooters.
Please note: Electric scooters must not be used on public highways, pavements, cycle lanes or bridleways, but only on private property with the owner's consent. For further guidance, please click here.