Tyres can face a whole host of challenges, particularly during wet, cold and icy weather. However, with a few simple checks and regular maintenance, you can extend the life of your tyres and save yourself money in the process. This article will explore what you can do to ensure that your tyres keep you safe on the road and help you avoid any potentially costly repairs.
What should I look out for on my tyres?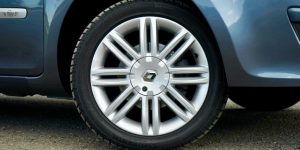 When it comes to the condition of your tyres, there are three main areas to keep an eye on that can help you avoid potential damage.
Tyre pressure
Uninflated or overinflated tyres can affect handling, so having the right tyre pressure is essential. Your vehicle's handbook should include the appropriate pressure settings for your tyres and inflating your tyres is something anyone can do. If you're not sure if they need inflating, then we'd recommend picking up a tyre pressure gauge. 
Tread depth
The legal minimum tread depth for tyres is 1.6mm, so you'll want to make sure that yours meet this level. While you could use the old 20p trick, we'd recommend a more precise measuring method such as using a tyre depth gauge (again, more on this below). It'll give you an accurate reading and let you know if it's time for replacement tyres.
Overall tyre condition
Be on the lookout for any cuts, splits and nicks in your tyres, as well as any glass, nails or screws that might have become embedded in the rubber and could cause a puncture further down the line. We'd also suggest checking your spare tyre as the last thing you want is to use your spare in an emergency only to find that it's punctured.
Useful tyre products to have to hand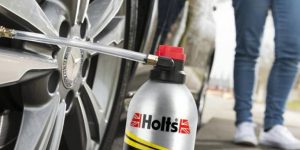 Whether you store them on a shelf in your garage or, better yet, pop them in your boot, these are the products we reckon you should have to hand to help keep your tyres in a roadworthy condition and help them last as long as possible.
Tyre pressure and tread gauges
We've already mentioned these above, so you should have an idea about what they can do and how useful they are. There are lots to choose from and the majority are pocket-sized, which means they'll fit neatly into your glovebox or boot. We particularly love the simplicity and efficiency of the classic Halfords Digital Tyre Pressure/Tread Gauge.
Tyre inflators
Tyre inflators come in various shapes and sizes, but will all help you to achieve the ideal tyre pressure. One of our favourites is the Halfords Rapid Digital Tyre Inflator, which has an inflation time of just two minutes and an automatic cut-off. It's quick and easy to use, has a clear display and gives you the ability to change measuring units too.
Tyreweld
Holts Tyreweld provides a quick and easy solution if you get an emergency puncture, so this is definitely one we reckon you should have in your car. Just attach the product to the valve on your tyre and it'll inflate it and seal the puncture, getting you back on the road and off to find a garage.
All-season and winter tyres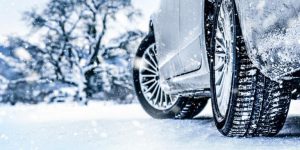 One way that you can help your car to succeed in colder, icier weather is to equip it with all-season tyres. Also known as 'all-weather tyres', all-season tyres have the ability to adapt to changing weather conditions, which makes them suitable for use all year around.
They can handle both summer and winter temperatures, and are also designed to deal with heavy rainfall and snow/ice on the road. As UK weather can be notoriously unpredictable, all-season tyres are definitely worth investigating if you want tyres that you can trust whatever the weather (and season).
Winter tyres are another option. They're more pliable in the cold than a summer tyre, providing more grip, and they feature a special tread pattern that means they can perform better in the snow. The only drawback is you'll need to change them when spring and summer roll around, as they're not designed to perform on warmer roads.
Our article on all-season and winter tyres provides useful insight into the features and benefits of each type, so be sure to have a read.
Halfords tyre services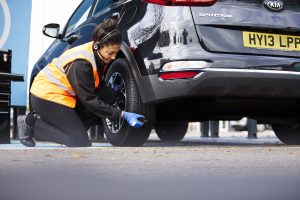 Free checks
To get a second opinion on your tyres, why not book in for a Free Tyre Check at your local Halfords garage? It's completely free and one of our experienced technicians will inspect all of your tyres and talk you through any issues that need fixing.
We also offer a variety of other free checks for your brakes, steering and more, so if you have any concerns, then be sure to get your car booked in and our experts will be happy to help.
Car checks
10-Point Car Check
Our 10-Point Car Check is a great choice if you're looking for a check that covers the condition of your tyres, headlights, brake lights, battery, wiper blades and more.Book online today and have peace of mind that your vehicle is in tip-top condition.
Car Safety Inspection
If you're looking for a more comprehensive car check, then you can't go wrong with our Car Safety Inspection. The inspection has been designed to check key components to ensure your car is roadworthy and covers 30 points in total. If any issues are detected, we'll provide you with a free, no obligation quote outlining any additional work that may be required.
Replacement tyres
Last, but by no means least, if it turns out that you need any replacement tyres – or choose to upgrade to all-season or winter – then just head on over to Halfords.com. We offer fitting at any of our garages or book in with Halfords Mobile Expert whoc can provide the ultimate convenience by coming straight to your home or work, at a time that suits you.
Same day tyre fitting
Did you know that we now offer same day tyre fitting service across our garages nationwide? Simply book online before 1pm and we can replace your tyres the same day to help you get you back on the road safely and swiftly. Please note that availability varies by location. For more information, please head on over to our dedicated same day tyre fitting page where you can find answers to frequently asked questions, choose the right tyres for your vehicle and book your appointment.
Halfords Motoring Club
If you're not already, consider upgrading your Halfords Motoring Club membership to premium. You'll get two free 10 point car checks as well as 5% off motoring products and servicing for even further savings on your tyres.
---
We hope this article will keep your tyres in top condition and help save you money! Stay safe on the roads and remember, if you want winter tyres and motoring essentials for less, you want Halfords.