Here at Halfords, we want to help you stay safe out on the road. That's why we offer a wide range of car checks and car servicing to ensure your vehicle is safe and in tip-top condition – especially important during the colder months.
All our car services and checks can be booked easily online, and you can even choose a date and time that suits you. Through our Mobile Experts, we can even come to your home or workplace.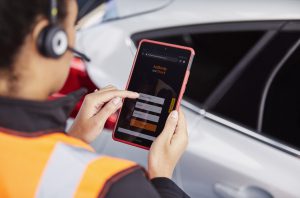 10-Point Car Check
Autumn and winter can be tough on our cars, and you'll want peace of mind that your vehicle is ready for the cold. That's where our 10-Point Car Check comes in handy.
One of our experienced technicians will safety check important vehicle components including the headlights, brake lights, wiper blades, battery, windscreen, and tyres. They'll also check the oil levels and top up the screen wash.
Book online today and have peace of mind that your vehicle is in tip-top condition this winter.
Available at: Halfords retail stores and Halfords Autocentres
Free Battery Health Check
We've all had that moment when our car struggles to start on a frosty morning – cue some nervous tension. While battery failures can happen at any time, they're more common in colder weather, and they're also more likely if your car battery isn't in good working order.
However, with our Free Battery Health Check, you can pre-empt any potential problems. Giving you that added peace of mind, our experts will check key health indicators such as charging and 'cranking' capabilities.
If any issues are found or you need a replacement, our experts will be on hand to offer further guidance.
Available at: Halfords retail stores, Halfords Autocentres and Halfords Mobile Expert
Free Tyre Check
The number one reason for keeping your tyres in good condition is safety. A burst tyre could spell disaster if you're driving at speed, so it's vital that you get them checked regularly to keep yourself, your passengers and other road users safe.
Keeping your tyres in good condition can also save you money, as they'll ensure your car consumes fuel efficiently.
Remember, UK law requires car tyres to have a minimum tread depth of 1.6mm. Not sure where to start? Use our handy guide to measuring tyre tread.
Our Free Tyre Check includes a thorough visual inspection of tread depth and wear by our ATA-trained technicians. We'll also check tyre pressure and look for damage to side walls.
Available at: Halfords Autocentres.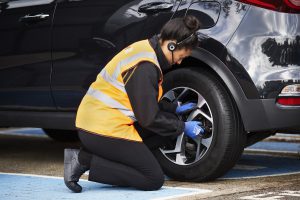 Free Brake Check
When it comes to safety, few parts of a vehicle are more important than the brakes. So, if you're unsure about the condition of your brakes or simply want them checking over, why not book our Free Brake Check?
One of our technicians will check every aspect of your vehicle's braking system to identify any issues and to help you stay safe on the road.
If a repair or replacement is required, we'll provide a no-obligation quote.
Available at: Halfords Autocentres
Brakes4Life
We want to help you take care of your brakes, and that's why we also offer Brakes4Life.
With Brakes4Life, you only pay for your first set of replacement brake pads or brake shoes – after that, they're completely free of charge (including free fitting too!).
It's even transferable to any future cars, so it doesn't matter if you change vehicle. What's not to like? After your Free Brake Check, if any replacement pads or shoes are required, you'll be offered the opportunity to take advantage of this amazing offer.*
Free Steering Check
Steering problems can drive you around the bend (and not in a good way!).
Don't worry, though, as our Free Steering Check is on hand to help you resolve any steering-related issues. Simply book your check and we'll do everything we can to find the root of any problems.
Available at: Halfords Autocentres
  Diagnostic Check
We all know that a warning light indicates an issue with our vehicle, but identifying what the issue is can often be tricky. If you want to drive safely, you'll need to find and fix the problem, and that's where our Diagnostic Check will help.
Using the latest, state-of-the-art diagnostic equipment, we can troubleshoot system warnings and check engine lights to identify any issues. Then, if any repairs are necessary, our technicians will advise you accordingly.
Available at: Halfords Autocentres
Free Exhaust and Catalytic Convertor Check
If your vehicle is suffering from strange rattling noises or has failed its emissions test, then you need our Free Exhaust and Catalytic Convertor Check.
Our technicians will carry out a thorough exhaust check to help identify any issues. If any repairs are required, we'll then provide you with a free, no-obligation quote upfront.
Available at: Halfords Autocentres

MOT and Service
Get great value for money when you book your MOT with Halfords. If your MOT is due, why not combine it with a service? Combining them won't only save you time, it'll save you up to £39 when you join the Halfords Motoring Club!
We offer three different MOT and service combinations, and each can be booked online for a time and day that suits you:
Our interim car service includes a 50-point check, an oil change and an oil filter replacement. This service is ideal for high-mileage drivers that may need multiple services in one year.
Our full car service includes a 77-point check and an oil and air filter replacement. This service is ideal for most road users.
Our major service includes a 77-point check and oil filter, air filter, cabin filter and brake fluid replacement. This is a comprehensive service, ideal for providing peace of mind that your vehicle is in full working order.
If you're not sure when your MOT is due, enter your vehicle registration number on our website. An MOT can be booked a month minus a day before your due date.
Halfords Motoring Club
Another great option is to join the Halfords Motoring Club! You'll get access to a range of amazing benefits and discounts that will help to keep you moving, keep you safe and keep you saving.
It's free to join and you'll receive money off your MOT, a free car health check and a welcome voucher that can be spent on any Halfords product or service.
Or choose our Premium membership for a small monthly fee (or a one-off payment) to unlock exclusive member pricing on all motoring products and services online and across our stores, garages and Halfords Mobile Experts, as well as a variety of other benefits that will help you to keep moving for less.
With so much to enjoy, this is too good an opportunity to miss!
Join the Halfords Motoring Club today at www.halfords.com/motoring-club.
---
That's just a selection of the motoring services and repairs we offer, and you can discover more over at Halfords.com.
Each can easily be booked online for a time, date and location that suits you, and you can find your nearest Halfords store or Autocentre here. Alternatively, why not let us come to you? Available for selected services, our Mobile Experts can come straight to your home or workplace. You can learn more on our Halfords Mobile Experts blog.
You want to safely navigate the months ahead, you want Halfords!
*Terms and conditions apply: https://www.halfords.com/car-servicing/brakes4life/terms-and-conditions/brakes4life-terms-and-conditions.html