During the colder months, driving and keeping your car running can be a real challenge. In fact, according to AXA, your car is 18% more likely not to start and has a 27% greater chance of cutting out. So what's the solution?
As well as taking your vehicle in for a free Halfords Winter Check, you should also make sure that you've stocked up on all the car essentials. Here's a quick list to get you started.
Ice scrapers
Ice scrapers might be perfect for clearing your car windscreen, but what about your poor hands? The Halfords Ice Scraper with Waterproof Mitt will not only remove ice, but it'll keep you're your scraping hand warm and dry too.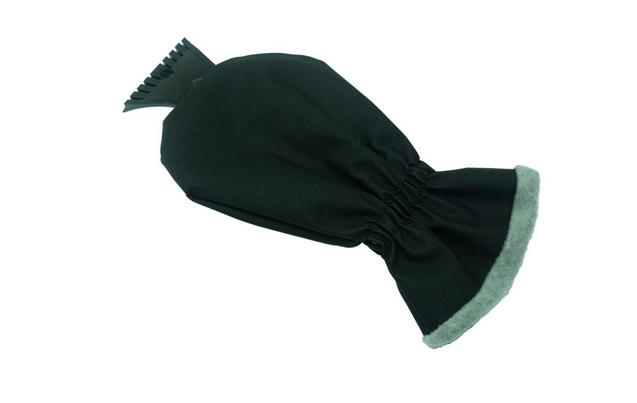 Handy!
De-icer
One of the most important car essentials in winter is windscreen de-icer. Our top pick to get you started is the Halfords De-Icer. Apply it to your windscreen just like a deodorant can to melt any ice, sleet or snow, then simply scrape off before driving. Easy and affordable, it's effective down to temperatures of -40ºC – brrr!
Snow shovels
When the snow arrives, don't let it stop you from getting outside and building a snowman. A Halfords Telescopic Snow Broom and Shovel Set will help you to dig your way to freedom, or remove the snow from behind your car wheels when stationary for a safer start. Say goodbye to snow days!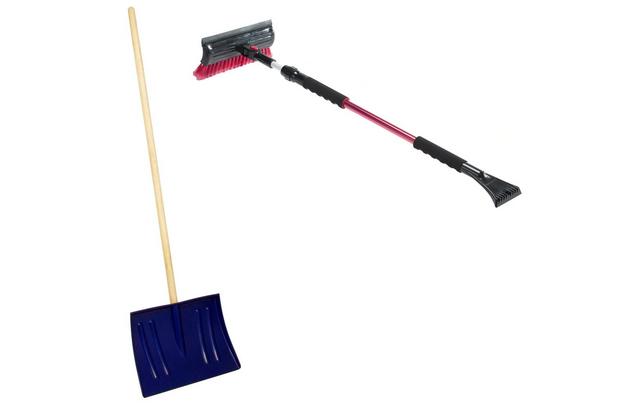 Clear your drive or get the snow off the roof of your car (which is a legal requirement) with this great double pack
Snow socks
Who said socks were only made for feet? The Universal Multigrip Snow Socks are a trendy alternative to snow chains and come in a variety of sizes to fit around your tyres.  You can apply the pack of two around your drive wheels to give you extra grip in snowy and icy conditions.
Screenwash
Be prepared for the coldest of conditions in winter with the Halfords -20 Ready Mixed Screenwash.
This large 5 litre product will help to keep your windscreen frost free and clear from mud and grit when the weather starts to turn miserable. It's also ready to use, so you don't need to spend any more time outside than is absolutely necessary!
Antifreeze
When it's getting chilly outside, that last thing you need is your car engine failing to start. Top your vehicle up with Halfords Silicate Ready Mixed Antifreeze to combat corrosion, freezing and overheating. With a handy 2 litre bottle costing only £10, this is early morning peace of mind at a great price.
Winter car kits
Winter car kits come in all shapes and sizes. From individual car covers to dehumidifiers, there are a lot of useful essentials you can pick up to help keep your car on the road.
However, our top pick for value and practicality is the Ring Rescue Kit. Designed to get your home whatever the weather, this fantastic winter car kit contains a foldable medal shovel, high-viz vest, batter-free dynamo torch shovel and even a foil blanket to fight off the cold if you end up getting stranded. You'll always be ready for the worst case scenario!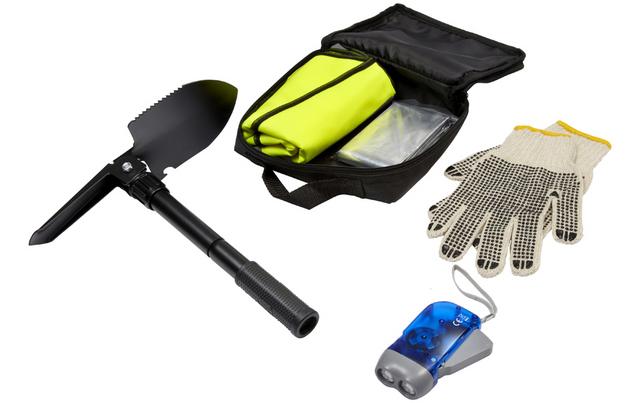 This great rescue kit from Ring has everything you need for winter
Enjoyed reading this? Then you might find our previous blog post useful: 'Top tips for driving at night'. If you're looking for further winter car care products and offers, then you should check out our motoring range at Halfords.com