Over the last year, your little one has probably spent more time stuck at home than ever before. However, with restrictions easing and summer just around the corner, there's now plenty of opportunity to go on family adventures, whether it's a bike ride or a much-deserved staycation.
While enjoying the warmer, fun-filled months ahead, it's important to make safety a number one priority, as your little one will either be new to or a little rusty about road safety. To help, we've pulled together our top 8 safety tips for riding a bike or travelling in a vehicle.
1. Teaching cycling safety
Riding a bike can be lots of fun, keeping your little one healthy, and giving them a sense of independence. But before they head out on two-wheeled adventures, it's important to teach your child the rules of the road.
Wherever possible, you want your little one to stick to cycle lanes and paths. Even so, there will be times when they need to ride on a road, and that's why it's important to teach them cycling safety.
Like most things, the best way to learn is by going out and practising. If there's only you and your child, position yourself behind them. If there's two adults, have one ride in front and one behind.
While out on the road, lead by example – a child is much more likely to learn good traits if they see you doing them! The main things they need to learn are positioning on the road, hand signalling and how to ride through traffic lights.
2. Wearing the right clothing
The next thing to remember is that your little one needs to wear the right clothing while cycling – this means fluorescent or bright clothes so they're easily visible.
Fluorescent clothing may not be your child's favourite choice of fashion – they're more worried about looking cool than standing out – but again, leading by example will help.
This is where an easily removable piece of clothing like the Halfords Kids Hi Vis Waistcoat will come in handy. Fluorescent and reflective so your child will be safe and seen, the waistcoat can easily be stashed in a backpack once they've finished cycling.
3. Always wear a helmet
Wearing a helmet can be the difference between life and death. So never let your child ride without one!
And helmets aren't like clothing – it's no use buying one that they'll grow into. It needs to be snug around their head with little movement. Check out our guide for help.
If your child wants a helmet that balances style as well as safety, don't worry! We have lots of stylish options including the Apollo Twinkles Kids Helmet and the Halfords Kids Camo Helmet that'll keep them looking cool and safe.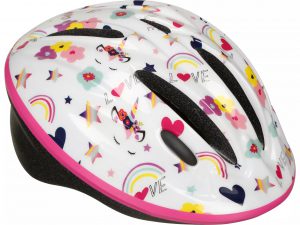 4. Preparing your child's bike
It's not just your child you need to prepare, their bike needs to be in good nick too.
There are lots of parts on a bike, but the main thing to look out for is the condition of the frame, the brakes and the wheels. If you're not sure what you need to check, book our Free Bike Health Check and one of our expert technicians will inspect the bike for you.
5. The Green Cross Code
Whether on a bike ride or walking to school, your child will need to cross a road at some point, and they can do so safely with the help of the Green Cross Code. It's something that we all learnt as children, and you want your little one to know the steps off by heart. As a reminder, these are:
Think – Find a safe place to cross the road.
Stop – Stop at the edge of the kerb, making sure you can see the traffic. Never stand on the road.
Look and listen – Check around for traffic, looking to your right-hand side first, then your left-hand side, and finally to the right again. Listen for oncoming traffic too.
Wait – Don't cross until it's safe to do so and if you're at a pedestrian crossing, wait until all the vehicles have come to a standstill.
Look and listen (again!) – Once you think it's safe, look and listen one last time before crossing the road.
Cross safely – Walk across the road making sure not to run or skip as you could fall over.
6. Car seats
There are lots of steps you can take to keep your child safe while traveling in a vehicle too. And with summer just around the corner, you're probably planning a few family days out and maybe even a staycation.
Before heading off on your adventures, make sure you have a child seat to keep your little one safe on the journey. Every child must legally travel in a child seat until they're either 12 years old or 135cm tall (150cm ROI), whichever comes first.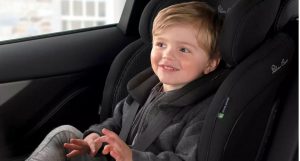 Choosing a child seat can be a bit of a minefield, with different size standards and age groups, but we've condensed everything you need to know into our handy Car Seats Buyers Guide.
And if you're looking for a few options, here's a selection of the best child seats currently available:
Cybex Pallas G i-Size Group 1/2/3 – The latest model in the award-winning series, the Pallas provides up to ten years of reliable protection. It's packed with the latest safety technology including an impact shield that helps reduce the stresses on the neck, head and shoulders in a frontal collision.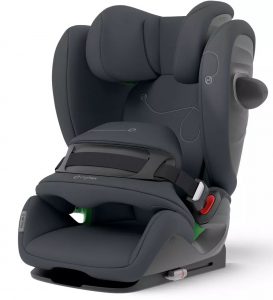 Silver Cross Balance i-Size Donnington Group 1/2/3 Car Seat – Another multi-stage car seat providing up to 10 years of use, this seat has four reclinable positions and nine adjustable headrest positions to help maximise comfort and safety.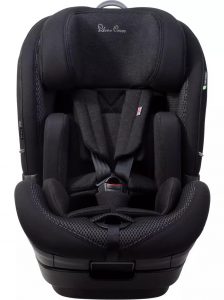 Joie i-Spin 360 Group 0+/1 Baby Car Seat – If you're travelling with a baby, the Joie i-Spin is the perfect option. Its 360-degree pivoting protector allows your child to travel in the rearward position for longer and provides additional protection when they change to forward facing.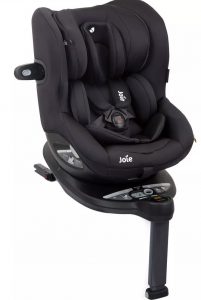 7. Never stick hands out of vehicles
Once your little one has the correct child seat, they'll be safe and secure while travelling, but there are still a couple of extra things they need to be taught – like never sticking their hands out of the window.
Even to us grownups, the idea of stretching our arms out into the cool flowing air can be tempting, so there's a good chance your child's having the same idea. Make them aware that doing so is dangerous and (again!) lead by example – if they see you doing it, they'll do the same.

8. Exiting on the kerb side
Finally, for older children, always make sure your child exits the vehicle on the kerb side. That way you don't need to worry about them swinging the door open into any traffic – just make sure they check out for any pedestrians first!
If for whatever reason they can't get out on the kerb side, make them wait until you tell them it's safe to exit – and remember to look out for cyclists as well as other vehicles!
---
There you have it, 8 safety tips that'll help keep your little one safe during their future adventures. And before you put this list into action, head over to Halfords.com where you'll find a range of car seats and kids' cycling accessories.