Lush green forests, endless sweeping moors, and twisting mountain paths – the UK has its fair share of natural beauty if you know where to look. And what better way to take in this beauty than a day of family cycling?
Getting out on the bikes or scooters with the kids is a great way to keep active as a family and enjoy the wonderful scenery the UK has to offer.
If you're looking to discover some of the best cycling and scooter routes in the UK to embark on your next family outdoor adventure, you've come to the right place. Some of our favourite family cycle routes across England, Scotland, Wales and Northern Ireland are explored in more detail below.
Cycle routes in England
Frinton-on-Sea to Clacton-on-Sea
Length: 6.5 miles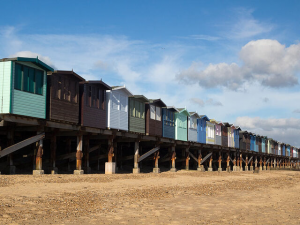 This traffic-free cycling route gives you miles of stunning Essex coastline to enjoy, with endless sea views. It begins at Frinton Golf Club before winding its way down National Route 51 to The Esplanade and continuing along the coast to Clacton. The sights along the route are ideal for cycling as a family, and you can treat the kids to a visit to the nearby Holland Haven Country Park, which is full of wildlife. This is a particularly great cycle route for families as it is mostly flat with no narrow paths.
Nutbrook Trail
Length: 10.2 miles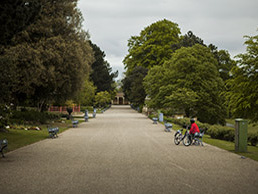 Part of National Cycle Network Route 67, this beautiful 10-mile excursion along a traffic-free route is great for bike rides with kids as it takes you right through the heart of the 700-acre Shipley Country Park. The park has won several Green Flag Awards and even has a viewing tower nearby – perfect for taking in the views.
For those who love water-side picnics, there's Osbourne's Pond and Shipley Lake to watch out for. If you fancy a little treat afterwards, there's a visitor centre and cafe.
Goss Moor Cycle Trail
Length: 7 miles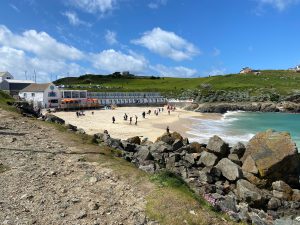 We couldn't have a list of family cycle routes without including glorious Cornwall. Cycling in Cornwall is always a favourite due to its scenic landscape and beautiful beaches. There's certainly plenty to enjoy around Goss Moor, which is a circular cycling trail that spans 7 miles and is mostly flat, making it a gentle option for a family bike ride. You'll find a variety of rare plants and animals amongst the 480-hectare nature reserve to keep the kids on their toes. If you fancy venturing further, the route also connects to Tregoss Moor, so you can continue the cycling fun.
---
Cycle routes in Northern Ireland
The Antrim Loop
Length: 4.5 miles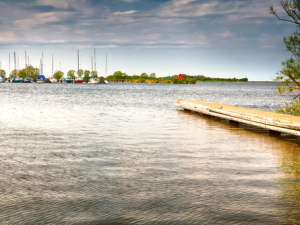 This great family cycling route takes in the shores of Lough Neagh, the county town of Antrim and Rea's Wood. Follow the path from the car park into the wood, with its wet woodland and rich mix of wildlife. Once you reach the National Nature Reserve, look for the signs for the Mill Race Trail along Kirby's Lane. A riverside path will then lead you back to Antrim town, where you can enjoy a well-earned break.
Comber Greenway (Route 99)
Length: 7 miles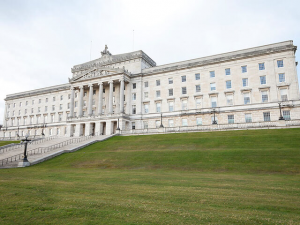 As the name suggests, the Comber Greenway will take your family on a tranquil, nature-filled cycling adventure from Belfast to Comber. This picturesque cycling route follows an old railway line and is a haven for wildlife, with conservation areas like the River Enler. You'll also get the chance to see Stormont's parliament buildings, the 19th-century Scrabo Tower and Belfast's famous Samson and Goliath shipbuilding cranes.
Rathlin Trail
Length: 4 miles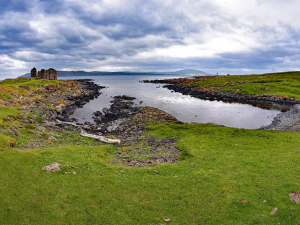 For something a little more off the beaten track, there's the Rathlin Trail. Take a ferry from Ballycastle Harbour to the beautiful island of Rathlin, which is famous for being a wildlife haven. The cycle route runs from Rathlin Harbour in Church Bay to the West Lighthouse, taking in the RSPB Seabird Viewport along the way. It's a great bike ride choice for nature lovers and those looking to get away from it all.
---
Cycle routes in Scotland
Aberfoyle-Gartmore Loop Ride
Length: 7 miles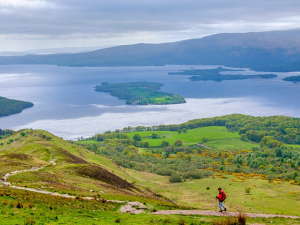 The vistas of Scotland are some of the most stunning in the UK, and this trail along the eastern side of Loch Lomond and the Trossachs National Park is no exception. This excellent family cycling route offers breathtaking views and the kids will love the activities available at the Scottish Woollen Centre in Aberfoyle. Here, you can see birds of prey, sheepdogs and duck shows, the Trossachs Holiday Park and Action-Adventure Activities.
Kincardine to Charlestown
Length: 11 miles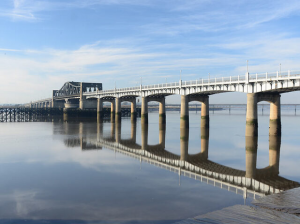 If you'd like to stay a bit closer to Scotland's major cities, then the Kincardine to Charlestown route is for you. Starting east of the famous Kincardine Bridge, this scenic bike ride passes through the town of Culross before following the coastal path out towards Charlestown. Sights along the way include the River Forth, Preston Island and the bird-watching spots of Torry Bay.
Union Canal (scooter)
Length: 12 miles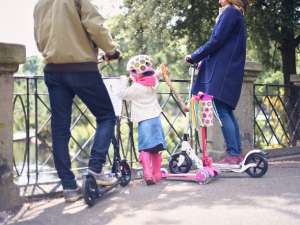 The Union Canal trail offers a fantastic scooter route for the kids between Linlithgow and the Falkirk Wheel. There are so many sights here that you're spoilt for choice! Linlithgow has the 15th-century Linlithgow Palace, while the route passes the ruins of Almond Castle and the Falkirk Tunnel. There's also The Helix in Falkirk to enjoy, a parkland that provides a range of activities and is home to The Kelpies sculptures.
---
Cycle routes in Wales
Monmouthshire and Brecon Canal
Length: 12 miles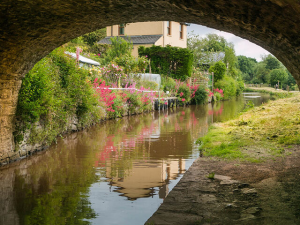 Connecting Newport and the canal basin of Pontymoile, this cycle route follows the towpath of the Monmouthshire and Brecon Canal. While the canal is no longer operational, it offers beautiful views of the surrounding hills – which rise to more than 1,000 feet! – and a lovely peaceful bike ride. As an added bonus, the town of Newport has a museum and art gallery to explore – perfect for a day of cycling as a family.
Mawddach Trail
Length: 9 miles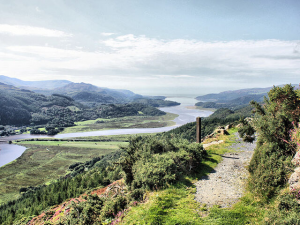 The Welsh Mawddach Trail is one of the most scenic old railway paths in the country. Beginning in Dolgellau, the cycle trail passes through miles of photo-worthy landscapes as you wind your way alongside the Maddwach estuary and out towards the sea. Your final stop is the pretty seaside town of Barmouth – a perfect place for the kids to grab an ice cream!
Llynfi Valley Trail (scooter)
Length: 2.5 miles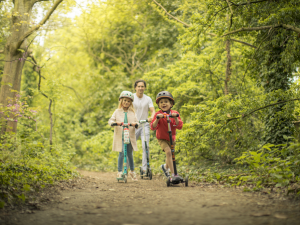 This route boasts impressive valley views and scenic artwork stop-offs, making it perfect for a family cycling adventure. Running from Maesteg Train Station to Caerau, the Llynfi Valley Trail passes a variety of land artworks, stone artworks, and waymarkers that have been developed with the support of the local community. Inspirational and educational in turn, this is an ideal route for kids and parents alike.
---
This is just a snapshot of some of the great family cycle and scooter routes you can enjoy across the UK. So, what are you waiting for?
If you fancy a new set of two wheels, take a look at our great range of adults' and kids' bikes and scooters over at Halfords.com.