Your kids can enjoy more benefits than ever by switching the backseat of a car for the saddle of a bike.
Research revealed that just 15 minutes of cycling a day can make a big difference to a child's health. According to YouGov, parents of 11-18-year olds in the UK could also save around £520m each year if their little one cycled to school rather than being driven or taking public transport.
And if that wasn't enough, it is a great way to adhere to social distancing regulations.
However, while it's all good and well encouraging your budding Victoria Pendleton or Chris Boardman to take to the roads, it's very important to consider their safety and wellbeing.
Here are some top tips to keep them wheelie safe and sound on their trip to school.
Be bright
Your child may not thank you for this one but dressing them in bright clothing is important. You want them to be seen! There are lots of options available on the Halford's website, with a vest jacket easy to wear over school clothing, making it the perfect option.
Also be sure to add both a front and rear light to the bike, plus a rear reflector. You can then be safe in the knowledge that your little one is easy to see.
Finally, make sure they have a bell. Then everyone will hear and see them coming.
Stay tight instead of loose
Before your child sets off, it's always worth checking if their clothes are loosely fitted or tight.
Baggy trousers may seem like an investment for growing kids, but they can get caught in bike chains or wheel spokes. Either get them to tuck them into their socks or cycle in a pair of shorts.
A helmet fit for purpose
One of the biggest mistakes you can make is getting a helmet that's too big for your little one. For a helmet to be effective, it needs to fit correctly.
Here are a few tips on what to look for:
Eyes check – put the helmet on your kid's head and get them to look up. They should be able to see the bottom rim of the helmet and a gap of one or two fingers between their eyebrows.
Ear check – the straps of the helmet should form a V under their ears when fastened.
Mouth check – get them to open their mouth as wide as possible. The straps should be snug on their skin and head without moving around everywhere.
If you're still not sure whether the helmet is the correct fit, head over to our advice guides for a guide to finding the correct fitting helmet.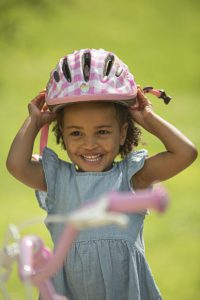 The perfect bike
When thinking of safety, it is easy to forget about the most important equipment of all: the bike.
The perfect fitting bike is not simply about comfort but safety too. If your child is overstretching for the brakes or their knees are brushing against the handlebars, it's going to affect their control over the bike. Use our guide to kids bike sizing for help.
Bikes also require lots of care, especially if they are used regularly. Conduct regular checks to ensure the main components are in working order and ultimately safe. If you're not confident with this, why not bring it to us to look over for you? You can discover our range of bike services over at Halfords.com.
Keep the bike safe
You've got your child the perfect bike. They've got all the safety equipment they require. Now you need to protect the bike!
The Halfords Essential Kids Bike Lock is easy to carry in a bag and will keep the bike secure. It also comes in a cool colour scheme!
If you're worried about a misplaced key and an impromptu trip to school to break the bike free, consider one of our many combination bike locks. Just as secure, there are plenty of compact options so that your child will have no problem carrying their lock to school.
Map it out
Picking a route that is suitable for your child is vital!
Try to avoid main roads and busy junctions. Most towns and cities now have designated cycling routes and lanes, so it is best to stick to these wherever possible.
Limber up and get involved! For peace of mind and your own enjoyment, dig out your bike and ride with them. If they're scared that you're going to ruin their 'street cred', just agree to turn back before you reach the school. Or better still, have a practise ride at a weekend. This will be a great opportunity to give your kid a refresher on the rules of the road.
Ultimately, you will feel much better in the knowledge that your child is confident with their route.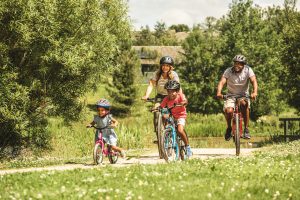 Gain pro skills
Why limit the riding to school days?
Take advantage of the last few weeks of summer to explore the variety of great cycling routes available in the UK. Over at our Discovery Hub, we have some great suggestions.
Doing so will help build your child's riding skills and confidence on the bike, so they'll be ready when the school ride begins. You may even end up with the next cycling pro on your hands.
It's also a great excuse to enjoy a day out in the sun!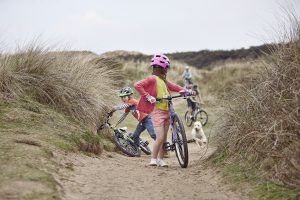 ---
There you have it- make sure your child is equipped properly, has the correct sized bike and knows their route and you can send them off to school on their bike with confidence.
We'd love to see how you've prepared your child for a safe ride to school, so share snaps of their safety inspired cycling set up using #ReadyFor on Instagram and Twitter @Halfords_UK.
Halfords is here to get you where you want to be.