Guest blog by Charlotte Kertrestel, Halfords Digital Product Owner and Naval Reservist

Every year the UK's Armed Forces celebrate Armed Forces Week; a time where the men and women who serve within the Armed Services at home or abroad, either full time or in their spare time, are commemorated.
Within Armed Forces week falls Reserves Day, a day to celebrate the UK's Reservists.
As a proud supporter of the Armed Forces, last year Halfords put on an event to celebrate its Reservist colleagues, holding a Reserves Day event at the Support Centre in Redditch, where reservists wearing uniforms and armoured vehicles parked outside the front doors, could be seen.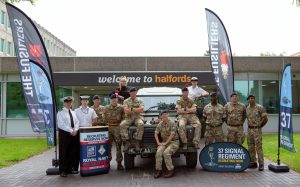 Celebrations of Reserves Day, on Wednesday 24 June, this year will look very different in the current situation that we find ourselves. However, Halfords Reservists who are based at one of the 335 stores that are currently open, will still be encouraged to wear their uniforms to work.
For Halfords Digital Product Owner and Naval Reservist Charlotte Kertrestel, Reserves Day it will be especially different.  She is celebrating this year's Reserves Day in uniform, in forty-degree heat, and working in a military headquarters in Bahrain.
Charlotte said: "As a member of the Royal Naval Reserve, I am currently mobilised in Bahrain, working in the UK Maritime Component Command (UKMCC). Yet only a matter of weeks ago I was working within the Digital Team at Halfords, deep in Teams calls about tyres, turbo trainers and Tradecard!
"I've been a member of the Royal Naval Reserve for four years now, joining for a challenge, to meet new people and to experience a different way of life. So far it hasn't disappointed! I've had the opportunity to experience a flight in a Merlin helicopter, learned to ski in France, and have paraded in front of the Queen at the Royal Albert Hall. I've benefited from some of the world's most advanced leadership and management training and made friends from all walks of life along the way. And now to top it off, I'm spending six months working in an entirely new environment on the other side of the world!"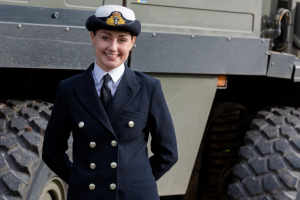 When Halfords signed the Armed Forces Covenant in February 2019, it made a series pledges to support the Armed Forces. Halfords offers Service Leavers and Reservists guaranteed job interviews, provided they meet the minimum requirements, as well as offering discounts to servicemen, women, and veterans.  The company is also supportive of Reservists, providing them with 10 days' additional unpaid leave to carry out mandatory training, and supporting Reservists like Charlotte when called to deploy.
Charlotte added: "Whilst the Royal Navy has taught me many lifelong skills including leadership, public speaking and coping in high pressure situations, Halfords has also helped build my confidence when working across different departments, grow my enthusiasm when taking on new projects, and show me what great leadership looks like. In many ways Halfords isn't so different to the Royal Navy; if everything you do is with confidence, with fun, and with a smile, you can't go too wrong!"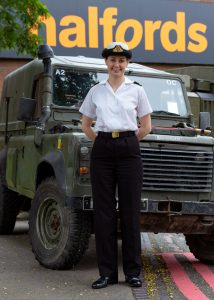 To find out more about joining the Reserves in your spare time, here's some information about the Royal Navy, British Army, or Royal Air Force Reserves.