Every turbo training session can be improved with music. Whether on a group ride, spinning the legs or completing a high-intensity session, picking the right songs will help with motivation and entertainment.
To help you find the perfect songs for your training, we've trawled through Spotify and selected the best turbo training playlists. It's time to set up your speakers, pick your playlists and prepare for a winter of indoor training.
Try not to over-do it with the singalong, though, you want to be losing your breath from the exercise, not the singing!
For those all-out efforts…
To others it sounds crazy, but us cyclists love suffering and regularly push ourselves to our limits.
When riding on the road, there's no escaping that 'take it easy' voice that keeps popping into your head. But when riding indoors, you can drown it out with motivational music.
We've picked a playlist with high-tempo beats that should help you push through the pain with a new-found vigour. It's great for high-intensity efforts and will help you through those dreaded all-out sessions. Try not to get too into the music, you might end up burning yourself out!
Playlist- Exercise Playlist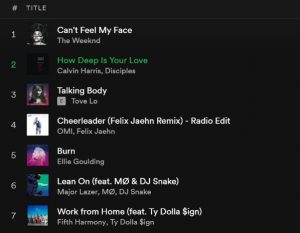 For those Zwift races…
Indoor training apps have rapidly grown in recent times, especially Zwift. Once upon a time, finding a pro roaming the virtual worlds was impossible. Now there are regular scheduled events in which you can find pros participating with many of these races.
For most of us, this is the closest we will ever get to competing against pros, so we must take advantage of it! And what better way to do so than with the help of some classic inspirational songs.
Imagine racing along, clinging onto a pro's wheel with Eye of the Tiger spurring you on.
Or crossing the line cheered on by Queen's We are the Champions (hands up, we've dreamt about winning a race while listening to the song before).
Of course, you don't need to imagine. You can make it happen! Pick your race, blast out the below playlist and race away!
Playlist: Get motivated- a playlist of motivational songs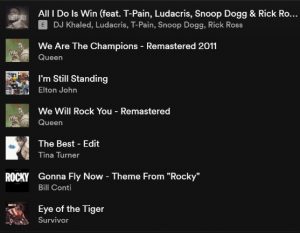 For those easy spinning, sing-along sessions…
Not all turbo training sessions are lung-bursting. Many are recovery rides or ones that incorporate lower-intensity training.
These are often the sessions where, if you're not prepared, boredom can set in. Choosing a good playlist will help prevent this.
For steadier sessions, you want singalong songs. Play something motivational or inspirational and you might find your power numbers creeping up, as you get overexuberant.
Therefore, pick your favourite decade and find a playlist of the best songs. Our favourite is this 90s playlist that features everything from Oasis to those songs you forgot existed, but still know every word to. Remember Breakfast at Tiffany's?
We've included our favourite playlists for the 2000s and 1980s too. Whatever your taste, you'll be singing along to one of these during your next turbo session.
Playlists: All Out 80s, All Out 90s and All Out 00s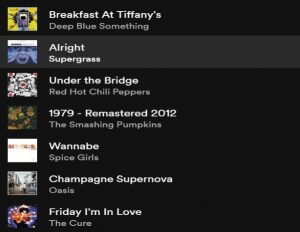 Genre specific…
Find yourself reaching for the skip button a little too often when playing a generic playlist? Much prefer to stick to your preferred genre?
Not a problem! Spotify allows you to search playlists according to genre, so whether you like funk or punk, there's a tailored playlist for you.
We've picked out a few of our favourites, including Rock Classics. For those who love a bit of old-school rock and roll, it has everything from Bowie through to AC/DC.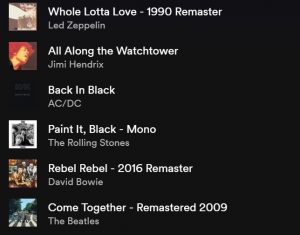 If R&B is more your thing, the This is How We Do playlist is a good choice.
Of course, this is a mere peak at the numerous options. Explore further, and you will find the exact music you need for your turbo training session.
For when the music ends…
As the end of winter approaches, turbo training becomes less appealing. Sick of the same work out routines and music, the cravings for outdoor riding grow. The only thing stopping you is the rain that won't seem to go away.
When we get to this stage, we like to try Spotify's extensive range of podcasts. While they won't necessarily help on harder training sessions, they are great for those slower sessions where you need entertainment.
Best of all, there's an endless number of cycling podcasts.
For you roadies out there, The Cycling Podcast is a great listen. With episodes every few days, join Richard Moore, Lionel Birnie and Daniel Friebe as they discuss everything that has happened in the world of professional road racing. Pro riders regularly make guest appearances and alongside their regular episodes, they host regular feature podcasts.

If you're more of a fan of suspensions and high-octane downhills, we'd recommend The Mountain Bike podcast.

The list is endless with podcasts for gravel grinders, touring and bike packing. Use these turbo training sessions to gain cycling inspiration for the months of riding that lay ahead.
---
Hopefully, these playlist options will inspire and motivate you during your turbo training sessions. Prepare yourself further for indoor training by checking out our range of turbo trainers and accessories.
Remember: if you want the ultimate indoor training experience, you want Halfords!